'Attack On Titan' Season 4 Part 2, Episode 81 Live Stream: Watch Online [Spoilers]
KEY POINTS
"Attack on Titan" Season 4 Part 2, Episode 81 is airing Sunday
The episode will stream on Funimation and Crunchyroll
The series is also called "Shingeki no Kyojin" in Japan
Eren Jaeger finally reveals his new Founding Titan form, thanks to Ymir Fritz siding with him. After Gabi shot Eren with a high-caliber rifle and decapitated him, the mysterious source of all living matters emerged out of his spine and connected to his brain.
As soon as the connection is established, Eren is blessed with the true power of the Founding Titan. After gaining the powers, Eren crumbles all the walls of Paradis and makes them collapse.
At this point, Eren is transforming into his new Titan form, which is quite bone-like. In "Attack on Titan" Season 4 Part 2, Episode 81, the rumbling starts and Eren is ready to annihilate everything outside Paradis just to protect the island from any attacks.
"The war for Paradis zeroes in on Shiganshina just as Jaegerists have seized control. After taking a huge blow from a surprise attack led by Eren, Marley swiftly acts to return the favor. With Zeke's true plan revealed and the military forced under new rule, this battle might be fought on two fronts. Does Eren intend on fulfilling his half-brother's wishes or does he have a plan of his own?" read the official synopsis of "Attack on Titan" Final Season Part 2.
The cast of "Attack on Titan," which is also called "Shingeki no Kyojin," includes Yuuki Kaji as Eren Jaeger, Yui Ishikawa as Mikasa Ackermann, Yoshimasa Hosoya as Reiner Braun, Takehito Koyasu as Zeke, Marina Inoue as Armin Arlelt, Eiji Hanawa as Niccolo, Ayane Sakura as Gabi Braun, Hiro Shimono as Conny Springer, Hiroshi Kamiya as Levi, Jiro Saito as Theo Magath, Kazuhiko Inoue as Willy Tybur, Yūmi Kawashima as Zofia, Yu Kobayashi as Sasha Blouse, Romi Park as Hange Zoe, Natsuki Hanae as Falco Grice, Kouji Hiwatari as Onyankopon, Masahiko Tanaka as Dot Pyxis, Toshiki Masuda as Porco Galliard and Shiori Mikami as Historia Reiss.
How to watch "Attack on Titan" Season 4 Part 2, Episode 81
Episode 81 is scheduled to release Sunday at 3.45 p.m. ET. Fans can tune in to Funimation and Crunchyroll and watch the simulcast of "Attack on Titan" Season 4 Part 2, Episode 81.
The anime is known as "Shingeki no Kyojin" in Japan.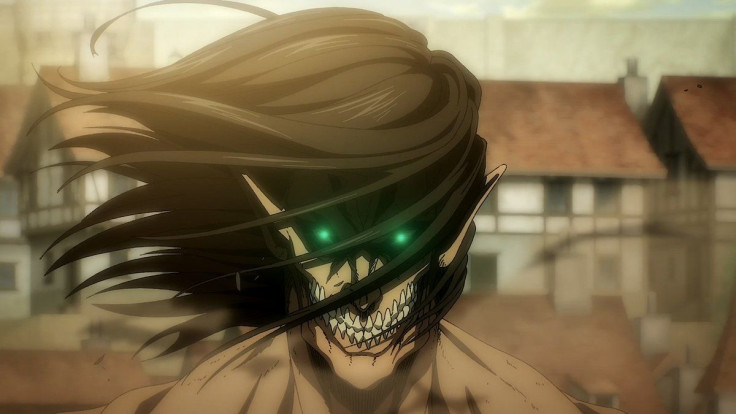 © Copyright IBTimes 2023. All rights reserved.