Attorney General Nominee Loretta Lynch Omitted HSBC Interview From Senate Questionnaire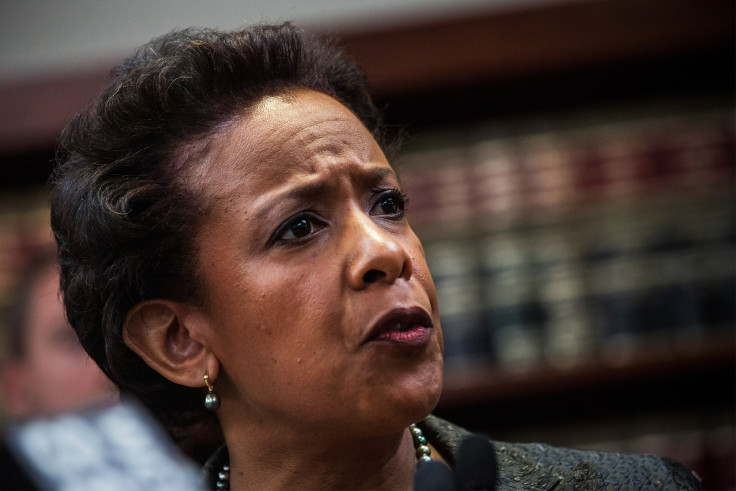 WASHINGTON -- In advance of her nomination hearing, Loretta Lynch did what every cabinet nominee is required to do: fill out a questionnaire listing all her media interviews so lawmakers can evaluate her candor. But the questionnaire U.S. attorney general nominee Lynch submitted to the Senate Judiciary Committee has a notable omission. Lynch failed to include an interview in which she defended the controversial settlement she orchestrated with the bank HSBC.
The bank was accused of knowingly allowing Mexican drug cartels to launder money and of allowing violations of economic sanctions against countries including Iran, Libya, Sudan and Cuba. Lynch, then the U.S. Attorney for the Eastern District of New York, allowed the bank to avoid prosecution in 2012 by paying a $1.9 billion fine and submitting to a monitor for five years to oversee compliance. Critics slammed the deal as an example of the Obama administration's pattern of going easy on the financial industry. In the Dec. 11, 2012, interview she did with CBS News, Lynch endorsed the settlement and dismissed criticism of the deal as "shortsighted."
"They're obviously paying a great deal of money, but they also have had to literally turn their company inside out. And the message should be is that's what you have to do," Lynch said in the interview.
The HSBC, headquartered in London, remains under fire from the federal government for not doing enough to separate itself from illegal activity. The independent monitor established as part of Lynch's agreement with the bank is expected to release a report later this year that criticizes the bank and calls for more changes, The Wall Street Journal reported. Lynch's deferred prosecution agreement is drawing criticism for failing to fix the bank's problems.
The Senate Judiciary committee will begin hearing Lynch's nomination Wednesday morning. She is scheduled to testify and expected to face harsh questioning from Republicans who have been unhappy with Attorney General Eric Holder.
In Lynch's signed questionnaire -- it is not a sworn affidavit but nominees are expected to update it if they find omissions -- the AG nominee was asked to list all of her media interviews. The list includes 98 interviews and appearances dating back to 1990, but makes no mention of the CBS News clip. The interview remains on CBS's website.
On her questionnaire, Lynch writes: "I have done my best to identify all interviews given, including through a review of personal files and searches of publicly available electronic databases. Despite my searches, there may be other materials I have been unable to identify, find or remember."
The White House referred inquiries about the omission to the Department of Justice. A Justice spokesman pointed out the extensive nature of the list Lynch provided, and said the omitted interview had not been a formal sit-down, but followed a press conference.
Lynch gave the Judiciary Committee a press release related to the news conference, a spokesman for the Department of Justice said, as part of a larger packet of materials provided as part of the vetting process.
Asked to list significant legal activities, Lynch lists a number of cases she oversaw as U.S. Attorney in New York and before that while working in private practice, but not the HSBC case.
Lynch did include interviews in which HSBC was discussed; she praised the settlement in an interview with Compliance & Ethics Professional, a magazine produced by The Society of Corporate Compliance and Ethics, in 2013.
"I think the remedial measure that stood out to most to me, because it is seemingly unprecedented, was HSBC's agreement to subscribe to a single global standard for compliance," Lynch said. "This means that HSBC will apply the highest or most effective compliance requirements for operations worldwide, regardless of the laws and regulations that apply where a particular office or affiliate is located."
Lynch's boss at the time of the HSBC deal, Assistant Attorney General Lanny Breuer, who was then head of the Department of Justice's criminal prosecution division, resigned after a scathing Frontline piece that highlighted Justice's failure to try any of the banks tied to the recession and the risky trades that led to it. It was during a discussion of HSBC before the Senate Judiciary Committee that Attorney General Holder famously said some banks -- although not HSBC specifically -- were too big to prosecute.
© Copyright IBTimes 2023. All rights reserved.