Aurora Mass Shooting: 5 Killed, 5 Officers Injured In Illinois Attack; Gunman Also Dead
A gunman has opened fire in Aurora, Illinois, leaving five people dead and multiple people injured, including five policemen, on Friday, Feb. 15.
Officials confirmed Friday that five people were killed in the shooting and five officers were wounded from the gunfire, Chicago Tribune reported. The shooter, who has been identified as 45-year-old Gary Martin, was killed while exchanging fire with police, authorities confirmed. Officers said he was an employee at Henry Pratt Company in the industrial park in the Chicago suburb, but his motive remains unknown.
The company, a subsidiary of Mueller Water Products, released a statement Friday saying it was "shocked and deeply saddened by the horrific tragedy."
"Our hearts are with the victims and their loved ones, the first responders, the Aurora community and the entire Mueller family during this extremely difficult time," the statement read. "Our entire focus is on the health and well-being of our colleagues, and we are committed to providing any and all support to them and their families."
Five policemen were shot durinng the attack, with a sixth suffering a knee injury. Five civilians were killed, but their names were not released.
Live Updates:
Kane Country coroner has confirmed that one person has been killed in the attack, which took place in Aurora, a suburb with a population of 200,000 about 40 miles (65 kilometers) of Chicago. The shooting happened at Henry Pratt Co, a manufacturing firm that makes valves for large water pipes.
Aurora Police Chief Kristen Ziman said police were notified about the shooting at 1:24 p.m. EST. They arrived on the scene of the shooting at 1:28 p.m. EST and were immediately fired upon.
Ward 4 Alderman Bill Donnell told CNN, citing Deputy Mayor Chuck Nelson, that four police officers and several civilians had been injured after the gunman opened fire.
A hospital official told Reuters that two people who were injured during the shooting have been taken to the Rush Copley Medical Center for treatment.
A person who worked at Capitol Printing, near the Henry Pratt Company, said that they hid in a closet after hearing shots being fired, according to ABC-7.
On Friday afternoon, local U.S. Rep Bill Foster issued a statement about the shooting, according to a news release from his office.
"I am deeply disturbed by the senseless gun violence that struck the Aurora community today. My thoughts are with the victims and their families," he said. "While we wait for more details, it's clear we owe a debt of gratitude to law enforcement and the first-responders who rushed into harm's way to protect innocent people. Our country needs to take immediate action to stop what has become an epidemic of gun violence in our nation. I, along with the majority of Americans, refuse to accept this fact as a normal part of our way of life at work, schools, and in our communities. Every person deserves the right to go to work or school without the threat of violence."
The White House said that President Donald Trump has been briefed on the incident and is monitoring the situation, according to the Associated Press.
John Probst, an employee at Henry Pratt Co, told ABC-7 that he had been in the building when the shooting began. He identified the shooter as a co-worker.
"One of the guys was up in the office, he said this person was shooting and he come running down and he was bleeding pretty bad," he said. " … What I saw was the guy running down the aisle with a pistol with a laser on it."
This is a developing story, more to come.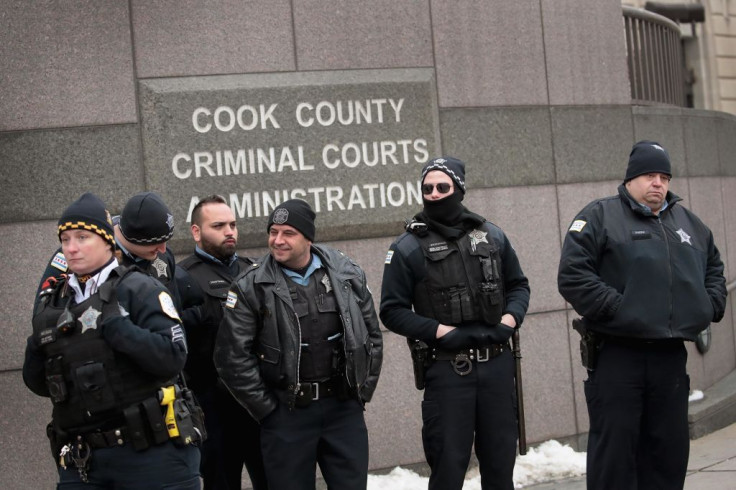 © Copyright IBTimes 2023. All rights reserved.
FOLLOW MORE IBT NEWS ON THE BELOW CHANNELS