'The Avengers 2': Who Is The Vision? Paul Bettany Character Revealed In New 'Age Of Ultron' Poster [VIDEO]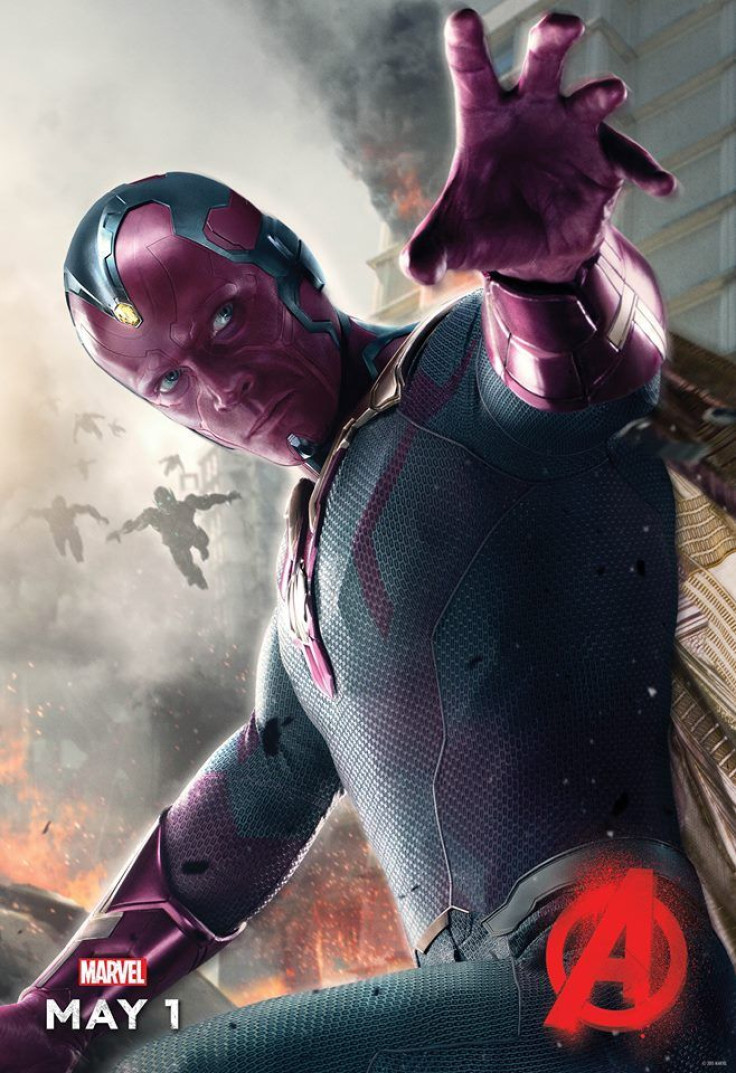 Fans are less than a month away from the premiere of "The Avengers: Age of Ultron" and the anticipation for the Marvel blockbuster is heating up. The big sequel hits theaters on May 1 and the latest edition of Entertainment Weekly has some special covers previewing the larger-than-life characters. One of the promo covers – along with a new poster – gives fans a first look at one of the franchise's new characters, the Vision.
In the Marvel Comics Universe, the Vision is an android built by Ultron – voiced by "The Blacklist" star James Spader in the new movie -- to assist in taking on the Avengers. After Ultron creates the Vision he dispatches him to lure the Avengers into a trap.
The film marks the return of Paul Bettany ("A Beautiful Mind," "Master and Commander") to the franchise. He appeared in 2012's "The Avengers" as the voice of J.A.R.V.I.S., Tony Stark's (Robert Downey Jr.) hyperintelligent computer system. Bettany will take on both roles in "Age of Ultron," a rather unusual decision.
"For a long while I discovered, having playing J.A.R.V.I.S., I wasn't allowed to then play another character and ['Avengers' director] Joss Whedon and I got on very well and he looked for a way to make that work and found it, though I can't say what the relationship is between Vision and J.A.R.V.I.S.," Bettany told SuperHeroHype last July.
The Vision appears on one of the new covers of Entertainment Weekly alongside the Incredible Hulk (Mark Ruffalo) and Black Widow (Scarlett Johansson). Previous promo images had only featured close-ups of the character's face, but the cover and a new poster – which Marvel tweeted Thursday – show the Vision in full.
See the tweet below:
Fans will have to wait until the movie actually hits theaters to see the Vision in action. "The Avengers: Age of Ultron" premieres on May 1.
Watch the trailer for "Age of Ultron" below:
What do you think of the Vision? Tweet your thoughts to @Ja9GarofaloTV.
© Copyright IBTimes 2023. All rights reserved.