'Avengers: Infinity War' Cast List: Another 'Guardians Of The Galaxy' Character Is Added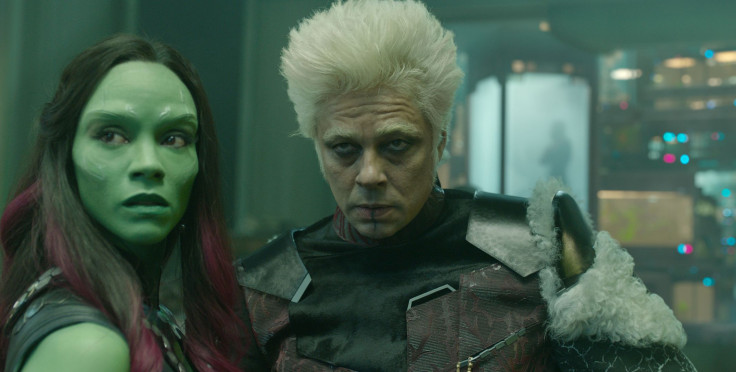 "Avengers: Infinity War" has a massive cast, and it may include even more "Guardians of the Galaxy" characters than we thought. Josh Brolin, who plays villain Thanos, let another cast announcement slip.
In an Instagram Live video, Brolin mentioned that he is not only working with Chris Pratt and Zoe Saldana, who play Star-Lord and Gamora, respectively. He also said he is working with Benicio Del Toro, who played the Collector in the first "Guardians of the Galaxy," Heroic Hollywood reports.
The news isn't completely surprising. The actor had been spotted in Atlanta, sparking speculation that the Collector is joining Marvel's biggest movie yet. After all, he has one of the Infinity Stones.
The character, also called Taneleer Tivan, was first seen in "Thor: The Dark World," and he was given the Aether (the red stone) for safekeeping. As soon as the Asgardians left, however, it became clear that the Collector was looking for the Infinity Stones. He hired Gamora to get the Orb (the purple stone), but after the Collector's assistant Carina died while trying to use the Orb to free herself, the Guardians ran off with the Infinity Stone. It's now being kept safe by the Nova Corps, but presumably, the Collector still has the Aether.
Not much is known about "Avengers: Infinity War," but the film is set to pit the Avengers against Thanos, who is looking for the powerful Infinity Stones. All but one of the Infinity Stones have been introduced in prior Marvel Cinematic Universe films.
Marvel hasn't released an official list of credits, but various actors have revealed that the cast list is extensive. Among characters returning for the movie are Captain America (Chris Evans), Iron Man (Tony Stark), Black Widow (Scarlet Johansson), Doctor Strange (Benedict Cumberbatch), Thor (Chris Hemsworth), Drax (Dave Bautista) and Nebula (Karen Gillan).
Filming is currently taking place in Atlanta. "Avengers: Infinity War" will hit theaters on May 4, 2018.
© Copyright IBTimes 2023. All rights reserved.