'The Bachelorette' 2014 Spoilers: Baby News And Lie Detector Results In 'The Men Tell All'; Top 9 Moments From Episode 10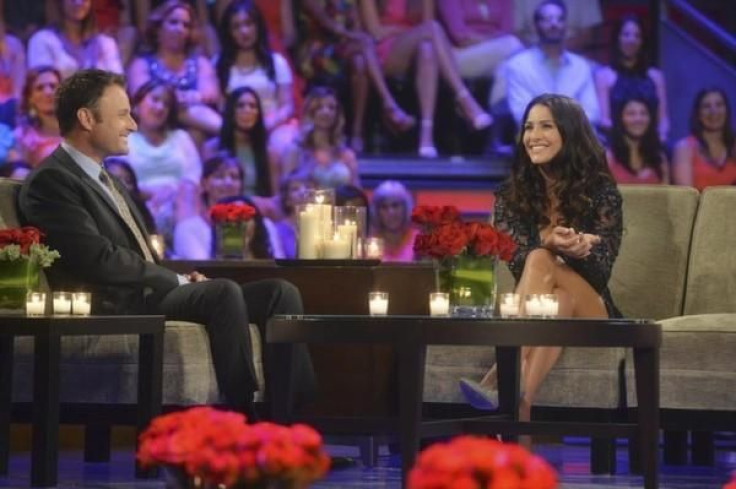 Andi Dorfman may be down to her final two men on "The Bachelorette," but fans still have to wait one more week for the highly anticipated finale. As the excitement grows over the last rose ceremony, ABC aired its popular "Bachelorette" special – "The Men Tell All."
Just as viewers hoped, episode 10 was full of drama, drama and more drama. Check out the top eight OMG (and completely jaw dropping) moments from "The Bachelorette: The Men Tell All":
1. Ashley Hebert And J.P. Rosenbaum
Former "Bachelorette" alum Ashley Hebert and husband J.P. Rosenbaum took the stage at the beginning of the special to share their exciting news with viewers – they're having a baby! Wed in December 2012, the happy couple shared that there due date for their little bundle of joy is October 7.
But "Bachelorette" host Chris Harrison had one more surprise in store for fans. Before he could tell the crowd, Ashley joked that they'd be having a live birth! In reality, the show brought out an ultrasound machine, and Chris Harrison revealed that they'd be announcing whether the soon-to-be parents were having a boy or girl.
So, what are Ashley and JP having? After a good laugh over a picture of Chris Harrison's face on the ultrasound, they revealed that in October they'd be welcoming a baby boy.
2. "Bachelor In Paradise" Sneak Peek
"The Bachelorette: The Men Tell All" episode gave viewers a sneak peek look at the new spinoff series, "Bachelor In Paradise." Needless to say, fans of the ABC reality show won't want to miss this new series.
Set in Mexico, "Bachelor In Paradise" features single fan favorites and villains from previous seasons of "The Bachelorette" and "The Bachelor." Each person is in Mexico for a second chance at love – however drama is around every corner. The twist on the show is that if the bachelors and bachelorettes find love they get to stay. However if they don't they get sent home and new eligible contestants arrive.
The sneak peek clip featured a ton of hookups, a lot of cursing, and of course, plenty of tears. Fans of Andi Dorfman's season of "The Bachelorette" can look forward to welcoming back Dylan, Cody, Marcus and Marquel, as well as the premiere party crasher – Chris Bukowski! While Andi didn't give him a chance on her season of "The Bachelorette," the alum is ready to find love in paradise.
Although the sneak peek included a lot of content that viewers have already seen, there were a couple of clips that the audience did not see coming – an ambulance, talk of a lot of blood, and handcuffs.
The drama will all go down when "The Bachelor In Paradise" premieres on ABC on Monday, August 4.
3. The Andrew Drama Revisited
"Bachelorette" viewers will remember that a fight almost broke out when Marquel learned that Andrew allegedly made some racist remarks about him and Ron to JJ. While Marquel chose to take the highroad on the show, "The Men Tell All" special revisited the dramatic situation.
According to Marquel, the situation had yet to be resolved, and Chris Harrison gave him the chance to speak to Andrew. Already an awkward spot for everyone, Andrew made the whole confrontation even more cringe worthy when he accidentally addressed Marquel as Ron. After Marquel corrected him, Andrew explained that he felt as if JJ had an agenda, and that he had no idea what they were referring to. When Andrew was caught up to speed, he claimed that all he said was that "it had been a long night" and he wanted to know when it was going to be over. Some of the other contestants had Andrew's back, but JJ told Chris Harrison that he 100% stands by everything he said at the time.
4. JJ Interrupts
Chris Harrison was ready to move on from the Andrew drama and put Marquel in the hot seat. However JJ wasn't ready to let it go. Interrupting Chris Harrison, JJ explained that he felt he was attacked and didn't get a chance to defend himself.
The host gave JJ a chance to talk, and the former contestant once again said that even thought time timing was off he stands by his actions.
It seemed like he was trying to apologize for things spinning out of control, however he made the situation worse by starting off by saying that he didn't really care about it that much. Fortunately Brian called him out, and Chris Harrison as able to move on.
5. Marcus And Andi Revisited
Marcus was sent home after the hometown dates in episode 8, and was completely devastated on camera. Opening up about his heartbreak, Marcus admitted that not everyone wants to relive his or her breakup and that it was tough to watch. He explained to Chris Harrison that he was "taken back" during the rose ceremony, and that his elimination came as a complete shock.
Chris Harrison brought up the harsh words that Marcus told the cameras in the limo – that he wished he didn't tell Andi that he loved her. When asked about saying those words, Marcus admitted that he didn't mean it. Instead he revealed that at the time it came from a place of embarrassment and disappointment.
6. Chris, Andi, Iowa … And A 'Men Tell All' Audience Member
Chris took the hot seat in "The Men Tell All" and opened up about his desire to have had more time with Andi. However he did reveal that he was surprised with how far he got because he thought he was going to be sent home after the bachelorette learned about him being a farmer from Iowa.
Chris Harrison surprised the audience by informing everyone that Andi's favorite hometown date was with Chris and his family – but before the host could dive deeper with the farmer, a woman from the crowd interrupted.
The guys and the crowd were confused as the woman explained that she had a question for Chris. And even though the special doesn't normally take questions from the audience, Chris Harrison let her come to the stage to share the hot seat.
The woman asked if Chris thought he was going to find someone in Iowa, and Chris admitted that he doesn't know where he'll find that person who he'll spend the rest of his life with. When Chris Harrison asked if she wanted to date him, the woman confessed, "absolutely" – so Chris Harrison allowed her to speed date with Chris while they went to commercial!
7. Andi In The Hot Seat
It was finally time for Andi Dorfman to take the hot seat on "The Bachelorette: The Men Tell All." While she was a little intimidated, she openly answered all the questions that the men had.
Chris wanted to know what changed in her mind after hometowns, and Andi said that she just didn't see a foundation for her to even get to Iowa. Marcus on the other hand asked if he scared her by opening up so early on. Andi told him that "scared" wasn't the right word, and that his openness early on made her feel confident. However at the end of the day they weren't on the same page and she knew that he deserved to be with somebody that could reciprocate those feelings.
Chris Harrison then turned the conversation towards rumor control. "Are you or are you not … you're pregnant," the host told Andi. The bachelorette laughed off the rumors, telling everyone that she's not pregnant.
8. The Lie Detector Test Results
Remember the lie detector tests from episode 6 of "The Bachelorette"? Andi chose not to read the results, however Chris Harrison had them on hand during the special.
To refresh your memory, the men on the date were Brian, Marcus, JJ, Chris, Dylan and Josh. Three men were completely truthful during the test – Brian, JJ and Chris. However three men – Marcus, Dylan and Josh – lied.
Chris Harrison revealed that Marcus had lied when he said that he had slept with fewer than 20 women. Dylan on the other hand, was telling the truth about not washing his hands after using the restroom (he whipped out a bottle of hand sanitizer during the special). However he lied about preferring brunettes. In reality, he actually really likes blondes. And that wasn't the only lie he told – Dylan also lied about being ready for marriage. When asked for a response, all Dylan would say is: "This sucks."
Chris Harrison gave Andi the option of learning about Josh's results because he wasn't on hand. Josh lied about 2 things, and Chris said that if it was him, he'd want to know. However with encouragement from Dylan and Brian, Andi chose to trust Josh and trust the process.
9. A Mysterious Letter
"The Bachelorette: The Men Tell All" episode concluded with Chris Harrison visiting Andi's dressing room and handing over a letter from one of her final two men. While Andi stood there looking confused, the host told her that he thinks she'll want to read it.
The finale of "The Bachelorette" will air on ABC on July 27. What did you think of "The Men Tell All" special? Tweet your thoughts to @AmandaTVScoop.
© Copyright IBTimes 2023. All rights reserved.