'Bachelorette' Star Rachel Lindsay Prefers Arie Luyendyk Jr. Over Peter Kraus?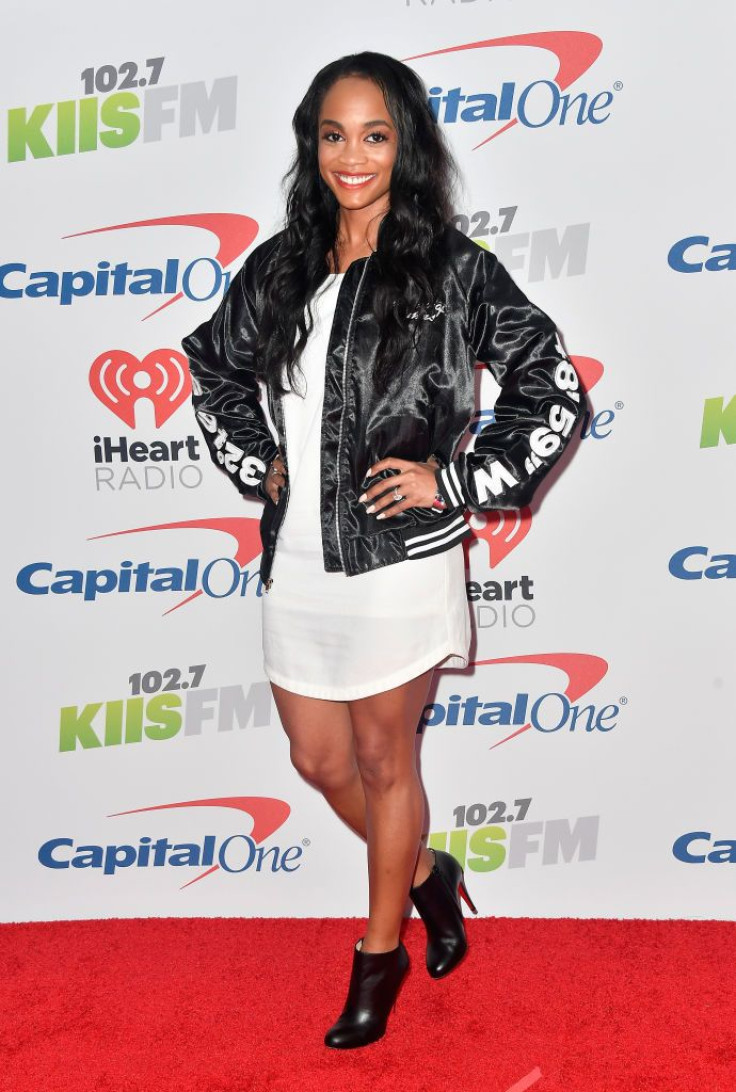 "Bachelorette" star Rachel Lindsay has shared her two cents on the ongoing debate over whether Peter Kraus should have been chosen as this year's "Bachelor" instead of Arie Luyendyk Jr.
While speaking with Entertainment Tonight, Lindsay revealed that she is tuning in to the latest season of "The Bachelor." The reality star, who found love in fiancé Bryan Abasolo in last year's "The Bachelorette," said she has met Luyendyk and has nothing but good things to say about him.
"I have had the pleasure of meeting Arie, the secret is out, like, I've met Arie before. I think he's a great person and I'm really excited for his season and his journey. So, I've been watching. It's great to have the focus on someone else, or off us, and onto Arie," she said on Saturday at Wedspire's Wedspiration 2018 event in Los Angeles.
Of course, not all viewers agree with her as some fans still can't get over Kraus being passed over for this season's "Bachelor." In fact, some have taken to calling Luyendyk "not Peter" in protest.
Weighing in on the issue, Lindsay said that Luyendyk deserves his own chance to find love. "I've heard the 'Not Peter' thing," Lindsay, who sent Kraus home during "The Bachelorette" Season 13 finale, admitted. "I mean, let's just call a spade a spade, he's not Peter! He's Arie and he's great in his own right, and I love that he's holding his own. He has his own journey, separate from Peter, and I think he's gonna kill it this season!"
As for who she's rooting for among the women vying for Luyendyk's affections, Lindsay has three favorites. "I don't have any front-runners, but I really have some favorites that I like . I like Bekah M. I like Becca K. The Beccas are killing it this season! And I like Seinne, and I like Tia of course! She's like a Raven 2.0," she revealed.
Meanwhile, Kraus may still be healing from his broken heart after Lindsay sent him home last year. Back in September, he said he wasn't ready to get back into the dating game so soon after his split with Lindsay.
"When I got off Rachel's season [of 'The Bachelorette'], I was devastated. It was a hard breakup, and going through the roller coaster of the show with all the cliffhangers always seeming to be on me, it was an emotional toll. [Then] going on After the Final Rose and the things that happened there on set, that was hard," he confessed to ETOnline.
Kraus also explained why he wouldn't be a good fit for "The Bachelor." "I'm an emotional guy, I'm a sensitive guy. I used to hide from that, but now I accept it and appreciate it, and that just makes me more hyperaware of the surroundings that I'm in, and 'The Bachelor' is a big, big step I wasn't ready for," he said.
Are you rooting for Kraus to become the next "Bachelor"? Tell us in the comments!
© Copyright IBTimes 2023. All rights reserved.