Baltimore Police Commissioner Anthony Batts Fired By Mayor In Wake Of Freddie Gray Protests And Surge In Homicides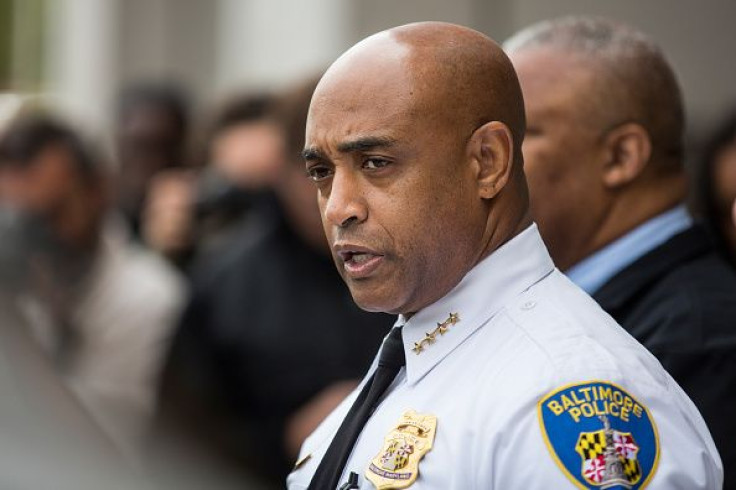 Baltimore Mayor Stephanie Rawlings-Blake has fired Police Commissioner Anthony Batts, reports the Baltimore Sun. Mayor Rawlings-Blake commended Batts for his service to the city over the three years he was police commissioner, but she said new leadership was needed to stop the surge of violence in the city. Batts will be replaced temporarily by Deputy Commissioner Kevin Davis, the mayor's office said in a statement.
There were 42 homicides in May -- the most for one month in 25 years -- and 31 homicides in June, reports the Baltimore Sun. The homicide rate went up after violent protests took place on April 27, following Freddie Gray's funeral. Gray, 25, died April 19 -- a week after sustaining a spinal cord injury while transported in a police van -- and many viewed his death as the result of police brutality. Protests turned violent, and arson and looting caused damage to hundreds of businesses.
On May 1, the Baltimore City State's Attorney, Marily Mosby, filed charges against the six police officers connected to Gray's death after her office received a medical examiner's report that ruled Gray's death a homicide.
Although Mayor Rawlings-Blake said that her decision to fire Batts had nothing to do with a 32-page report the city police union released early Wednesday that criticized police leadership following the death of Freddie Gray, it's hard not to see a connection. The report, compiled from officer accounts, argued that the violent protests in the wake of Gray's funeral were "preventable," reports the Baltimore Sun. It also stated that officers claimed "that they lacked basic riot equipment, training, and, as events unfolded, direction from leadership," and that "the passive response...allowed the disorder to grow into full scale rioting." Perhaps most damning for Batts, the report stated that officers believed that Batts wanted "to divide" the department "rather than unite it."
"We cannot grow Baltimore without making our city a safer place to live," Rawlings-Blake said at a press conference at City Hall. "We need a change. This was not an easy decision, but it is one that is in the best interest of the people of Baltimore. The people of Baltimore deserve better."
© Copyright IBTimes 2022. All rights reserved.
FOLLOW MORE IBT NEWS ON THE BELOW CHANNELS