Bangkok Flood: Latest News on Air Service Cutbacks & Travel to Thailand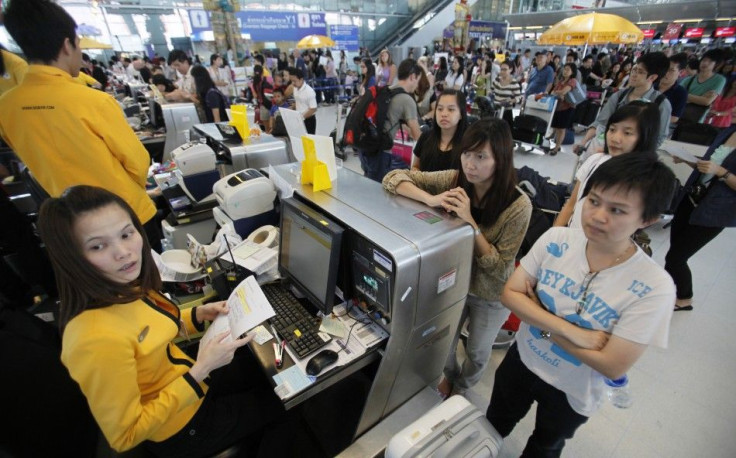 The latest news for Thailand's tourism industry isn't good. Passenger numbers at Bangkok's main airport declined during the last week of October, falling nearly seven percent on last year's numbers. The drop will likely become even more pronounced as flooding problems intensify, scaring more international travelers away.
The numbers are compounded by the fact that Airline executives are slicing flights through Bangkok, a process that began late in October.
The drop-off in passenger numbers started on Oct 25 after holding steady over the previous 24 days, Somchai Sawasdeepon, a senior executive vice-president of Airports of Thailand (AoT), told The Bangkok Post.
Before the floods, Bangkok's Suvarnabhumi handled roughly 130,000 passengers on an average of 800 flights per day.
Now, the numbers are rapidly declining.
Cathay Pacific reportedly halved its Bangkok-Hong Kong service to two flights a day. Meanwhile, Thai Airlines has suspended its daily flight on the same route (which typically filled a Boeing 747 jet).
Both airlines are pondering cutting back services on several regional routes to locations like Colombo and Hat Yai.
The new moves come after several international governments issued travel warnings to the region.
Last Thursday, the United States joined a growing list of nations that placed a Travel Alert for the Land of Smiles.
The U.S. Department of state warned against all but essential travel to areas of the central and lower parts of northern Thailand, including Bangkok.
Though most of Bangkok's tourist areas and shopping districts have not been affected by the floods, Britain, New Zealand, Canada, Finland, Hong Kong, Singapore, and the UAE among others issued similar warnings earlier last week, urging citizens to avoid non-essential travel to the popular holiday region.
While Bangkok's second-largest airport temporarily shut down last week, the main hub, Suvarnabhumi International Airport, is operating normally. Still, many travel agents are telling people to hold off on travel to Bangkok for now.
Blake Fleetwood, president of Cook Travel, an international travel agency based in New York City, said that Bangkok is the third most popular destination for his clients.
A lot of businessmen in Asia will go to Bangkok for leisure. Right now, we're telling them that it's flooding and if they haven't booked yet, maybe hold off.
Fleetwood said he receives about five or six calls and several emails a day from travelers concerned about the situation in Bangkok. He advises travelers not to do anything rash.
For now, we just have to wait and see, Fleetwood said. We're advising people to stay informed, be ready to change, and think about other places they may want to go.
Tida Harnpanpongse of the Tourism Authority of Thailand's U.S. bureau in New York said she gets a daily update on the flooding and spends her day answering questions.
People want to know about the airports, the hotels, and what areas are experiencing floods, Harnpanponse said. People are concerned.
Mr. Sawasdeepon of AoT said it would be very difficult to bring people back.
The message we're trying to put across is that not all of Thailand has been flooded, he told the Bangkok Post. Tourists can still use Suvarnabhumi to hop over to their favorite destinations such as Phuket and Chiang Mai, which are flood-free.
Sawasdeepon is adamant that Suvarnabhumi is not expecting floods and that the prevention wall will keep the airport well protected from the deluge. He told the Post that experts in Japan and Germany have endorsed this statement.
On Friday, Prime Minister Yingluck Shinawatra said that the overall flood situation in Bangkok will improve in the next few days, although floodwaters have spread to fresh areas in the capital.
Tourism is a vital part of Thailand's economy, employing about 15 percent of the workforce and contributing about six percent of the GDP.
The latest news had devastated the industry. Nationwide, 381 people have died in the floods over the last three months, 110,000 more have been displaced - 10,000 of those in Bangkok alone, according to government figures.
While isolated portions of Bangkok and pockets within Northern Thailand are affected by the floods, the popular beach resorts and islands of the south remain unaffected.
© Copyright IBTimes 2023. All rights reserved.