'Bates Motel' Renewed For Seasons 4 And 5; When Will The 'Psycho' Prequel End?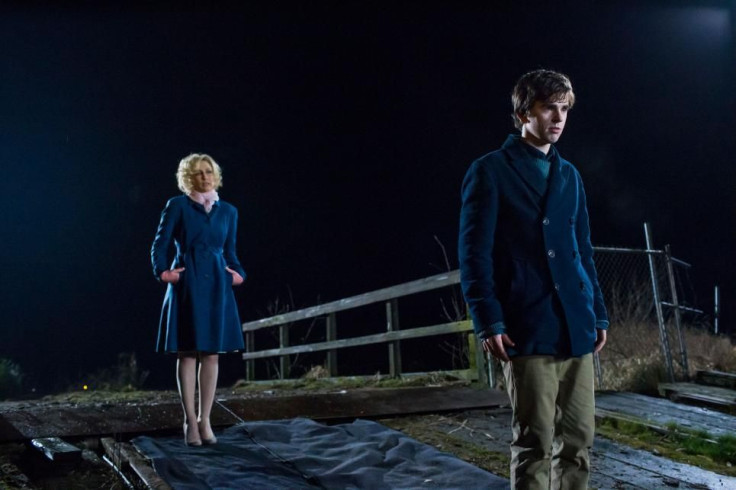 It looks like "Bates Motel" isn't closing up just yet. After the shockingly psycho Season 3 finale, A&E just announced it will bring Norman and his mother back for at least two more seasons.
According to TV Line, the network agreed to bring the thriller, starring Vera Farmiga and Freddie Highmore, back for Season 4 in 2016 and Season 5 in 2017. In total, this amounts to a 20-episode order that could prompt the show's creators to wrap up the story while they know they still can. Previously co-creator Carlton Cuse revealed the producers had the storyline planned through only five seasons.
"[Executive producer Kerry Ehrin] and I have a pretty clear road map," Cuse told reporters during a conference call in March. "We're just finishing the third season right now, and we feel pretty strong that there's two more seasons in the show. So we have a pretty clear plan of where we want to go, and we want to bring the story to its inevitable conclusion."
While the two-season pickup order mentioned Season 5, it stopped conspicuously short of saying it would be the series' last. It's possible A&E will want to continue with the moneymaker if the next two seasons are just as lucrative. After all, Deadline notes that the series is still bringing in a sizeable audience as late as its third season.
"The vision of our incredible creative team has exposed the steady breakdown of the relationship between Norman and Norma Bates," Rob Sharenow, executive vp and general manager of A&E, said in a statement. "We are thrilled to bring fans two more seasons to witness the next stages of Norman's transformation into the most notorious psychopath in cinematic history."
Those who watched the Season 3 finale may be wondering where exactly the show plans to go from there. After finally [SPOILER ALERT] transforming into the infamous mother-obsessed "psycho" that made horror movie history in 1960, the show officially delivered on its original promise to show Norman Bates' origin story. When Norma Bates (Farmiga) tried to get Norman (Highmore) to seek professional help for his obvious mental illness, he ran off with his first love, Bradley (Nicola Peltz), instead.
Unfortunately, while on the road Norman has a hallucination of his mother and eventually becomes her, resulting in the brutal and grisly murder of Bradley. With the inevitable moment finally behind us, where in the world does "Bates Motel" go from here? Fans will just have to stay on the edge of their seats until the possible final episode in 2017.
What do you think -- are you pulling for a Season 5 finale or a Season 6? Comment below or tweet your thoughts to @TylerMcCarthy.
© Copyright IBTimes 2023. All rights reserved.