'Bates Motel' Season 4 Not Official, But Season 3 Finale Is Not The End For Norman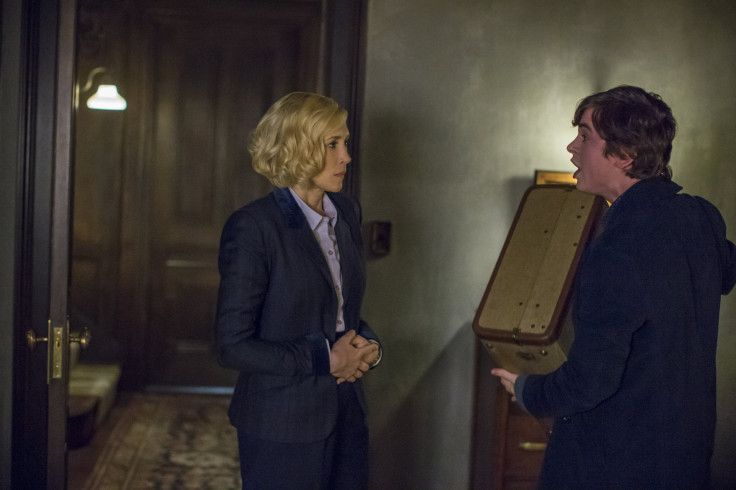 "Bates Motel" fans might still have their jaws on the floor after the shocking Season 3 finale of the A&E series. After weeks of watching Norman (Freddie Highmore) unravel, Monday night's episode gave viewers a frightening look inside his crazy – and deadly – brain. The "Psycho" prequel still has a lot to tell … but Season 4 has yet to be confirmed by the network.
[Warning: spoilers ahead!]
The Season 3 finale of "Bates Motel" concluded with Norman running away from home after Norma (Vera Farmiga) told him that he needed to get professional help for his mysterious mental illness. A newly returned Bradley (Nicola Peltz) gladly picked him up and drove off – but that turned out to be a big mistake. They had just left White Pine Bay when Norman began to hallucinate his mother. She demanded that he have Bradley pull over so that she could talk to her … and he obliged.
Things quickly spiraled out of control as Norman – believing himself to be Norma – accused Bradley of working a "hot little sex kitten routine" on her son. Bradley tried to run away when Norman/ "Norma" attempted to pull her out of the car. But Bradley wasn't quick enough. Norman/ "Norma" caught up and choked her while slamming her head repeatedly into a rock. It wasn't until Bradley was dead that Norman finally snapped out of it and discovered what "Norma" had done.
Where does Norman go from there? Can he get away with another murder? How will his real relationship with Norma play out now that he thinks she killed Bradley? These are all questions for Season 4. And although the pickup hasn't been announced by A&E, "Bates Motel" co-showrunner Carlton Cuse wants fans to know that despite the "Psycho" transformation, the story of Norman and Norma Bates is far from over.
"That's not the end of our story," Cuse told the Hollywood Reporter of the Season 3 Finale.
Cuse explained that he sees 20 new episodes in the future, bringing "Bates Motel" to five seasons. That would mean a tentative 2017 series finale for the show.
"The very end will be made richer and better as a result of the creative journey that leads us there," he continued. "But do we have a specific idea of where we're going? Yes we do."
As for the immediate future of the series? Co-showrunner Kerry Ehrins added to TV Line that Season 4 will feature more cross-dressing for Norman. Viewers will also get to explore more of Romero (Nestor Carbonell) and Norma's relationship ... which will definitely intensify after he killed Bob (Kevin Rahm) for her.
© Copyright IBTimes 2023. All rights reserved.