'Bates Motel' Season 4 Spoilers: Things Spiral Out Of Control For Norman In Episode 1 [RECAP]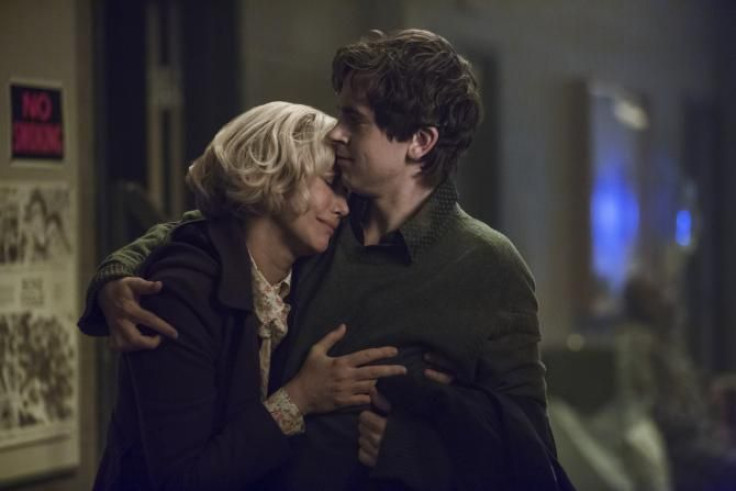 Plan your visit to White Pine Bay now, "Bates Motel" fans. The quite town is the perfect place to hide dark secrets … and bodies.
Season 4, episode 1 of A&E's "Psycho" prequel series picks up with Sheriff Romero (Nestor Carbonell) taking care of Bob Paris' (Kevin Rahm) body. Far off the shore of White Pine Bay, Romero sinks Paris' boat, leaving the corpse of the Arcanum Club leader wrapped up in a fish net. He makes the long journey back to land on a rowboat — but nothing good is waiting for him back home.
Norma (Vera Farmiga) is frantic because Norman (Freddie Highmore) has been missing for a couple days. She's so worried about her son that she makes Dylan (Max Thieriot) hang up flyers with Norman's face on it. And fortunately those flyers help them get a lead on Norman's whereabouts. A farmer finds the teen dirty and bloody in the middle of a field. Norman thinks that he's talking to "Mother," but in reality he's only talking to himself. He turns violent when the farmer tries to help him, forcing the guy to knock him out and get the police to put him in a psychiatric hold at the county hospital.
Norma's ready to race to the facility to get her son released, but Dylan's not coming along for the ride. He tells his mom that he needs to go to Portland to check on Emma (Olivia Cooke) after her lung transplant. Norma finally catches on that he has feelings for Emma and allows him to go. Meanwhile, she goes into full mama bear mode at the hospital.
Norman's under a 48 hour observation, meaning that he cannot be released. That does not sit well with Norma, who desperately wants to reunite with her son. But she might have bigger issues to deal with. When one of the hospital administrators catches wind that Norma hasn't taken her son to see a doctor for his blackouts she tells her that she can be charged with negligence.
Things are only going slightly better for Dylan in Portland. He's waiting for word on Emma with her dad, Will (Andrew Howard), when a mysterious woman asks the reception desk about Emma. Dylan's never seen her before, and it's revealed that she's Audrey, Emma's mother.
Will isn't happy to see his ex-wife, even though he's the one who informed her of Emma's operation. He wants her to go, but Audrey argues that she has something for Emma and scraped together money to get to Portland. Will doesn't care.
Audrey leaves and shortly after a doctor comes out to inform Will that the surgery was a success and that Emma is in recovery. However, the next 24 hours are important to see if the transplant takes.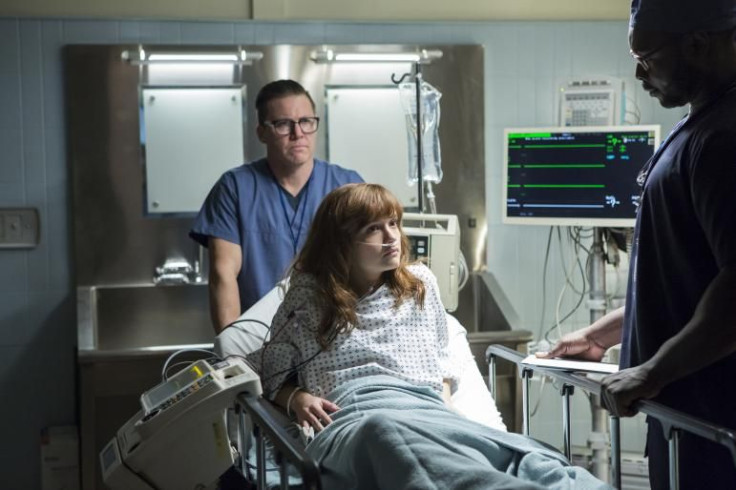 Fortunately things are looking up for Norma as well. After a failed attempt to convince Romero to bail Norman out of the county hospital, Norma ends up at Pineview Mental Institution. She tells one of the counselors that she's ready to admit her son — but it's not that simple. Pineview has a waiting list and Norman doesn't even have a referral fro a doctor. But none of that matters to Norma. She's determined to get him in,
On her way out, Norma runs into Dr. Gregg Edwards (Damon Gupton), one of Pineview's mental health physicians. Norma tries to sell Edwards her single mother sob story, and even hits on him. But Edwards is having none of it, he walks away after he tells her that he's gay. That forces Norma to finally tell the truth. She explains that her son has blackouts and that she's tried to control them out of fear that he'd be taken away. She continues that she can no longer control the blackouts and that her son is currently on a psychiatric hold at the county hospital.
Edwards softens after listening to Norma and tells her to call his private practice office once Norman's released.
Feeling a bit more optimistic, Norma returns to the motel and finds a customer waiting outside the front office — it's Emma's mom. Norma doesn't recognize the woman and Audrey does not offer her information on her identity. However, Norma senses that there is something more to the motel guest.
Norma doesn't have time to focus on Audrey though, because the county hospital calls to inform Norma that they are discharging Norman. It's not until Norma drops off breakfast to Audrey while on her way to pick up Norman that she learns who Audrey is. And surprisingly, Norma wants nothing to do with the situation. She cuts Audrey off when she starts to explain her story, telling the woman that it's none of her business.
Once Norma gets to the hospital she has to meet with the administrator one last time before she gets to take home her son. The administrator informs Norma that Norman needs help … and if she doesn't set him up with a doctor and treatment plan within 48 hours then social services is going to take him back to the county hospital.
Despite that, it's a joyous reunion between mother and son, and Norma quickly gets back to babying him at home. But Audrey is not done with their conversation from earlier. She shows up at the door asking Norma to give Emma a letter from her. Norma refuses, so Audrey asks to speak with Norman — and that does not sit well with the Bates matriarch.
Audrey pleads with Norma, telling her that she has no idea what it's like living with a child that has something wrong with them. Norma doesn't go into her own problems, and instead tells Audrey she has to leave the motel. Audrey has nowhere to go and promises to leave the following day when she can catch her flight. Norma agrees to let her stay, but warns her to leave her son alone.
With Audrey out of her hair for now, Norma returns to Norman and breaks the news to him that he has to see a doctor. Surprisingly, Norman agrees. But he has one condition. He makes Norma promise not to send him to a place with "crazy people."
The mother and son sleep in the same bed, and when Norma wakes the next day she's ready to put a plan in place to get him the help he needs. She calls up Romero in the early morning and tells him that she needs to talk to him about something important — in person. With Norman still sound asleep, Norma locks her son inside the bedroom to keep him safe. Of course, that doesn't end well for Norman. When he wakes and discovers that he's been locked inside he begins to panic and slam on the door. Eventually he breaks it down, triggering "Mother" Norman.
While Norman's alter ego takes over, Norma is doing whatever it takes to help her son — and that involves asking Romero to marry her. She tells Romero that she knows he's attracted to her and that she needs his insurance for Norman. The marriage would be strictly on paper, that is, of course, unless Romero wants to get physical. Romero agrees that she's an attractive woman, but breaks the cold hard truth to her — he's not going to marry her.
As Romero turns down Norma, Audrey uses that time to sneak up to the house to see Norman. With a rabbit stuffed animal and note in hand, she's ready to ask Norman to relay a message to Emma. But what she doesn't expect is to run into Norman wearing his mother's bathrobe.
Although she's a little confused about what's going on, she proceeds to explain her story and how she left because Emma's dad has a "violent temper." She adds that she wants Emma to know she loves her and hopes she can understand the situation.
"Mother" Norman comforts Audrey, but turns on her when she asks him to give Emma a letter and her childhood doll. Yelling at her for abandoning her sick daughter, "Mother" Norman grabs Audrey's scarf and strangles her to death.
© Copyright IBTimes 2023. All rights reserved.
FOLLOW MORE IBT NEWS ON THE BELOW CHANNELS