'Battlefield 1' Gets Free Map DLC In December Called Giant's Shadow: Details And Art Revealed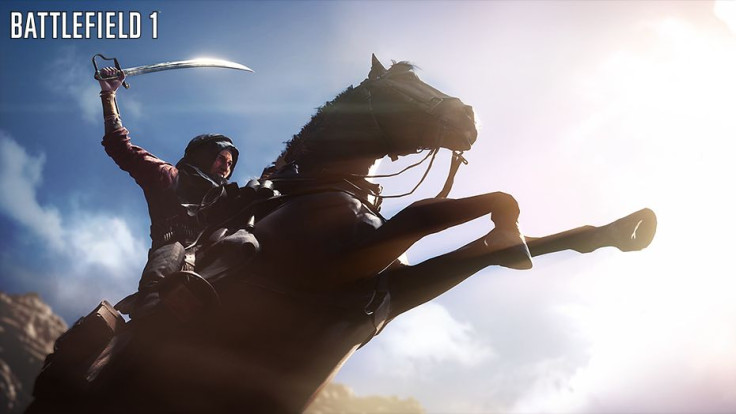 "Battlefield 1" is getting free map DLC this December, and it's already been detailed on the game's official site. With DICE's official description and art, here's everything we know about Giant's Shadow.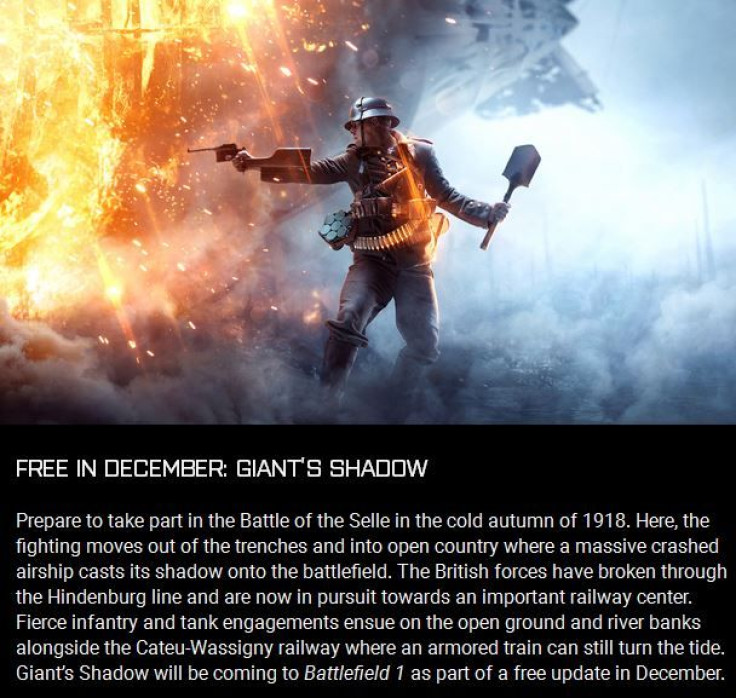 As suggested in the image above, Giant's Shadow takes place during the 1918 Battle Of The Selle. A massive airship has apparently crashed in the open country of France, where British forces must confront their German enemies in an atypical state of war. After pushing through the Hindenburg Line, the British make their way toward an important railway center to turn the tide of combat. Outside assistance from allied French forces also exists to ensure the operation goes smoothly.
The map will apparently be free to all "Battlefield 1" players in an update that's set to go live in December. "Battlefield 1" pre-order bonuses tout seven-day early access to a free map release in 2016. It seems Giant's Shadow may be that unnamed incentive.
There's not much to say about the artwork, but it's worth noting the promo image features a German soldier armed with a luger and shovel. The style is similar to what we've seen from other "Battlefield 1" art in the past. It's dramatic enough to appeal to gamers without knowledge of World War I but still puts historical artifacts at the forefront.
This historic tweaking theme is also prevalent in the Giant's Shadow map as well. Forces were very much concerned with securing the Cateau–Wassigny railway in the real Battle Of The Selle, but there doesn't seem to be any mention of a crashed airship in the area. That element of the game could be added to bring some dramatic flair to the firefight.
"Battlefield 1" comes to Xbox One, PS4 and PC on Oct. 21.
What do you think about this free map DLC? Does Giant's Shadow sound fun? Tell us in the comments section!
© Copyright IBTimes 2023. All rights reserved.
FOLLOW MORE IBT NEWS ON THE BELOW CHANNELS