Bayern Munich vs. Barcelona 2015: Prediction, Team News, Preview For Champions League Semifinal Second Leg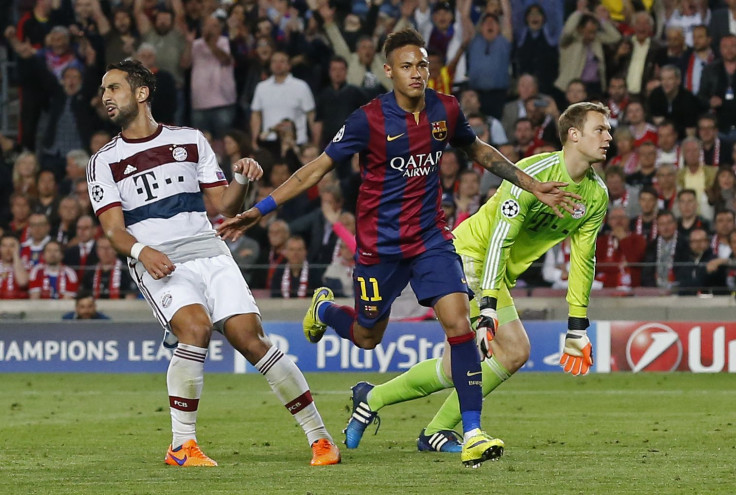 The brilliance of Lionel Messi has left Bayern Munich facing, if not mission impossible then a massively improbable task on Tuesday night. Six days earlier, the German champions were closing in on a hugely creditable goalless draw at the Camp Nou in the first leg of the European giants' Champions League semifinal. Then Messi took over. Within four minutes the four-time world player of the year had beaten Manuel Neuer twice before, with seconds remaining, he sent Neymar through to give Barcelona a huge 3-0 advantage to take to the Allianz Arena.
For Bayern, it means for a second straight year they are teetering on the brink of seeing a hugely promising campaign painfully peter out. And for Pep Guardiola, bought in on the back of Jupp Heynckes' treble triumph two years ago, there is now much scrutiny on whether he will even see out the final year of his contract in Bavaria. At a club that expects to win it all every season, there is little margin for error, even if you have earned a reputation as one of finest coaches of your generation.
In both of the Spaniard's seasons it has been a similar story. Earlier in the campaign his team has looked a class apart in Europe. Last season there was the heights of a simply brilliant 3-1 win at Manchester City, while this time around there was the mesmerizing perfection of Bayern's performance in hammering Roma 7-1 in the Italian capital. But when it has come to the crunch, to the couple of matches upon which Bayern's season will be judged, they have been undermined by a lack of mental and/or physical sharpness.
Last season with the Bundesliga title sealed in record-breaking time, Bayern clearly struggled to switch their focus back on in the Champions League semifinals against Real Madrid and were ignominiously blown away. This time injuries have cost them dear. As well as missing David Alaba, Holger Badstuber and with Javi Martinez only fit enough for a place on the bench, Bayern headed to the Camp Nou last week missing two of their preferred attacking trident and with the third compromised by a broken nose and jaw.
While it is often too simple to blame injuries, that scale of loss is a serious mitigating circumstance. Especially given the influence they had in the first leg, imagine Barcelona being stripped of Messi and Neymar, while having Luis Suarez robbed of his usual sharpness. And the absences may well have had a major impact on Guardiola's approach to the match. Without the pace of Arjen Robben and Franck Ribery to play on the break, Guardiola had to be imaginative and find a way of holding possession and forcing errors high up the pitch, leading to his early tactical gamble.
As it was Bayern settled after bringing in extra defensive reinforcement and were on top early in the second half. But they never carried a threat going forward, as was demonstrated by the painful reality of failing to get a single shot on target. With Robben and Ribery still out, there is little that can be done to alter the picture dramatically in the return leg, although the more fleet-footed Mario Götze may be included to add a change of pace alongside Lewandowski and Thomas Müller. Javi Martinez could also add some steel further back.
But as well as the physical challenge facing Bayern Munich against a sensational Barcelona team, the Bavarians also have to shake off a succession of mental blows. Bayern go into the return leg having lost four straight matches and have not scored in 361 minutes -- their longest goalless run in 17 years. Their treble dream was ended by Borussia Dortmund on penalties in the semifinals of the DFB-Pokal, while they have also been beaten in the Bundesliga by Bayer Leverkusen and, on Saturday, Augsburg.
Guardiola insists he is staying, brushing off speculation that he is bound for Manchester City, but he badly needs to alter the narrative on Tuesday. Reaching the final will surely prove beyond them, with the task of having to score at least three goals and knowing that one goal from Barcelona will leave Bayern requiring five. But even if Bayern can produce a performance that puts Barcelona's progress in some doubt it will do much to restore optimism at the club for the remainder of this season and heading into next. Barcelona, though, fresh from extending their La Liga lead, will be in no mood to even leave the door to the final slightly ajar.
Prediction: It's hard to imagine Guardiola starting with three at the back once again, although it's clear Bayern have to at some point take major risks if they are to have any chance of overhauling their 3-0 deficit. Getting more fluency in the midfield will be key, and former Barcelona midfielder Thiago Alcantara must have a greater influence on proceedings than he did at the Camp Nou. If he starts, Götze must step up and shoulder the responsibility of his undoubted ability as he did when scoring the winning goal in the World Cup final. But even if all those factors come to fruition it is difficult to see Bayern prevailing. Unlike under Guardiola's leadership, Barcelona are now much more adept at playing on the counter attack. And as Bayern press for goals, the phenomenal pace and movement of their front three coupled with the passing acumen of Messi and Ivan Rakitic will lay this semifinal to rest.
Predicted score: Bayern Munich 1-1 Barcelona
Team News: Bayern will still be without Robben, Ribery, Alaba, Badstuber and Sebastian Rode. Barcelona have no injury worries.
© Copyright IBTimes 2023. All rights reserved.