B.B. King Hospitalized Due To Dehydration From Diabetes, Daughter Says 'King Of The Blues' Much Better Now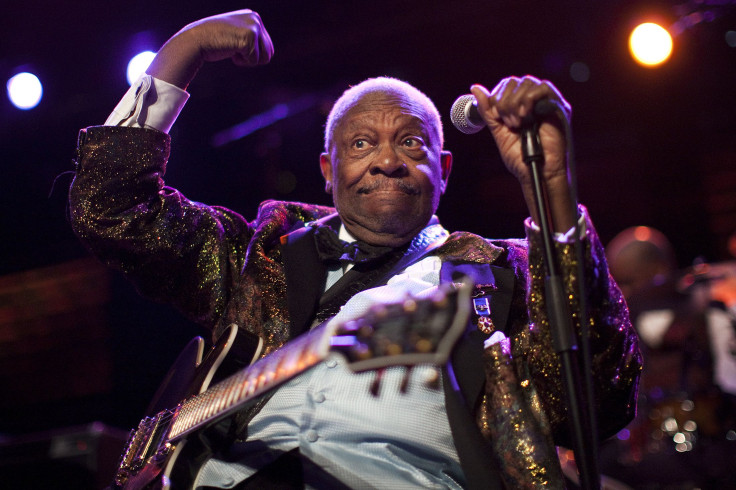 Blues musician B.B. King was rushed to a hospital over the weekend near his home in Las Vegas due to dehydration from Type II diabetes, TMZ reported. King has lived with the condition for over two decades and all of his eight performances, scheduled for 2014, were canceled due to health issues.
The legendary musician's daughter Claudette reportedly said that her father is in a much better state now, the Los Angeles Times reported.
"Mr. King did not feel well enough to continue his performance last night, Oct. 3, 2014, at the House of Blues in Chicago," according to an Oct. 4 statement that announced the cancelation of the rest of the tour for the year. The statement added: "He was immediately evaluated by a doctor and diagnosed with dehydration and suffering from exhaustion whereby causing the eight remaining shows of his current tour to be canceled."
The 89-year-old was inducted into the Rock Hall of Fame in 1987 and is best known for his songs "Three O'Clock Blues," "The Thrill Is Gone" and "When Love Comes to Town." Born in Mississippi in the 1940s, the "King of the Blues" has released over 50 albums during his 67 years in music, KRON4 reported.
After he was hospitalized last October, King had said in a statement on Oct. 7: "I'm back at home now listening to music, watching movies and enjoying some down time. I think I'm busier at home now than on the road talking to friends calling to check up on me. I do appreciate everyone's calls and concern. I want to tell you, I'm doing alright."
© Copyright IBTimes 2023. All rights reserved.