Beijing 'To Reclaim Land' On Another Reef In Disputed South China Sea, Could Build Runway: Chinese Naval Source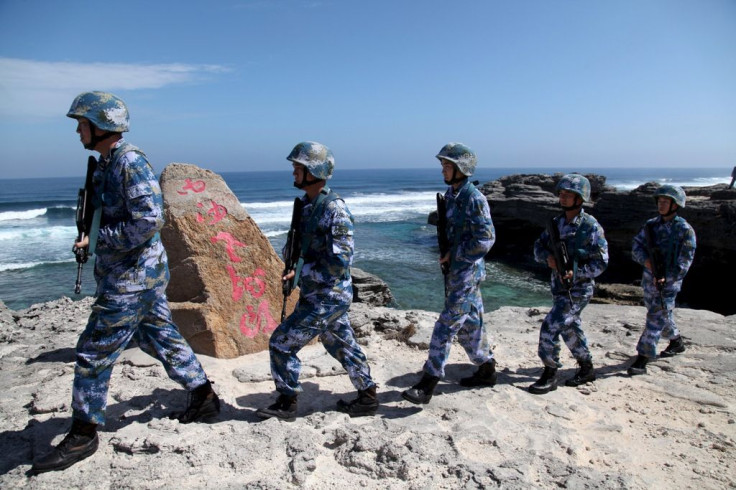 SHANGHAI — China will start land reclamation on another reef in disputed waters it claims are its territory in the South China Sea later this year, according to a Chinese naval source quoted by Hong Kong's South China Morning Post. And in comments likely to add to already high tension in the contested region, the source also reportedly said China might build an airstrip on the reef once reclamation is complete.
Anxiety has risen in the area since Beijing, which says most of the South China Sea is its territory, began reclaiming land two years ago on other reefs in the Spratly Chain — a region also claimed by Vietnam, the Philippines, Brunei, Malaysia and Taiwan. China is already thought to have built two airstrips in the region — though it has insisted that these and other facilities it has constructed are for civilian and humanitarian use.
Beijing had previously said that it had stopped reclaiming land in the Spratlys last year. But the South China Morning Post Monday quoted a "source close to the PLA Navy" as saying China "will take action to carry out land reclamation at Huangyan Island within this year." The island, known in English as Scarborough Shoal, lies some 143 miles off the coast of the Philippines.
The paper said the source told it that the planned reclamation was in response to "Freedom of Navigation" operations carried out by the U.S. military close to several Chinese-held islands and reefs in the region over recent months, and was also a response to a legal case brought against China by the Philippines at an international court in the Hague, and to increasing U.S. military cooperation with Manila. U.S. defense secretary Ash Carter confirmed recently that the two countries have carried out joint naval operations in the South China Sea, while the U.S. air force this year began establishing support facilities at a number of military airfields in the Philippines, to enable U.S. planes to use these bases.
"China should regain the initiative … because Washington is trying to contain Beijing by establishing a permanent military presence in the region," the naval source told the paper. The source also said China might add an airstrip on the reef in order to "further perfect" air cover over the South China Sea. One expert quoted by the South China Morning Post said such a move would allow China to monitor an air base at Pampanga, some 205 miles away, which is expected to be used by U.S. planes.
The U.S. says its freedom of navigation operations are designed to emphasize that the South China Sea, home to some of the world's busiest shipping lanes, remains international waters. And U.S. Deputy Secretary of State Antony Blinken said on a visit to Vietnam last week that what he called China's "massive land reclamation projects" in the region -- and "increasing militarization" of the islands — "fuels regional tension and raises serious questions about China's intention."
China has said the facilities it has built on reclaimed land, which also include lighthouses, will help with navigation and air sea rescue missions. And it points out that other countries have also reclaimed land in the area over the years — though experts say this is on a far smaller scale.
And during talks with President Barack Obama in Washington last year, Chinese President Xi Jinping was reported to have pledged not to militarize the Spratlys region. However, experts say Beijing has become increasingly assertive in emphasizing its claims to the region since Xi took office three years ago. And Chinese media have warned repeatedly that the U.S.'s tough response to its reclamation was likely to lead to more militarization in the area, though Beijing says its deployment of planes and missiles on Woody Island in another island chain, the Paracels, is purely for defensive purposes.
Following Blinken's comments last week, the Chinese Foreign Ministry accused the U.S. of stoking tensions in the area, and called on Washington to "be discreet in its words and deeds regarding the South China Sea."
Some observers said the comments reported by the South China Morning Post could be designed to increase psychological pressure on the international community, ahead of a judgment, expected in May or June, at the Permanent Court of Arbitration in the Hague – where the Philippines has brought a case calling for a ruling on China's territorial claims in the region. China has said it does not accept the court's right to rule on the issue - and has angrily rejected a British government minister's call for the ruling to be binding.
And while Beijing says it still wants peace in the region, some experts have warned there is a danger that the dispute could go beyond verbal sparring to become a genuine potential flashpoint:
"[President] Xi is stoking the flames of nationalism by going all out regarding the South China Sea issue," Willy Lam, a specialist on Chinese politics at the Chinese University of Hong Kong, told International Business Times. "He wants to be seen as bold enough to stand up to the Americans."
Lam said many ordinary Chinese citizens were more concerned about focusing on China's slowing economy than ramping up military tensions and raising defense spending. However, he said "there is no way Xi can pull back now," adding that this would leave him vulnerable to criticism from within the Communist Party and military:
"The worst thing for him is to have to shoulder the blame for 'losing face to the world' on a major foreign-policy issue," Lam said.
The G-7 has sought to put pressure on China to resolve the issue peacefully, and some experts say it should continue to do so. However, following a recent statement on the issue made during a G-7 meeting in Japan, China said the group should not get involved in the South China Sea issue, and Chinese officials are expected to repeat this advice to Japan's foreign minister when he visits Beijing this weekend.
© Copyright IBTimes 2023. All rights reserved.