Beijing's Nearly Uninhabitable, But Because Of Prices, Not Smog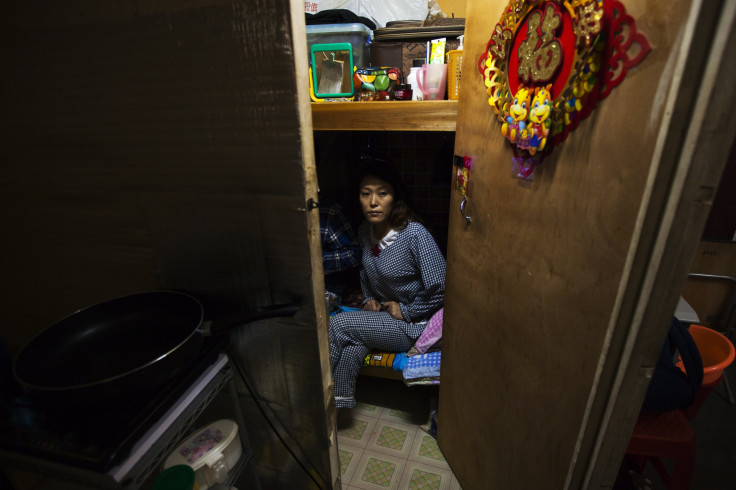 Housing and rental prices in Beijing have always been expensive compared with most other cities in China, but in the last 10 years, they have increased much faster than usual, along with the cost of almost everything else. What hasn't increased at the same rate is wages, which is making Beijing now nearly unaffordable for many people, from hourly wage earners to mid-level office workers, according to Sohu News.
In 2012, the average rent price in Beijing rose by 11.1 percent. While that may seem like a lot, it is much lower than increases seen in 2010 and 2011, when rent rose by 19 and 13 percent, respectively.
When Xu Hui graduated from Beijing Foreign Studies University in 2003 and began working for a state-owned pharmaceutical company, he rented his first apartment in Beijing. It was an old one-bedroom apartment, about 60 square meters (645 square feet), with little sunlight.
"It cost 1,400 yuan [$227], and I was old, but I was in a hurry to move in," Xu Hui said. At the time, he was making 5,000 yuan per month. "All my classmates were making about this much. We didn't have much to spend on, having just left school, so it was plenty of money."
Half a year later, Xu successfully completed his trial period, and he was able to begin renting from company-owned properties at a discounted rate. He received a monthly renting stipend of 900 yuan. His next apartment, a two-bedroom apartment that he rented, was in one of the best residential areas of Beijing at the time -- and it cost 1,600 yuan instead of the market price of 2,000. Xu kept the bigger bedroom for himself and was able to rent the smaller one out for 900 yuan. He was in effect making an additional 200 yuan from renting the other apartment, and lived virtually rent-free.
"Even though my salary increased slowly while working for a state-owned enterprise, renting was never a big burden," Xu said.
In 2005, Xu took a job with a German company, making about 8,000 yuan per month. He moved closer to his new workplace, and he paid 2,200 yuan a month for a small two-bedroom apartment. Even though it was an acceptable price for Xu, rent was now taking up a bigger chunk of his salary than previously, and he felt the pressure. In the years following 2007, the pressure compounded.
"Usually if the landlord asked me, do you still want to rent next year? That means the rent will go up by ten percent," Xu said. "If the landlord said he wanted the apartment for himself that means he wants to increase my rent by 20 percent."
In recent years, Xu had a few opportunities to buy real estate but those opportunities never panned out. Now he is renting an apartment built in 2010. Two bedrooms, less than 90 square meters [969 square-feet], cost 6,000 yuan a month.
"The landlord just asked if I'd like to keep renting for the next six months, and the rent is sure to rise again," Xu said. He is now making 20,000 yuan per month, but rent and car maintenance takes up half of that. With groceries and eating out, he's left with less than 5,000 yuan. As a man in Chinese culture, he has to think about saving up for marriage.
The two-bedroom apartment he was renting in 2003, which cost less than 2,000 yuan then, now cost three times what he paid. His first apartment, at $1,400, would cost more than $4,500 now. These are just regular, often old, apartments. A 60-square-meter (645 square feet) apartment in a serviced, luxury high-rise could cost as much as 14,000 per month, unthinkable for regular office workers like Xu.
Unreasonable landlords are not to blame, however. According to Zhang Cheng, a landlord who owns an 80-square-meter (861 square feet) two-bedroom apartment, it cost him three million yuan to buy the unit initially. He is renting it out for 5,500 yuan per month. Factoring in the cost of heating, maintenance and rental agent fees, he only gets about 50,000 yuan per year for the apartment, a less than 1.7 percent yield on his investment.
"That yield is lower than if I had put the money into a savings account," Zhang said. It would be unfair for rent to remain that low. "With just rent, it would take me 60 years to recuperate my investment."
Zhang Cheng and Xu Hui, though each with his own housing struggles, are still doing well compared with Zhao Xia, a 28-year-old migrant worker from the northwestern province of Gansu. She moved to Beijing five years ago to save up money for her son's marriage, which at the time seemed far in the future. In 2008, Zhao Xia rented a 15-square-meter (161-square-feet) basement with a friend, initially. The place was only big enough to hold two beds and an induction cooktop for food. It cost 600 yuan per month, split between the two of them.
Back then, Zhao Xia made 15 yuan per hour, and three yuan per hour went to her real estate agent. After eating and renting, she still saved 1,500 to 1,800 yuan per month.
Nowadays she makes 25 yuan per hour, but she isn't saving any more than before because the cost of basement apartments is rising along with the rest. Zhao Xia switched to a seven-square-meter (75-square-feet) basement apartment, which is not big enough to hold anything other than her bed. This apartment costs 500 yuan.
"Our wage went up, but the cost of food and rent went up faster," Zhao Xia said, "I'd be lucky if I can save 2,000 yuan a month now."
FOR FREE to continue reading
✔️ Unlock the full content of International Business Times UK for free
offer available for a limited time only
✔️ Easily manage your Newsletters subscriptions and save your favourite articles
✔️ No payment method required
Already have an account?
Log in
© Copyright IBTimes 2023. All rights reserved.