Ben & Jerry's Agrees To Negotiate Migrant Justice Program: Renowned For Supply Chain Ethics, Ice Cream Company May Be Turning From Sour Labor Conditions On Vermont Dairy Farms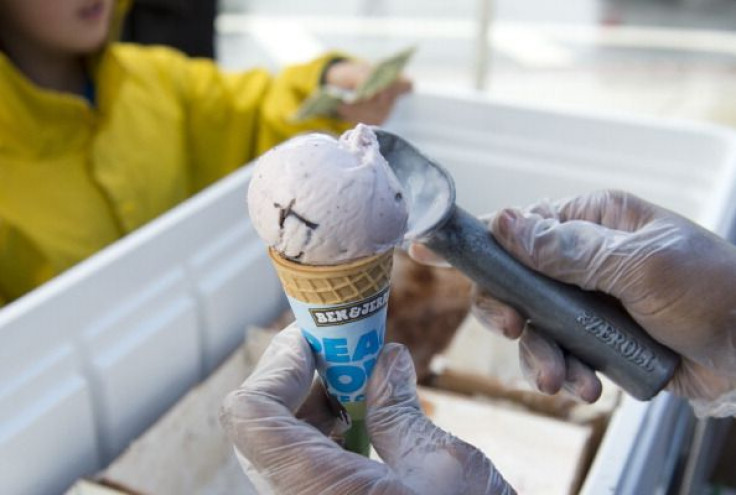 Birthed decades ago in the exodus of Northeastern hippiedom to Vermont, Ben & Jerry's has long radiated an aura of cultural rebellion and environmental responsibility. To produce iconic flavors such as "Cherry Garcia" and "Phish Food" -- nods to the tie-dyed rock bands beloved by its green-friendly consumer base -- the ice cream manufacturer uses cage-free eggs, avoids ingredients made from genetically modified organisms and contracts only with fair trade certified farms. Now, farmworker advocates say the company may finally be applying some of that famous supply chain scrutiny toward labor conditions.
On Friday, Ben & Jerry's agreed to negotiate with Migrant Justice, an organization that represents migrant workers on Vermont farms, about participation in the group's five-point program designed to boost labor standards. The announcement came one day before demonstrations, which were carried out in more than a dozen cities, from Burlington, Vermont, to New York City, that called on the company to adopt the program, known as "Milk with Dignity."
Ben & Jerry's doesn't employ dairy farmers directly. It buys most of its milk from cooperatives like the St. Albans Cooperative Creamery which has contracts with hundreds of dairy farms across the state. Those farms, in turn, employ upwards of 1,200 migrant workers, many of them from Mexico, some of them undocumented.
The five-point program is designed to help people like Enrique Balcazar, 22, who toiled for three years on four different dairy farms in Vermont's Addison County -- at least one of them supplying the St. Albans Co-op -- before he got in touch with Migrant Justice. Now an organizer for the group, Balcazar says he often worked 14 hour days with no days of rest, making $8 an hour. Those sorts of conditions aren't uncommon, according to a recent survey of nearly 200 migrant workers conducted by the group.
About 40 percent of those surveyed said they earn below the state minimum wage and do not receive one day off at least once a week; thirty-percent said they're treated worse than U.S.-born farm workers; about a quarter said they've never received pay stubs or a raise. Ben & Jerry's goes great lengths to ensure its cows aren't being injected with growth hormones, notes Balcazar, but has "never taken into account the human rights of workers," he says. "We want a day of rest, we want vacations, we want to be treated equally, we want to receive a minimum wage."
In a statement on Monday, Ben & Jerry's said it "shares Migrant Justice's belief that all farm labor must work under fair, just and dignified conditions" and pledged to "work together" to define its responsibilities under the agreement. In practical terms, that could mean better pay and some much-needed rest for hundreds of dairy farm workers putting in long hours for low wages.
The migrant workers are not legally entitled to the sorts of protections most of the American workforce takes for granted. They're exempt from Vermont's minimum wage -- currently $9.15 an hour -- which means farm operators can settle for paying the lower federal minimum of $7.25. They're exempt from federal overtime rules, which means they're not earning "time-and-a-half" pay for any of those additional hours worked beyond 40 per week. They're also exempt from the National Labor Relations Act, which guarantees the rights of employees to form unions and collectively bargain.
Migrant Justice's program would effectively extend some of those measures to cover workers and include other guarantees, like access to improved housing. It would also implement a monitoring system with independent auditors that is geared toward employers' responding to farmworker complaints and initiatives.
It's based on a similar system in Florida -- the Fair Food Program of the Coalition of Immokalee Workers -- which has won participation from major fast food outlets like McDonald's and Burger King in addition to food service providers like Aramark and retail giant Wal-Mart. Participating companies there have agreed to source tomatoes only from growers that follow the coalition's labor standards. Companies agree to pay their suppliers more, and that premium gets passed on to the pickers. By agreeing to Milk with Dignity, Ben & Jerry's would effectively do the same for a large chunk of the state's dairy farms.
"We cannot say that we've won yet," says Marita Canedo of Migrant Justice, which has prodded the company for months, in private, and publicly, since May. "But we see that it's coming."
© Copyright IBTimes 2023. All rights reserved.