Who Is The BenQ Mobiuz EX3415R Monitor For?
The BenQ Mobiuz EX3415R is perfect for gamers, or anyone, who wants an unparalleled computer monitor
The EX3415R's curved screen provides the screen space of a dual-monitor setup without the extra hardware
The built-in speakers offer fantastic audio quality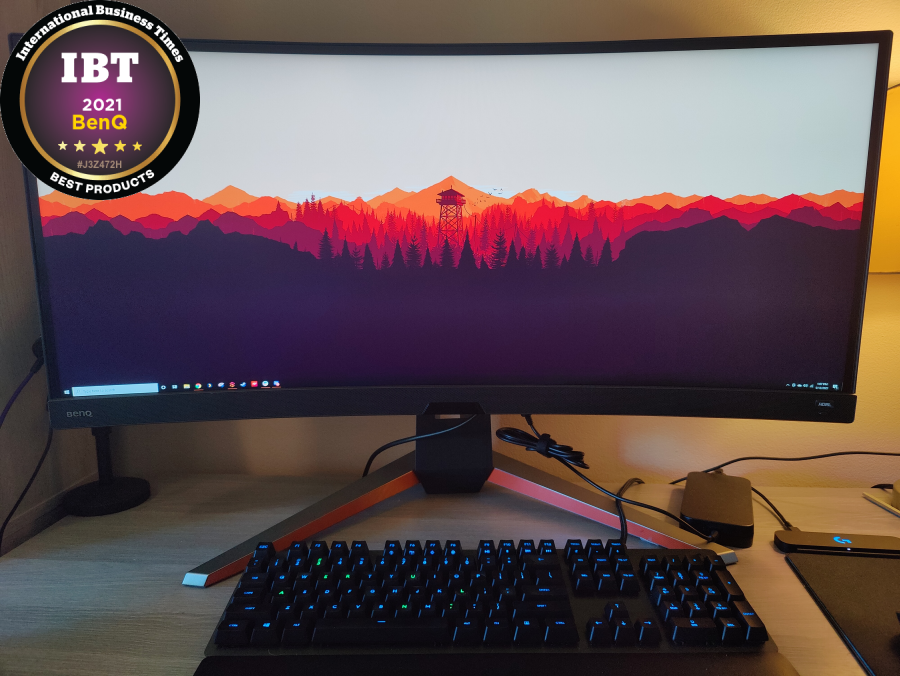 I said in my previous review that big screens are awesome because they can really immerse you in whatever content you are enjoying. While that review was about a projector that can dominate large, open spaces, what do you do when you're confined to a much smaller area like a desk? BenQ is here with their Mobiuz EX3415R curved gaming monitor to show how you can make a desktop feel like the center of the gaming world.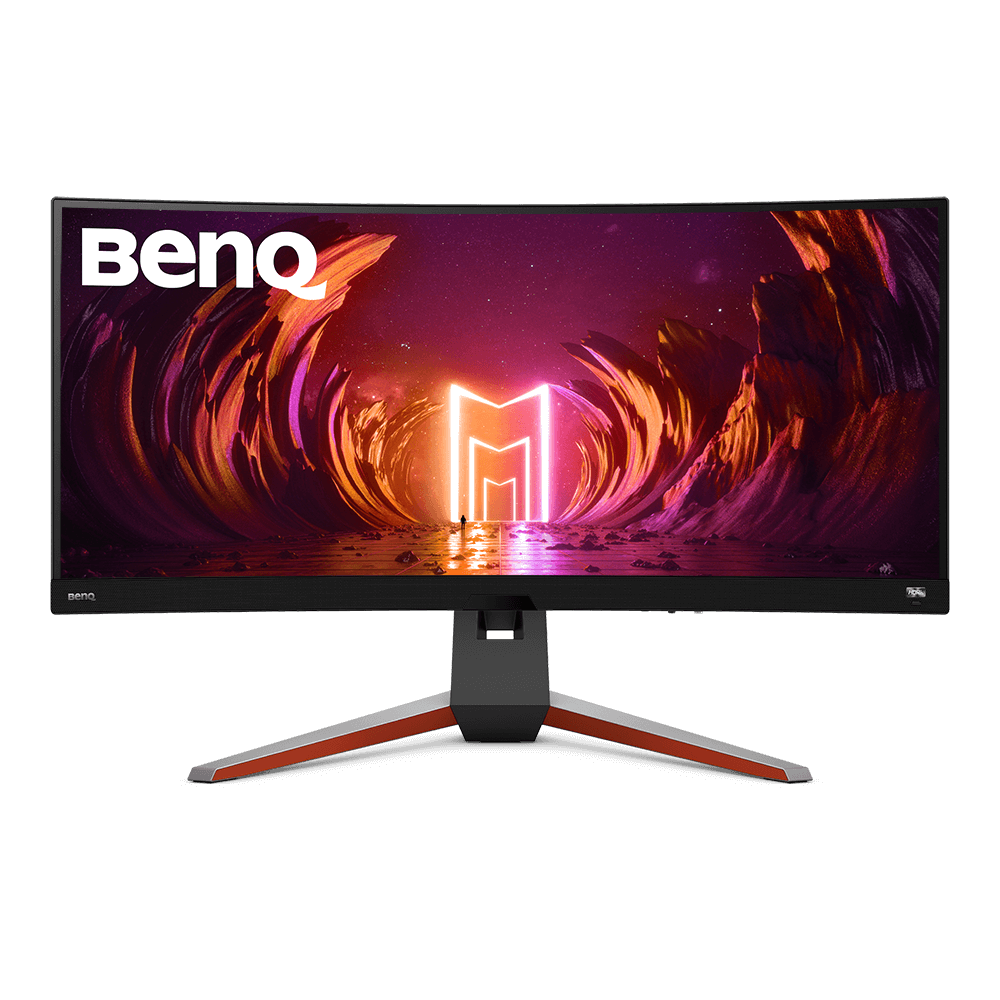 Absolutely Massive
The most immediately noticeable aspect of the BenQ Mobiuz EX3415R is that it is absolutely massive. This is easily the biggest computer monitor I've ever used. The screen is a whopping 34 inches, while the whole monitor is around 36 inches wide. At just under 19 pounds, the monitor has some serious beef to it. The base of the monitor is also fairly bulky, but that's expected for something that needs to support such a huge screen.
While the Mobiuz EX3415R is bulky, it's pretty easy to reposition once the legs are in place. The monitor is on a track to make it easy to slide up and down, and it can rotate on its base roughly 15 degrees in either direction. The monitor can also be rotated horizontally so that the bottom of the monitor sticks out. This is helpful for when you have to plug cables into the back.
The Mobiuz EX3415R uses this extra space effectively to make the monitor and base look great. The slight orange pop from the base's legs adds a little welcomed touch of color, and the back side of the monitor looks like some futuristic space tech. It should be easy to incorporate the EX3415R into your set-up if your computer is lit up with RGB peripherals or not.
Stunning Display
With all this screen space, BenQ didn't let it go to waste. The display is absolutely incredible. At a 21:9 ratio and 3440x1440 resolution, the Mobiuz EX3415R is capable of displaying in ultra widescreen. While the resolution isn't quite up to 4K standards, it's still stunning to look at.
To make the image even more dynamic, the Mobiuz EX3415R has HDRi support. HDRi allows the monitor to not only detect the content being displayed, but also detect the ambient light around the monitor to provide the best image viewing experience. If something doesn't support HDR, the Mobiuz uses a virtual HDR technique to make SDR content pop just a little bit more than normal.
Additionally there are two separate HDR modes built into the Mobiuz monitor, one for gaming and one for watching TV and movies. The gaming setting is broken down even further, with different pre-set options for different genres of games. There's a racing option, an RPG option and an FPS option. Do these actually make a difference? Well, that's kind of subjective based on how each person likes their display. That said, there is a noticeable difference when flipping through the options. The RPG setting has a warmer tone to it, while the racing setting is very cold. The FPS setting is somewhere in the middle.
Each of these modes can be customized as well, with options including brightness, contrast and sharpness. There are even stock options for using Macbooks or for making the screen look like an e-reader. If digging into video quality options to get your image exactly the way you like it is your thing, the Mobiuz is the monitor for you.
Content also looks smooth on the Mobiuz EX3415R thanks to its fast 144 Hz refresh rate. There's virtually no delay either with the EX3415R's 1 ms MPRT response time.
The BenQ Mobiuz EX3415R monitor supports VESA Adaptive Sync, which is the technology that both AMD FreeSync and NVIDIA G-Sync are based on. That said, the monitor does not officially support G-Sync. Despite this lack of official support, it's still possible that many of the benefits of G-Sync will work with the EX3415R, but it will require some experimentation from users to get working properly. FreeSync is officially supported for those with AMD graphics cards.
What's really impressive is that BenQ knows staring at a computer monitor all day isn't great for anyone's eyes. That's why the EX3415R has built-in eye protection measures. These include a low blue light mode, a flicker-free display and BenQ's Brightness Intelligence Plus tech. The latter uses a sensor similar to the HDRi process, where the sensor reads how much light is in the room with the monitor, and adjusts the monitor's brightness and color levels to best match its surroundings.
If I had to find a downside to the display, it's that sometimes certain pixels seem to have trouble displaying certain colors. For example, in the image above there is one pixel that is obviously sticking out from the rest. However, it isn't a dead pixel, because changing the color that is displayed fixes the issue. Of course, once my background image changes, a different pixel or two start acting up with a different color. It doesn't always happen, and it isn't that much of a distraction as I'm rarely looking at static images long enough to notice pixels behaving oddly.
Surprising Number Of Modes
A computer monitor is really only expected to do one thing, display a video feed from a computer. However, the BenQ Mobiuz EX3415R can do more than that thanks to its multiple inputs. There are two HDMI 2.0 ports and a DisplayPort 1.7 port, allowing for up to three input sources.
With multiple input sources connected, the EX3415R gains access to its picture-in-picture modes. There are three available. The first creates a dual monitor setup, providing equal screen space for both inputs. The second option is more of a standard picture-in-picture, with the second input carving a small window out of the main input's display. The third option pushes the second input all the way to the right side of the screen. This third option is perfect for those who want to keep something open at all times, like a Slack chat window or a Twitter feed.
While messing around with the settings, changing the picture-in-picture modes will have an impact on the aspect ratio of the inputs. This means you'll likely need to make some adjustments to get everything to look just right, as my computer didn't automatically adjust to the new display sizes.
These settings can all be found when using the included remote control. This remote is fairly flimsy, but does a decent job of helping navigate the EX3415R's on-screen menus. The remote can also be used to adjust playback volume from the monitor as well as switch between inputs.
If you don't like the remote or it happens to get lost, the on-screen menu can be accessed with a nub on the bottom of the Mobiuz monitor. There is also a physical power button and a button that quickly accesses the input menu. What's kind of odd is that there's a dedicated HDR menu button built into the front of the monitor. It's not distracting, but it seems a little unnecessary given the other ways to access the HDR settings menu.
Powerful Audio Performance
There are speakers built into the BenQ Mobiuz EX3415R, and they're way better than any built-in monitor speakers I've heard before. The monitor includes two 2W speakers along with a 5W woofer. At full volume, the bass response from the woofer is just shy of causing physical rumbling, making it great for playing games or listening to music.
The bass seems to really excel with quick pops. The timpani beats were incredibly pronounced when listening to "Mars, the Bringer of War" from The Planets by Holst. For gamers, this means gunshots or other sudden, loud sounds are nice and clear and don't get lost in the rest of the audio mix.
Like with the video options, there are also multiple audio settings based on the content that is being played. The preset options include one designed for FPS games, one for racing games, one for sports games, one for music and one for movies and TV. There's a dedicated button on the remote to quickly jump into the audio mode menu to change up settings, but the audio modes do not have similar fine-tuned settings options that the video modes have.
Those who want a full surround sound with the Mobiuz EX3415R will still want to stick to external speakers or headphones, as the monitor is only capable of a 2.1 channel output. There is a 3.5mm jack on the back of the monitor to make it easy for those who don't want to plug anything into their desktop. While the built-in speakers on the EX3415R may be limited, those who don't want the extra hardware and cables from speakers will still be able to find plenty to work with here.
Final Thoughts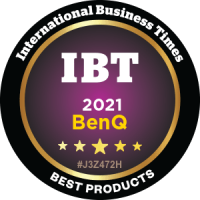 The title of this review is "no going back," which comes from a conversation I was having with a friend of mine. I had mentioned that I was reviewing this monitor and he said that after using such a big, curved monitor, he could not go back to a standard flat display. Unfortunately for wallets everywhere, he's right. After getting used to the monstrous BenQ Mobiuz EX3415R, it really feels like other monitors just can't cut it.
The massive 34 inch, 21:9 ratio display on the EX3415R is easily the best monitor I've ever personally used. It has a ton of HDR options to best maximize whatever content is being displayed, and tons of settings to really get into the nitty gritty of making those HDR options even more finely tuned. Even the built-in speakers impressed with the EX3415R, meaning that external speakers aren't a necessity here. Yes, it's a large and fairly heavy device, but BenQ has done a fantastic job to make the most out of the monitor with its huge screen and surprisingly mobile base.
The Mobiuz EX3415R is available right now on the BenQ website for $1,000. It will be available at other retailers, including Amazon, starting in June.
International Business Times offers links to items to help our readers find interesting products. When you buy through links on our site, we may earn an affiliate commission. Here are our
T&C
. For licensing please
click here
.