Bentley Woos Jay-Z, Maybach Set as Luxury Car Brand Nears End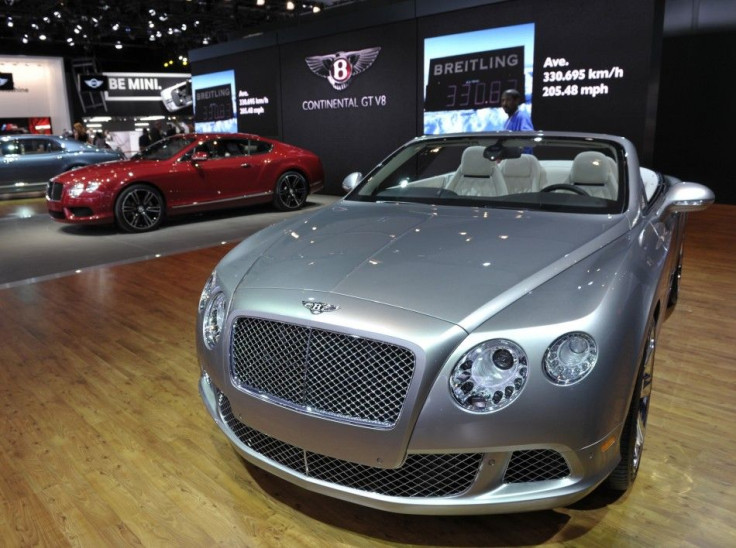 (REUTERS) -- Samuel L. Jackson, Jay-Z and King Juan Carlos can all expect letters from Volkswagen AG's (VOWG_p.DE: Quote,Profile, Research, Stock Buzz) Bentley.
The British high-end car maker is approaching rival Maybach's clients, who include the Pulp Fiction star, the hip-hop artist and the Spanish monarch, hoping to capitalize on Daimler AG's (DAIGn.DE: Quote, Profile,Research, Stock Buzz) move to kill off the ultra-luxury brand.
The withdrawal of Maybach is a business opportunity for us and we're going to use it, Bentley Chief Executive Wolfgang Duerheimer told Reuters at the Detroit auto show this week.
Daimler said in November it planned to end production of Maybachs, which start at $380,000, despite an unusual kind of endorsement from Jay-Z, who owns one of the cars and destroyed another with a blowtorch and saw in a music video released four months earlier.
One of the world's most potent wealth symbols, the condemned brand also counts Russian oil billionaire Roman Abramovich and the Sultan of Brunei among its following.
The Bentley boss has already heard from some Maybach clients and is in the process of writing to others, he said. The comments I'm receiving aren't very positive - they feel left alone.
Under Chief Executive Dieter Zetsche, Daimler is focusing on the core Mercedes brand's top-flight S-Class, adding pricier variants designed to inherit and enlarge Maybach's super-rich client base, starting next year.
But Bentley and BMW AG's (BMWG.DE: Quote, Profile, Research, Stock Buzz) Rolls-Royce Motor Cars are hoping owners of the prestige badge will instead defect to their plushest models, the Mulsanne and Phantom.
Analysts like their chances with Maybach clients.
They wanted something more exclusive than a Mercedes in the first place, so Rolls or Bentley would seem an obvious substitution, said Michael Tyndall, an auto specialist with Barclays Capital in London.
At $380,000, the aluminum-framed Rolls-Royce Phantom comes in close to the lowest-priced Maybach, the 57. That compares with the $500,000 price tag on the 62S model chosen by Jay-Z, excluding options.
Bentley's Mulsanne, which starts at $290,000, offers a 2,200-watt sound system, heated steering wheel, movie screen and optional iPads housed in the handmade seat-back picnic tables.
Duerheimer is inviting Maybach clients for VIP tours of the Bentley factory in Crewe, England. I want to create a specific welcome zone inside our brand, he said.
Daimler declined to comment on Bentley's initiative but said the closure of Maybach will not affect availability of parts and support for existing vehicles.
Rolls-Royce would also naturally welcome any current Maybach customers, a company spokesman said. But seeking them out and hunting them down is not the Rolls-Royce way.
Because of their celebrity and high-spending on bespoke extras, the Maybach set are a bigger prize than sales volumes alone suggest. The elite marque recorded just over 200 deliveries in 2011.
Bentley last year made its first positive contribution to Volkswagen profit since 2007, as sales surged 37 percent to 7,003 vehicles globally, almost doubling in China. Rolls-Royce deliveries rose 31 percent to 3,538, with China overtaking the U.S. as its biggest market.
Besides Maybach clients, Bentley is targeting owners of Porsche Automobil Holding's (PSHG_p.DE: Quote, Profile, Research, Stock Buzz) Cayenne Turbo who are ready to upgrade their $107,000 vehicles.
Duerheimer wants Volkswagen to approve development of a luxury SUV that would displace the Porsche as the most expensive model in the fast-growing category.
The Bentley SUV could be introduced in 2015 and command a premium of more than 20 percent over the top Cayenne, he said.
© Copyright Thomson Reuters 2023. All rights reserved.