Berlin tempers summit hopes, banks under pressure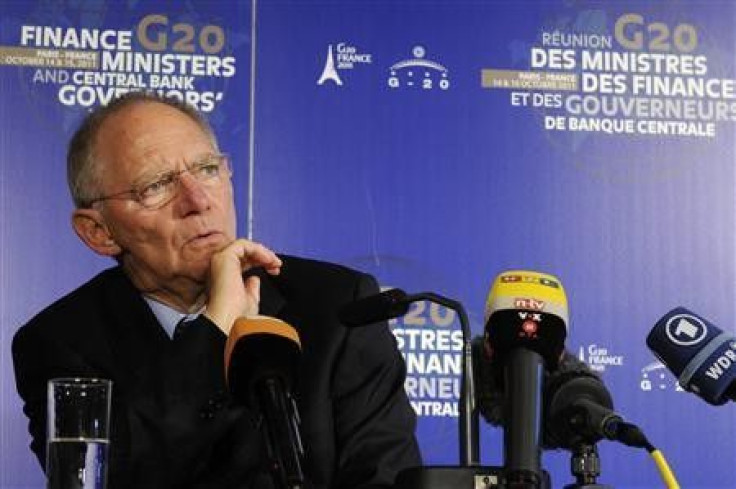 Germany warned on Monday that a summit of EU leaders next Sunday would not produce a miracle cure for the euro zone's sovereign debt crisis, pushing down markets that have risen in the past week on expectations of a breakthrough.
German Finance Minister Wolfgang Schaeuble told a conference in Duesseldorf that European governments would adopt a five-point plan at the Brussels meeting to address the turmoil that has clouded the outlook for the global economy.
This is expected to include a plan to recapitalize banks and reduce Greece's debt mountain by asking the country's private creditors to accept steeper writedowns on their holdings than the 21-percent losses agreed last July.
But Schaeuble cautioned that the meeting would not yield a definitive solution for the crisis that started in Greece two years ago and has since spread across the 17-nation bloc, leading some experts to predict a breakup.
His comment weighed on the euro, which fell one percent against the dollar after hitting a one-month high earlier in the day. European stocks also fell.
Ahead of a 48-hour general strike in Greece that is expected to bring the country to a standstill just as parliament votes on a new set of controversial austerity measures, Greek Prime Minister George Papandreou appealed for unity.
This is maybe the most crucial week for Greece and Europe, he said during a meeting with the Greek president.
Hours later, however, a deputy from Papandreou's party quit his seat in protest against what he called unjust steps. The lawmaker will be replaced by another socialist, so Papandreou's 4-seat majority in the 300-strong assembly remains unchanged.
Determining how the writedowns will be applied and the source of funds to recapitalize the banks will require arduous negotiations between now and the deadlines the EU has set for itself, said Dan Morris, global strategist at J.P. Morgan Asset Management.
We remain optimistic an agreement will be found but returns have been so strong over the last few weeks there is a risk of disappointment if it takes longer to work out the details than investors expect.
Pre-summit talks are taking place amid renewed social unrest in Greece. Much of the country is expected to be shut down by a 48-hour strike that will peak on Thursday, just as parliament votes on controversial new austerity measures.
Merkel's spokesman said the government was working intensively to define how German banks would participate in a second rescue package for Greece and how to make best use of the bloc's 440 billion euro rescue fund, the European Financial Stability Facility (EFSF).
Leaders hoped to take a big step forward in addressing the crisis, he said, while suggesting that expectations for the summit had gotten out of hand.
The chancellor has pointed out that the dreams building up that this package will mean everything will be solved and over by Monday cannot be fulfilled, Steffen Seibert said.
BANKS PUSH BACK
Dallara, managing director of the IIF, told Reuters that private holders of Greek bonds were prepared to discuss changes in how they might participate in future Greek debt relief.
EU officials say the bankers have little choice, since the alternative would be a disorderly default that would trigger wider financial market chaos and bigger losses.
But in a sign of growing frustration with policymakers, who have changed their crisis strategy repeatedly as Greece's woes have deepened, Dallara said a broader discussion was needed.
Privately, bankers say addressing Greece's woes alone will accomplish little. They are pushing policymakers to come up with a stronger plan for addressing the woes of the entire euro zone.
One solution under discussion is leveraging the EFSF to give it more firepower, but it is unclear whether a solution can be found that satisfies Germany and other northern European members of the currency bloc.
If the official community is interested in asking the private sector to take another look at Greece then it will have to be only as part of a broader process of addressing the full range of sovereign debt issues in Europe, Dallara told Reuters.
And it will have to be on the basis of an open and transparent discussion about the Greek economic adjustment program and the associated issues of debt sustainability.
Greece's overall debt mountain is forecast to climb to 357 billion euros this year, or 162 percent of annual economic output -- a level economists agree is unsustainable.
How to recapitalize banks is another source of conflict. The European Banking Authority (EBA), which is assessing bank capital needs, is expected to mark down the value of their sovereign debt holdings and require a 9 percent core Tier 1 capital ratio.
This would force banks to raise billions of euros. Leading German and French banks have said they will resist forced recapitalizations, but the French government made clear on Monday that this is what policymakers wanted.
French banks will be recapitalized even though they are solid because we are in a climate of extreme nervousness, extreme tension and lack of confidence so we must strengthen all the banks, French government spokeswoman Valerie Pecresse said on French radio.
We are going toward a collective European solution, she added. We will ask all European banks to have 9 percent capital ratios by 2013 to be more solid to face risk.
The 2013 deadline Pecresse mentioned was much later than EU officials have suggested. They want banks to be given three to six months to reach the target.
Christian Noyer, the governor of the Bank of France, said he expected French banks would be able to cover their capital needs without resorting to government help.
© Copyright Thomson Reuters 2023. All rights reserved.