Bernie Sanders Compares Hillary Clinton To Dick Cheney As 2016 Race Heats Up In Iowa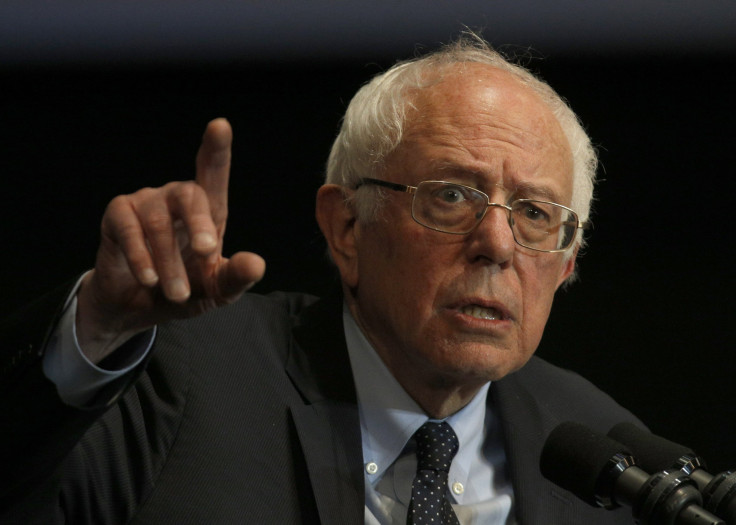 Democratic presidential candidate and Vermont Sen. Bernie Sanders ramped up his attacks against rival Hillary Clinton Tuesday when he compared her to former Vice President Dick Cheney and told supporters her judgment could be compromised by her relationships with Wall Street banks, the Wall Street Journal reported. The two candidates have traded increasingly sharp critiques in recent days as they approach the first 2016 nominating contests, and polls continue to show Sanders surging in early primary states.
"No one can deny that Secretary Clinton has a lot of foreign policy experience. But experience does not necessarily equate to judgment. Dick Cheney had a hell of a lot of experience," Sanders said while campaigning in Iowa Tuesday, according to the Wall Street Journal.
Sanders responded to questions about his own foreign policy experience by suggesting that Clinton may not have the best judgment in that area because she voted to support the Iraq war in 2002.
The comments came on the same day as a new CNN/WMUR poll showed Sanders now has nearly double the support that Clinton does in New Hampshire. While Sanders has long led in the state, this latest poll found 60 percent of the state's Democrats support him, compared with 33 percent supporting Clinton.
RCP Poll Average for New Hampshire Democratic Primary | InsideGov
While New Hampshire is considered safe territory for Sanders because of its proximity to his home state, the senator has also risen in polls in Iowa, where the first caucuses will take place in less than two weeks. A respected Des Moines Register/Bloomberg poll released last week found Clinton leading Sanders by just 2 percentage points (42 percent to 40 percent).
Since the start of 2016, Clinton and Sanders have both been pouring heavy resources into Iowa and New Hampshire, but it has been particularly clear how nervous the Clinton campaign is about its chances in the first two contests. Once thought to be the prohibitive front-runner, Clinton is now facing a much more enthusiastic and enduring challenge from Sanders that looks like it could last the duration of the primary season.
Like Sanders, Clinton has recently taken a stronger stance against her Democratic rival than she did last year. Earlier Tuesday, Clinton's campaign released a letter signed by 10 former U.S. diplomats and foreign policy officials questioning Sanders's foreign policy chops and his ability to act as commander in chief.
Beyond foreign policy, the two candidates have also struck out at each other over issues including guns and healthcare. The Sanders campaign exhibited frustration Tuesday when Clinton received an endorsement from the Human Rights Campaign, the country's largest gay rights group. In an interview with MSNBC, the senator said that while he likes the groups that have endorsed Clinton, he does not believe he needs "the establishment" to win.
"And so I have friends and supporters in the Human Rights Fund, in Planned Parenthood," Sanders said in the interview. "But you know what, Hillary Clinton has been around there for a very, very long time, and some of these groups are, in fact, part of the establishment."
Clinton responded on Twitter, signing the tweet "-H" to indicate it came from the former secretary of state herself and not a staff member.
On the campaign trail, Sanders has continued to criticize Clinton for her involvement with big banks — such as Goldman Sachs — that the senator calls part of the Washington establishment. Clinton has received donations from people who work at banks, and Goldman Sachs paid the former secretary of state $675,000 for three speeches, according to her financial disclosures.
"Without naming any names, Goldman Sachs also provides very, very generous speaking fees to some unnamed candidates, very generous," he said Tuesday, the Wall Street Journal reported. "Now I know, I know that some of my opponents are very good speakers, very fine orators, very smart people, but you've got to be really, really, really good to get $225,000 a speech, that's all I'll say."
© Copyright IBTimes 2023. All rights reserved.