Bernie Sanders Slams Fed Over Interest Rate Hike, Calling It 'Bad News For Working Families'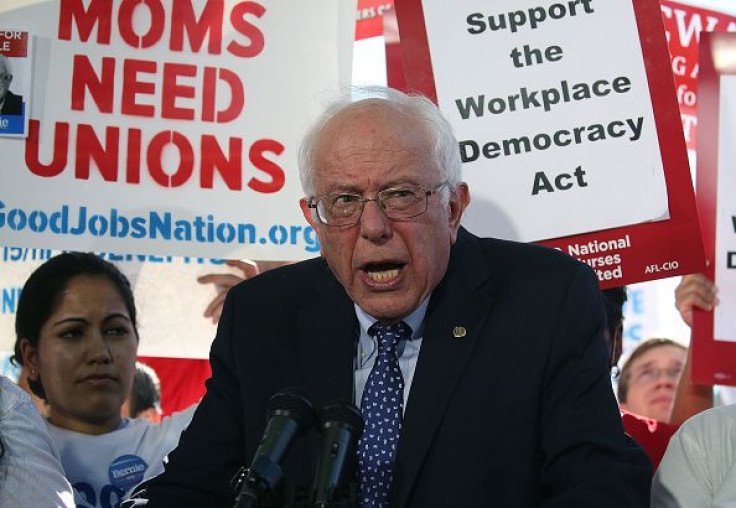 Democratic presidential candidate and Vermont Sen. Bernie Sanders condemned the Federal Reserve's decision Wednesday to raise benchmark interest rates for the first time in nearly a decade. Sanders called the move "bad news for working families."
"When millions of Americans are working longer hours for lower wages, the Federal Reserve's decision to raise interest rates is bad news for working families. At a time when real unemployment is nearly 10 percent and youth unemployment is off the charts, we need to do everything possible to create millions of good-paying jobs and raise the wages of the American people," Sanders said in a statement.
Sanders has been transparent about his opposition to raising interest rates, and in the past has expressed cynicism about how the Fed is run; he reportedly called for an audit of the Federal Reserve. Liberals, like Sanders, have maintained that slow wage growth has left many Americans not feeling the impact of the economy's continuing recovery, the Hill reported.
The Federal Reserve raised the federal funds rate up a quarter of a percentage point from near-zero levels, the first rate hike since 2006. The bank had kept interest rates low to try to spur economic growth after the worst economic recession since the Great Depression. The new benchmark rate, which is what commercial banks pay to borrow from the Fed, will float between 0.25 percent and 0.5 percent. The move was highly telegraphed, and signaled that the pace of subsequent increases will be "gradual" and in line with previous projections.
"With the economy performing well and expected to continue to do so, the committee judges that a modest increase in the federal funds rate is appropriate," Fed Chair Janet Yellen said in a press conference Wednesday afternoon. "The economic recovery has clearly come a long way."
© Copyright IBTimes 2023. All rights reserved.