Bernie Sanders Won Iowa Democratic Caucuses? Watch Speech As Both Candidates Declare Victory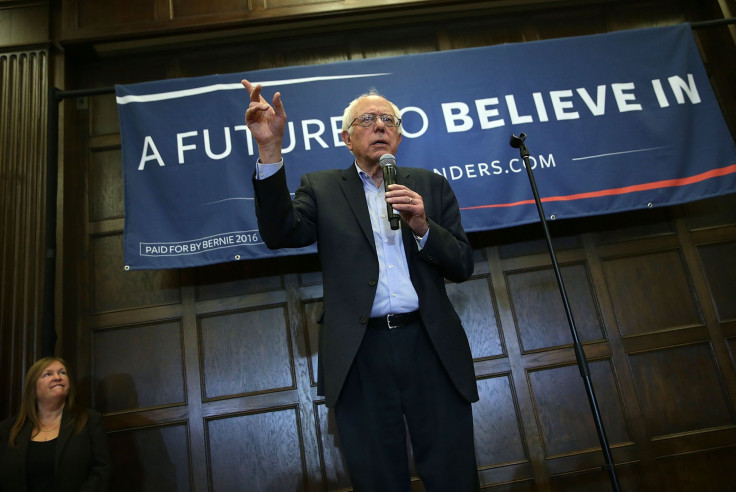 UPDATE: 11:56 p.m. EST — Vermont Sen. Bernie Sanders said the problems facing the United States call for more than establishment economics and politics. He slammed the nation's wealthy few for owning more than most Americans. "We are going to create an economy that works for working families, not just the billionaire class," he said Monday as he noted that he and Hillary Clinton were in a tie in Iowa.
Clinton also prepared for a new debate on progressive issues Monday night. "It is rare, it is rare that we have the opportunity we do now. To have a real contest of ideas, to really think hard about what the Democratic Party stands for and what we want the future of our country to look like if we do our part to build it," she said during a speech. "I am a progressive who gets things done for people. I am honored to stand in the long line of American reformers who make up our minds that the status quo is not good enough, that standing still is not an option and that brings people together to find ways to improve the lives of Americans."
Original story: Bernie Sanders and Hillary Clinton both declared victory in the Iowa caucuses Monday night with 90 percent of the vote in and numbers so close it was looking like a tie. The Sanders campaign said it considered the extremely close race a victory, regardless of the final numbers.
The showing of enthusiasm from the Vermont senator challenged Clinton's massive fundraising and establishment support. Sanders and Clinton had been neck and neck in polls going into the caucuses, and the race was expected to be extremely close.
Sanders was expected to speak at his Iowa caucus night party in Des Moines Monday evening, and C-SPAN said it would live stream the speech once it begins.
Sanders had been doing particularly well among young Iowans and first-time caucusgoers in Iowa, and he was counting on these demographics to turn out for him Monday night. While initial entrance polls showed relatively high turnout, Sanders said ahead of Monday that he did not expect to match the 240,000 Iowans that showed up to caucus in 2008 when President Barack Obama won Iowa in a surprise victory over Clinton and John Edwards.
This time, Clinton had been battling the demons of her 2008 Iowa loss as she worked to tamp down a surprising challenge from Sanders in a race where she was originally considered the prohibitive front-runner for the Democratic nomination. In the months and weeks leading up to Monday, Clinton's campaign built up an organized ground game with 26 offices in the state.
While Sanders also developed a strong ground game in the state, his campaign was counting on its social media efforts — messages on Twitter, Instagram and Snapchat — to encourage young voters to show up. As the first-in-the-nation nominating contest, Iowa was the first real test for Sanders to see if he could turn the enthusiasm his campaign has seen into real votes. With the New Hampshire primary just one week away and Nevada and South Carolina contests later this month, Sanders was likely hoping the momentum from Iowa would help him continue to fight against Clinton and move forward in the Democratic primary season.
At the Democratic Iowa caucuses, widespread turnout is particularly crucial because candidates get delegates from each precinct based on the the proportion of their supporters there. Another important aspect of the Democratic caucuses is that if any candidate does not have at least 15 percent of voters at a given caucus site, their group is disbanded and those voters have a chance to join another candidate's group.
This meant that supporters of Martin O'Malley, the third Democratic presidential candidate, played an important role Monday night. Because he had such low support in the state, O'Malley did not meet the 15 percent threshold at many caucus sites, and Clinton and Sanders precinct captains fought it out to recruit his supporters to aid their candidates. O'Malley announced earlier Monday night that he would leave the 2016 race.
© Copyright IBTimes 2023. All rights reserved.