Best Cargo E-Bike 2022: KBO Ranger
* This is a contributed article. The IBTimes news staff was not involved in the creation of this article and this content does not necessarily represent the views of IBTimes. When you buy through links on our site, we may earn an affiliate commission. Here are our
T&C
. For licensing please
click
here.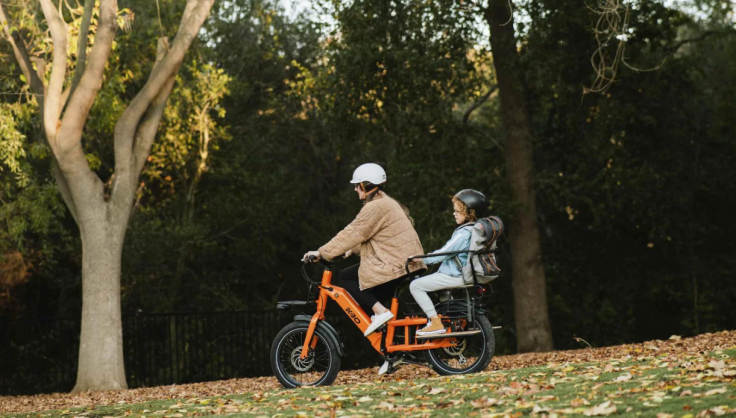 If you've joined the pedaling revolution in the last two years, we assume you already love getting around your city on a bicycle all the time.
And what's not to love? Besides being a zero-cost transportation mode, bikes give you the freedom to go everywhere – whether on concrete or off-road – without having to worry about parking space or paying for gas fees, and you even get some much-needed exercise!
However, there may be times when you have additional passengers or need to pick up something large or heavy that just won't fit your usual two-wheeled ride. This is where cargo bikes come in.
Featuring a heavier frame that's longer than the average bike, cargo bikes incorporate storage boxes or platforms used to store packages or even carry kids/pets while you pedal. And if you're looking to haul more and travel greater distances, opting for an electric bike is a great choice.
For that, we recommend the cargo E-Bike KBO Ranger. Here's why.
KBO Ranger Specifications
6061 Aluminum Low step-thru frame
Rigid Aluminum Forks
LG cells 840Wh Lithium Battery
750W brushless geared motor, peaks at 900W
48V 22 Amp Controller
Top Speed – 20 mph
Travel Range – 35 to 60 miles
5 Levels Pedal Assist using Cadence and Speed Sensors
Twist Throttle on the right
3.0 Amp Quick Charger
LCD Backlight Display
Integrated Headlight and Brake, Tail Light
20″ x 3.0″ CST Puncture-resistant Tires
Dual 180mm Mechanical Disc Brakes
Stainless Spokes (Front 13G / Rear 12G)
Shimano 7-Speed Derailleur
KMC Chain
Alloy Pedal, Reflectors
Sturdy and Comfy Saddle
Load Capacity – 400 Ibs.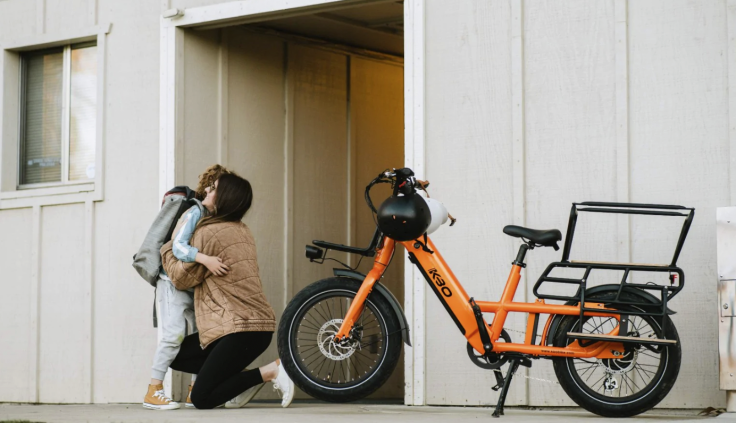 Overview and Design
Despite being designed to be a utilitarian bicycle meant for everyday transportation, what immediately stands out from the KBO Ranger Ebike is the $1,699 price point.
Just $200 more than the excellent KBO Breeze, the KBO Ranger is priced very reasonably for the purpose it's designed for, giving it an immediate advantage in a market where pricing keeps going up to market pressures and demand.
But don't let that $1,699 price tag fool you because there's plenty of bike to be found here. Appearance-wise, the KBO Ranger combines function with aesthetic since the reinforced aluminum frame is structured to look sleek and modern.
The KBO Ranger is designed to be simple, so it can focus on getting the job done, and that's exactly what it achieves. But what else is this e-bike packing? Let's take a look.
Motor and Throttle
Given the nature of their purpose, regular cargo bikes feature longer and stronger frames since they are meant to get the extra power for pedaling an extra passenger or cargo around.
The KBO Ranger makes this easier. Sure, you still get that 69" length to comfortably carry a kid on a ride, but the 750W brushless geared hub motor will help ensure your pedaling remains relaxed whatever the terrain. Offering 900 watts of peak power, you can travel anywhere between 35 to 60 miles, depending on terrain, load and riding speed.
Another standout feature of the KBO Ranger is its throttle-only mode. Using a twist-throttle, this bike lets you reach up to 23 mph on demand without pedaling, making it handy for anyone whose feet are already tired.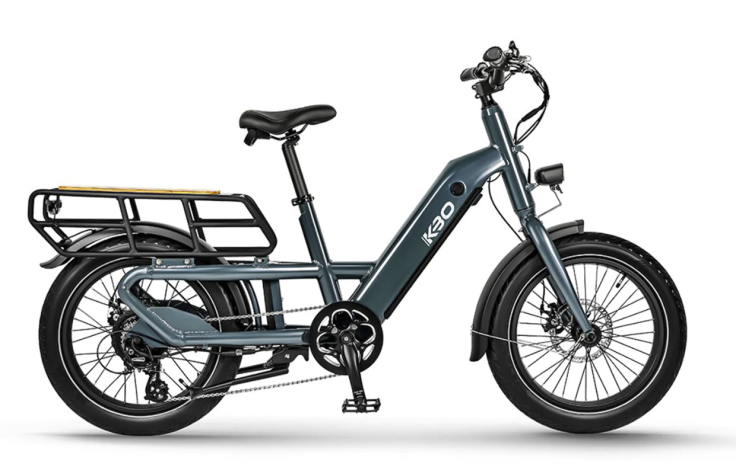 Shifting and Handling
Of course, cargo bikes are commuter bikes that require proper gearing and handling. Luckily, the KBO Ranger doesn't skimp on those aspects.
For one thing, the KBO Ranger features a 7-speed Shimano Altus derailleur set, commonly used in higher-end mountain bikes designed for heavy-duty use. With seven gearing choices and smooth shifting, you'll be able to tackle any uphill or downhill road with ease.
The handling is also worth noting since the bike's sturdy aluminum frame, adjustable saddle height and wide handle bars ensure that you're always at a comfortable riding position. What's more? The frame features a step-thru design, making it incredibly easy to go on and off the bike.
KBO didn't skimp on the braking set as well. The Ranger comes with front and rear 180mm mechanical disc brakes that provide sufficient braking force both on- and off-road, even when the bike is at full weight capacity.
Battery, Pedal Assist and LCD
To give the bike sufficient juice for the everyday commute, the KBO Ranger uses a removable and in-frame 840Wh Lithium Battery from LG/Samsung and a 3 amp charger to ensure you can get back on the road faster when the battery runs out.
The battery powers the KBO Ranger's pedal-assist system, which provides five levels of assistance ranging from minimal to strong. While the intervals between the levels are not the most refined, they still pack plenty of juice to give you a boost and cover more distance. Combined with the throttle-only mode, you can get plenty of mileage.
For easier accessibility, the Ranger comes with a backlit LCD, making it easy to read even in the dark. This handy display gives you important information at a glance, including speed, distance covered, battery, time, assist level and many more.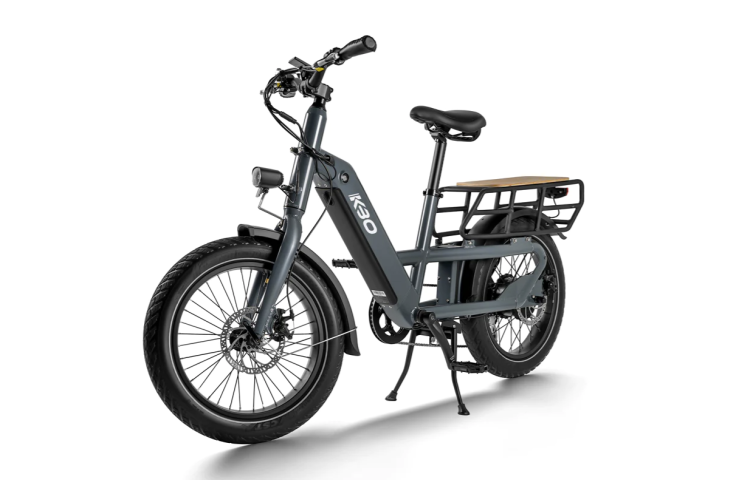 Extra Offerings
It's clear that KBO wanted to go the extra mile here since the Ranger also comes with additional offerings and features.
The KBO Ranger is equipped with a large, rear aluminum rack with a wooden top, capable of carrying up to 120 pounds of cargo. You can even install a child's seat! This, combined with the rust-resistant dual center stands made from aluminum alloy, gives you plenty of flexibility with the cargo you can carry.
Beyond the smart frame, there's an intelligent mounting bracket in both the front and the rear, as well as fenders that will keep you and your passenger protected from dirt and other elements.
Finally, there's the puncture-resistant CST tires, 48V LED headlights, intelligent mounting points, a 16-in-1 repair toolkit, and free running boards for anyone looking to carry passengers.
Final Thoughts
All in all, the KBO Ranger is a great purchase. Positioned right in the sweet spot for e-bikes and utilitarian vehicles, the KBO Ranger is a suitable option for riders who need that extra space for everyday commute and carries.
Plus, at $1,699, it's one of the most affordable options on the market that you can get, especially if you don't want your bike fitted with cheap components.
Delivering in performance, quality, and style, the KBO Ranger is another example of KBO pushing the limits of what "budget-friendly" can give you.
Learn more about the KBO Ranger by clicking here.
NOTE: This article is a contribution and do not necessarily represent the views of IBTimes.
FOLLOW MORE IBT NEWS ON THE BELOW CHANNELS