Best Sandwiches NYC 2016: 8 Restaurants To Try After Carnegie Deli Closing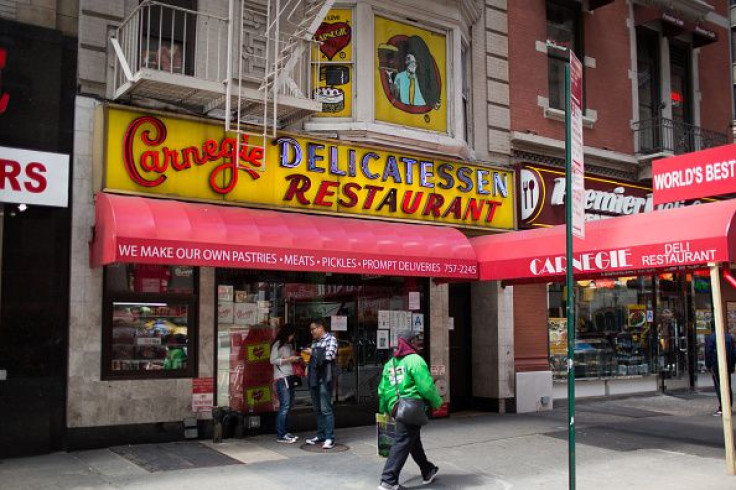 On Sept. 30, New York City's famous restaurant, Carnegie Deli announced that it would be closing down at the end of 2016. The establishment which first opened in 1937 is known for its trademark pastrami and corned beef sandwiches.
Now that the owners have decided to shut down the NYC restaurant, sandwich lovers and tourists will have to find other places to satisfy their sandwich needs. Below are 8 restaurants you should try that serve delicious sandwiches.
1. Artie's Delicatessen
Located on the Upper West Side, this restaurant does pastrami right. Whether the hearty meat is mixed into an omelet or placed between bread, you won't be disappointed.
2. Roll-N-Roaster
This Brooklyn eatery is known for their delicious roast beef sandwiches topped with cheez whiz and gravy, this juicy dish is not one to pass on. Be sure to order a milkshake and a side of fries to complete your meal.
3. Meltkraft
Located in both Manhattan and Brooklyn, this sandwich shop will fulfill all of your grilled cheese needs while offering the opportunity to create unique sandwiches with toppings like truffle oil, prosciutto, ingredients grilled in duck fat, bacon fat and more.
4. Katz's Delicatessen
A New York City favorite since the 1900s, the Lower East Side establishment is known for their reputation of quality cuts of beef. Customers can't help but come back for the pastrami on rye.
5. Peck's
Although they serve an array of food, Peck's homemade sandwiches are reasonably priced and absolutely delicious whether you want a ham and fried eggs sandwich or a veggie burger, you won't be disappointed.
6. Junior's
The Brooklyn restaurant known for its famous cheesecake has become more established in the food department, creating exciting sandwich combinations including a dish featuring beef brisket placed in between two potato pancakes.
7. Cheeky Sandwiches
Anyone looking for southern comfort stuffed into a sandwich will be happy at this Lower East Side eatery. Whether you are ordering a Po' boy or fried chicken on a buttermilk biscuit, you won't regret stopping by this sandwich shop.
8. Patacon Pisao
For those looking for a spin on the classic sandwich, this Venezuelan sandwich shop is for you. Substituting bread for plantain or sweet corn cakes, these tasty sandwiches will have you dreaming of your next visit to the NYC restaurant.
© Copyright IBTimes 2023. All rights reserved.