Best Sledding Spots In New York City, Boston: Top Hills Where You Should Spend Your Snow Day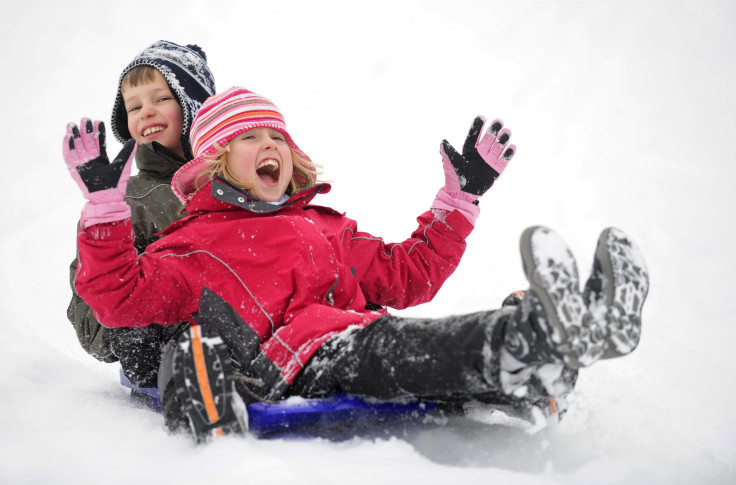 Cities across the Northeast were lifting travel bans Tuesday morning, but many residents remained home from school and work for a welcome snow day. While overnight snowfall from the blizzard known as Winter Storm Juno did not break records as expected, it did leave enough of the white stuff on the ground to make sledding a popular way to spend the day in Boston and New York City.
Whether you're off from school or work, Tuesday presents the perfect opportunity to check out some of your city's best hills. Grab a coat and a toboggan -- or a garbage can lid or even a cardboard box -- and head outside.
Sledding spots in New York City: Remember that sledding in New York City parks is legal, but you can't do it on golf courses. The NYC Parks website has a comprehensive list of the best hills in each borough.
In the Bronx, Ewen Park on West 232 Street between Johnson Avenue and Riverdale Avenue or Shoelace Park between 220th and 230th streets along Bronx Boulevard. In Brooklyn, visit Prospect Park near the Tennis House or Highland Park near Highland Boulevard and Jamaica Avenue.
In Manhattan, go to Central Park's Pilgrim Hill near 72nd Street and Fifth Avenue or Highbridge Park by the ballfield. In Queens, look up Bowne Park's hillside near 155 Street or Forest Park's Mary Whelan Playground. In Staten Island, meet at Clove Lakes Park near Martling Avenue and Slosson Avenue.
Sledding spots in Boston: Boston is known for its not-too-steep-for-kids-but-still-steep-enough hills. Boston Events Insider put together a list of favorites divided by location. In the city itself, try Boston Common near the Soldiers and Sailors Monument, Puddingstone Park on St. Alphonsus Street or Arnold Arboretum in Jamaica Plain.
As for the greater Boston area, head to the President's Lawn at Tufts University in Somerville, Danehy Park near the Alewife T stop in Cambridge or behind Lexington High School on Waltham Street in Lexington.
If you want to leave Boston, look up DeNormandie Dairy Farm in Fairhaven, the hills near Severance Hall at Wellesley College or near Bates Elementary School at Kelly Memorial Field in Wellesley.
© Copyright IBTimes 2023. All rights reserved.