Best Way To View Comet Pan-STARRS: On A Flight To Nowhere?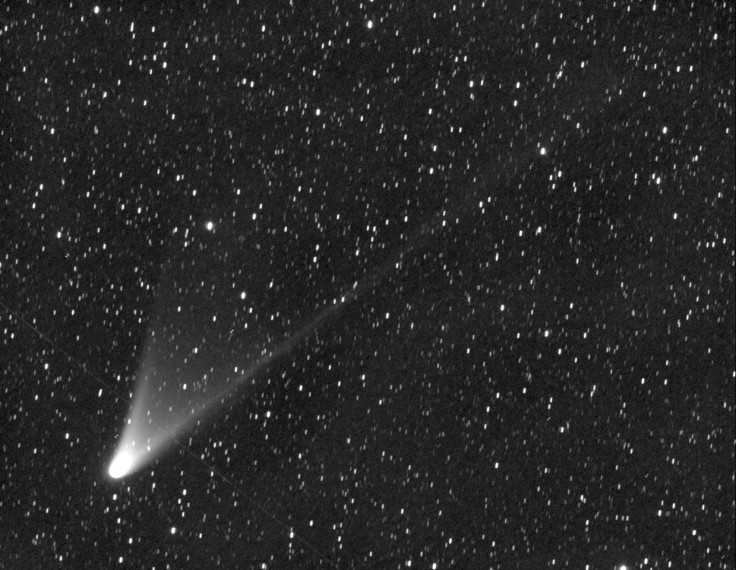 At 7:25 p.m. Saturday, an Air Berlin flight will take off from Cologne-Bonn Airport with 88 passengers who will all return to the same airport just two hours later. The reason: a once in a lifetime chance to observe comet Pan-STARRS from 11,000 meters (36,090 feet).
"At an altitude of 11,000 meters, you've not only risen above the clouds, but you've also passed through two-thirds of the earth's atmosphere," explained Angela Weidenbach of Bonn-based trip organizer Eclipse Reisen. "This means that the air has a transparent quality which you don't experience on earth."
"Even if the comet turns out to be less bright than expected," Weidenbach added, passengers "will still have a spectacular view of it from aboard our special flight."
Eclipse Reisen has planned a zigzagging route from the beginning of nautical twilight through the fall of the comet head (at the end of astronomical twilight). To allow passengers on both sides of the aircraft equal viewing time, the plane will fly two non-circular loops with the flight direction in each case selected so that the plane at right angles to the axis is aligned with the comet.
Eclipse Reisen teamed up with charter agency Air Partner and Air Berlin for the flight, which coincides with National Astronomy Day in Germany. Flight AB1000 will give Europeans an up close and personal way to observe the first bright comet at the optimum stage of its development visible from Central Europe since Comet Hale-Bopp in 1997.
Von Dem Hagen, team leader of sales for ad hoc flights at Air Berlin Karsten, has organized special flights for numerous partners, including orchestras, football clubs and cruises, but said "this is the first time we are offering a flight to view a comet."
"It's a premiere for me too."
Trips to view Pan-STARRS with Eclipse Reisen start at 359 euros ($467), and several fare classes are already sold out. The total experience includes a Rhineland-style buffet at the departure gate before takeoff, as well as onboard snacks and in-flight access to an astronomy expert who will answer all comet-related questions.
Pan-STARRS' trajectory 100 million miles away from earth could put it equal to the constellation Big Dipper in terms brightness over the weekend. It's expected to have the longest visible tail length and span at twilight on Saturday, the day of the Air Berlin flight.
If you can't catch a flight with Eclipse Reisen, Pan-STARRS should be visible in the night sky over the next week immediately following sunset. After the end of the month, the next chance to see the newly discovered comet won't come for 106,000 years.
Astronomers at the Panoramic Survey Telescope & Rapid Response System atop Haleakala Volcano in Hawaii discovered Pan-STARRS in June 2011 and named it after the acronym for the telescope.
Hailing from the so-called "Oort Cloud" beyond the orbits of Neptune and Pluto, Pan-STARRS is the first of two comets that will be visible to the naked eye this year, making 2013 a banner year for comet watching. Next up will be the even brighter Comet ISON in November, which some scientists believe could outshine the moon.
For Comet ISON, Eclipse Reisen will ditch the plane and instead head out for a 12-day cruise from Bergen to Kirkenes in the far north of Norway. Interested parties, however, should book soon. When we last contacted the German company, it had just two cabins remaining.
© Copyright IBTimes 2022. All rights reserved.
FOLLOW MORE IBT NEWS ON THE BELOW CHANNELS