Betsy DeVos Net Worth: Trump's Education Secretary Pick A Philanthropist With Wealthy Family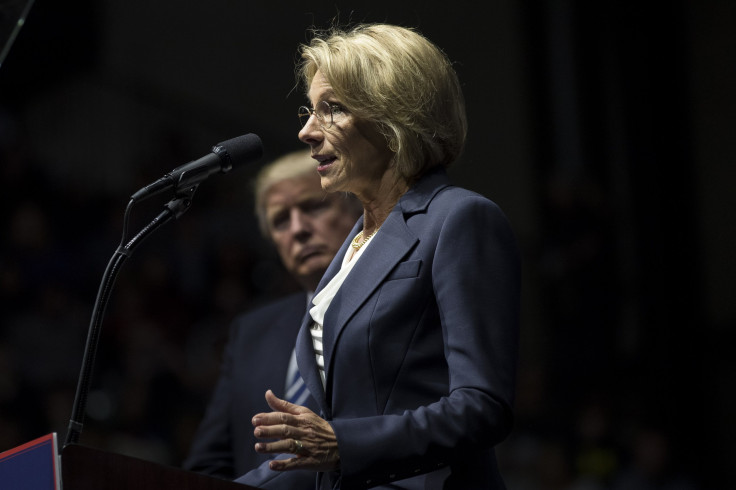 Betsy DeVos was scheduled to go before the Senate Committee on Health, Education, Labor and Pensions Tuesday in her quest to become the country's next education secretary. DeVos, who President-elect Donald Trump nominated for the position last year, has little public school experience but lots of connections in politics — primarily through her numerous campaign contributions.
DeVos' philanthropic history was sure to be at the center of Tuesday's hearing, especially given last week's news that she didn't include a $125,000 political donation in her disclosures to the committee. You might not be on the Senate committee grilling her Tuesday, but you can still brush up on DeVos' financial standing.
DeVos, a 59-year-old from Michigan, is the daughter-in-law of Richard DeVos, who cofounded giant health and homecare company Amway. Richard Devos and his family are worth about $5.1 billion, according to Forbes. Last year, he was the 88th wealthiest person in the United States.
Her husband, Dick DeVos, part-owned the Orlando Magic basketball team at one point.
Betsy DeVos is also the daughter of the late Edgar Prince, a billionaire who founded the Prince Corporation. When he died in 1995, the family sold his company for $1.4 billion in cash, the Free Republic reported.
DeVos has used her fortune to boost nonprofits and charities like the Dick and Betsy DeVos Family Foundation, Kids Hope USA and Foundation for Excellence in Education. She's also given about $5.3 million to political candidates and groups over the past five years, according to MLive.com.
As such, the DeVoses' status has inspired comparisons to the Koch family, which is behind one of the biggest privately owned companies in the U.S. Even though they're not quite as famous as the Koch brothers, the DeVoses "have played a similar role in bankrolling the rightward march of the Republican party," as the New Yorker's Jane Mayer wrote in November.
Case in point: During the last campaign cycle, her husband gave $1.2 million to Republicans, among them former Florida Gov. Jeb Bush and Florida Sen. Marco Rubio.
DeVos has long said the focus of her and her husband's work is to improve American education — and be transparent as they do it.
"Where we have to be careful, of course, is how we engage in public-policy advocacy. We have to be scrupulous about how we allocate personnel, resources and staff time," DeVos told Philanthopy Roundtable in 2013. "We need to carefully record everything, so that we can demonstrate our compliance with all campaign-finance laws and all IRS regulations regarding 501(c)(3) work."
Tune into her hearing here.
CORRECTION: An original version of this article incorrectly stated the total amount of political contributions DeVos has made. She has given about $5.3 million.
© Copyright IBTimes 2022. All rights reserved.
FOLLOW MORE IBT NEWS ON THE BELOW CHANNELS