'Better Call Saul' Season 1 Spoilers: Jimmy In The Middle; Episode 3, 'Nacho' Review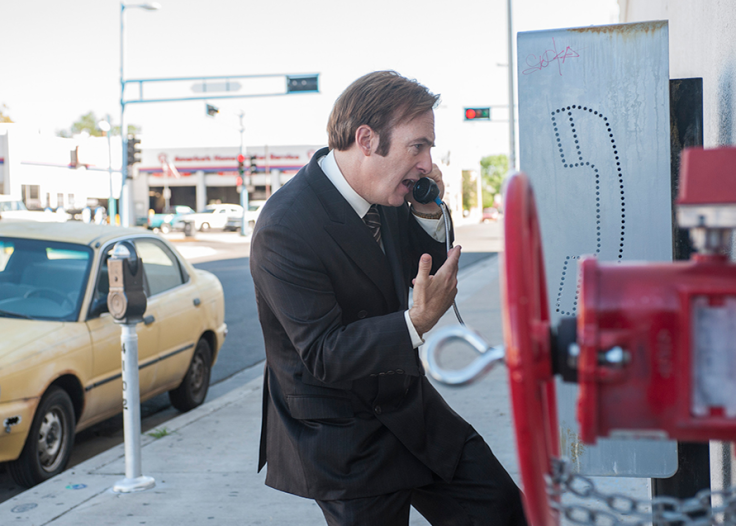 Saul Goodman (Bob Odenkirk) is a criminal, no question about it. Throughout "Breaking Bad," the sleazy lawyer actively sought out ways to assist rising meth kingpin Walter White (Bryan Cranston), eager to profit from him along the way. However, the jury is still out on public defendant Jimmy McGill, who found himself caught between a rock and a hard place in episode 3 of "Better Call Saul."
The forces pulling at Jimmy were evident in the episode's beginning flashback scene where an even younger Jimmy McGill – Slippin' Jimmy – was facing some life ending charges after one of his payoff scams went terribly wrong. Jimmy had to beg his then-high functioning lawyer brother Chuck (Michael McKean) to help get him out of the mess after promising to turn his life around. Jimmy faced a crossroads here between two polar extremes. He could be Slippin' Jimmy – the criminal – or become a prestigious, do-gooder lawyer -- like Chuck.
Jimmy chose the latter, but that journey has been anything but smooth, as evidenced in the first two episodes, and will ultimately fail, as evidenced by "Breaking Bad." Episode 3, "Nacho," gave fans another chapter into how the well-intentioned Jimmy McGill would eventually become Saul Goodman.
In the episode Jimmy was dealing with the knowledge that Nacho (Michael Mando) was planning on ripping off the Kettlemans and taking their embezzled money. After flirting with telling Kim (Rhea Seehorn) -- Jimmy's girlfriend of sorts and a DA on the Kettlemans' case -- about Nacho, he ends up anonymously warning the couple himself after delivering the episode's most telling line – "I'm no hero."
In the aftermath, it became clear that Jimmy was right. The Kettlemans skipped town after the warning, leading the police to suspect Nacho kidnapped them after a neighbor spotted the drug dealer casing the Kettlemans' house. Nacho retained Jimmy as his lawyer, threatening to kill him if he did not help him prove his innocence. Finally, Kim, believing the Kettlemans were in danger and Jimmy could get Nacho to talk, spent the episode holding the family's children over his head. No, Jimmy is not a hero. He's not even an anti-hero. He's a mediator, in the tradition of Doc Sportello or Jeff Lebowski.
When Jimmy finally tracked down the Kettlemans -- marching through the desert in their backyard to find them camping in a tent with millions in cash in a suitcase -- it was reminiscent of moments heshared – will share? – with Walter White early on in the upstart criminal's rocky career. The Kettlemans are an exaggerated parallel of White, a straight-laced family taking a leap into criminal prosperity. It is their story and Jimmy is just a player, trying to help make things right, but dragged back down at every turn.
Watching Jimmy McGill's balancing act has made for three strong episodes of television. "Breaking Bad" was a show about a man's descent from good to evil. "Better Call Saul" is about a man caught in between. The latter just might be more interesting.
What did you think of "Nacho?" Tweet your thoughts to @Ja9GarofaloTV.
© Copyright IBTimes 2023. All rights reserved.