'Better Call Saul' Season 2 Spoilers: 6 Things To Know About The 'Breaking Bad' Spinoff's New Season Before The Premiere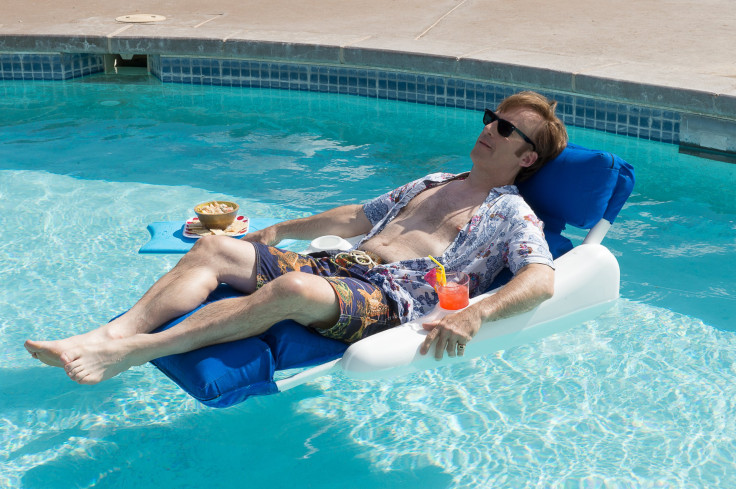 We're just days away from the Season 2 premiere of "Better Call Saul," the prequel to AMC's hit series "Breaking Bad." When viewers last saw Jimmy McGill (Bob Odenkirk) in the Season 1 finale he was forced to bid farewell to Marco (Mel Rodriguez), a longtime friend. With Marco went a piece of Jimmy's life — he's now on the winding road to becoming his alter ego, Saul Goodman, which will play out in Season 2.
Trailers for the upcoming season suggest even more twists and turns than the last as Jimmy combines his sleazy roots with his knowledge of the legal system. Season 2 will take him on a literal and metaphorical journey as he transforms into his "Breaking Bad" persona.
Before the show kicks off once again, here's everything you need to know about Season 2:
1. Slippin' Jimmy Is Back — Temporarily:
By the end of Season 1, episode 10 it seems clear that Jimmy is ready for a change of pace. Marco's death gives him a clear look into how his life will likely end if he falls back into his old con-man ways. He knows, however, that he cannot continue living the straight-laced life he's been thrown into forever.
2. Viewers Will Finally Meet Saul Goodman:
Though he holds onto Slippin' Jimmy for some time during Season 2, eventually the full transformation takes place. As The Hollywood Reporter notes, the transformation will not be immediate, however. Jimmy will stick around for at least the first two episodes, though Saul makes a brief appearance early on in the show.
As was previously reported, Season 2 will kick off with a nod to "Breaking Bad." The season premiere opens with a look into the future, showing Jimmy — now Saul Goodman — in a Cinnabon. As fans of "Breaking Bad" may recall, Saul was employed by the mall-food favorite during the show. At some point during the "Better Call Saul" flash foward he scratches, "S. G. [Saul Goodman] was here" into a cement wall, foreshadowing his forthcoming major transformation.
3. Jimmy's Journey To Becoming Saul Will Take Him South Of The Border:
A promotional video for "Better Call Saul," released on Jan. 12, suggests that Jimmy will find himself in Mexico at some point during Season 2. The video provides a brief tour of a Mexican cantina, filled with Mariachi music and aggressive patrons. The camera moves through the establishment until reaching the bar, where Jimmy is sitting alone. He appears to be keeping a low profile, wearing dark clothes and a hat pulled low on his face.
While the visuals provide important clues about Jimmy's whereabouts, it's the song playing in the background of the trailer that provides the most information about the direction of the series. The chorus, sung in Spanish, is "Yo Soy Saul," or "I Am Saul."
4. There Is No Resolve In Sight For Jimmy and Chuck:
When last we saw Jimmy and Chuck the struggling attorney had just learned that his big brother had blocked a major job opportunity for him. In an interview with Variety, conducted after the Season 1 finale, Odenkirk said he wasn't sure it was possible for Jimmy and Chuck to ever reach a resolution. He told the publication, "When people say words like 'fixed,' there's always going to be a deep shadow of pain."
5. Jimmy And Kim May Be Headed For Splitsville:
Throughout much of "Better Call Saul" Kim has served as somewhat of an angel on his shoulder, urging him to do the right things. Unfortunately Jimmy's struggle to take her advice, coupled with the fact that he shot down a job with a major law firm, could spell disaster for their relationship.
Odenkirk touched on the subject while chatting with Variety. He told the publication that he wasn't fond of his character "seeking so much approval" from people who were constantly trying to change him.
6. There Will Be A Live After Show:
For the second season of "Better Call Saul" AMC has introduced something new — "Talking Saul." The show will air immediately after the premiere of the series and will be hosted by Chris Hardwick of "Talking Dead." During the hour-long show Hardwick will sit down with "Better Call Saul" producers, Vince Gilligan and Peter Gould, along with Odenkirk to discuss the premiere and answer questions from viewers.
AMC's president or Original Programming Joel Stillerman released a statement about "Talking Saul," expressing his excitement in expanding the "Talking" franchise. He also said he was thrilled to have Hardwick on board.
"The 'Talking' franchise really started as a way to serve the fans by harnessing and providing a focal point for discussion around our original programming, and heading into its second season it's clear Vince Gilligan, Peter Gould and everyone associated with 'Better Call Saul' have given rise to both a vibrant fan community and plenty to talk about," Stillerman said. "We are excited to have Chris Hardwick on board as host to engage the show's dedicated and loyal fans – many of whom have followed the characters of Saul Goodman and Mike Ehrmantraut since 'Breaking Bad' – in a meaningful and entertaining conversation around the series."
"Better Call Saul" airs Monday, Feb. 15 at 10 p.m. EST on AMC.
© Copyright IBTimes 2023. All rights reserved.