'Better Call Saul' Season 3: 5 Things To Know Before The April 10 Premiere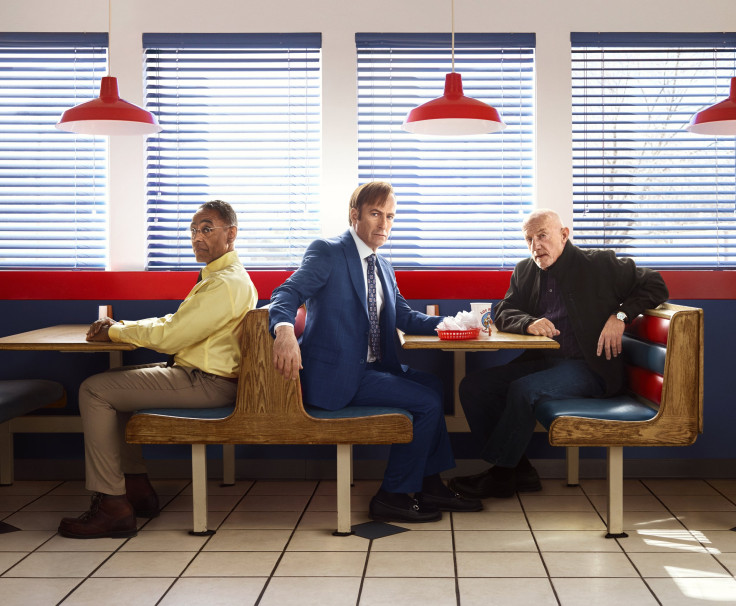 Caught in the wrong side of the law? You better call Saul. "Better Call Saul" returns to AMC with new episodes on Monday, April 10 at 10 p.m. EDT. But before tuning in to the critically-acclaimed TV show, here are five things to know about Season 3:
1. Season 3 Synopsis
Season 3 continues Jimmy McGill's (Bob Odenkirk) descent into slippery, immoral lawyer Saul Goodman. Six years before he meets cancer-struck chemistry teacher Walter White (Bryan Cranston), Jimmy is more or less a law-abiding citizen trying to build his practice. However, he will first need to deal with the fact that he altered the legal documents of Mesa Verde.
Unbeknownst to Jimmy, Chuck (Michael McKean) recorded him confessing to altering those documents. Basically, he confessed to committing a crime.
Jimmy and his girlfriend Kim's (Rhea Seehorn) relationship will be put to the test as his moral compass continues to falter.
READ: "Better Call Saul" Season 3 photos released online.
Additionally, "Better Call Saul" Season 3 will see Mike (Jonathan Banks) search for a mysterious adversary who seems to know everything about his business (Hint: It's Gus).
2. Jimmy McGill In Orange Jumpsuit
New photos of the upcoming season clearly show Jimmy wearing an orange jumpsuit and in jail. Looks like Chuck did go to the authorities with that recorded message. Odenkirk's shady character is also seen in a courtroom. However, it won't be long before he swaps his new jumpsuit for a business suit.
3. Gus Is Back!
Perhaps the most exciting part of "Better Call Saul" Season 3 will be the appearance of Los Pollos Hermanos owner Gustavo "Gus" Fring (Giancarlo Esposito). However, he won't appear in the season premiere. Additionally, don't expect the "Better Call Saul" Gus to be the same as his "Breaking Bad" counterpart since he's still establishing his business. Esposito previously told reporters that his character is a bit immature and he's still finding his way as a businessman in the prequel.
4. Returning Characters
Apart from Gus, "Better Call Saul" Season 3 will see the return of Patrick Fabian as Howard Hamlin, Raymond Cruz as Tuco Salamanca, Michael Mando as Nacho Varga, Kyle Bornheimer as Ken, Max Arciniega as Krazy-8, Jim Beaver as arms dealer Lawson and Daniel and Luis Moncada as the Salamanca cousins.
5. Jimmy Works With Mike
"Breaking Bad" fans know all too well that Mike becomes Jimmy's fixer. In Season 3, the soon-to-be lawyer Saul Goodman works with the former cop.
"Better Call Saul" Season 3 premieres Monday, April 10 at 10 p.m. EDT on AMC.
© Copyright IBTimes 2023. All rights reserved.