Beyoncé And Jay Z Not Attending Kanye West's Wedding To Kim Kardashian? Rapper Reportedly Refuses To Be Best Man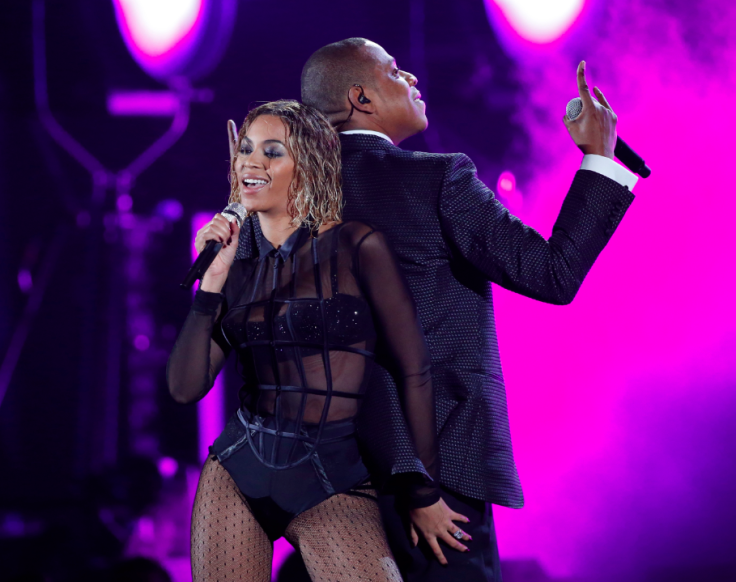 Kanye West and Jay Z may be good friends, but that does not mean the Roc Nation founder will be at West's wedding this summer. While Kim Kardashian, West's fiancé, has made a name for herself through reality television, Beyoncé and Jay Z seem to be more private about their personal lives.
According to reports, West asked Jay Z to be his best man, but Jay Z would only do so if he, Beyoncé and their daughter, Blue Ivy, were not caught on camera. "Jay agreed initially but had one condition—under no circumstances can there be any reality TV shows filming him, his wife, Beyoncé, or daughter Blue Ivy during the ceremony," a source told DailyStar. "She [Beyoncé] purposefully keeps herself away from trashy TV and isn't prepared to lower her standards for anyone, or any occasion."
So West may have to look for another best man for his May wedding in Paris, since it seems like he is definitely going to allow E! to film the wedding, after he already allowed them to film and air the surprise proposal.
West has also said in interviews that he would allow his wedding to be filmed -- for the right price, of course. Speaking to Power 106's Big Boy's Neighborhood last year, he revealed, "I would take as much as possible. If you're gonna pay me. … Me and Kim are in the exploitation business. We get paid to exploit ourselves. I'mma give my daughter the opportunity to exploit [herself]. That's why we didn't get any money to take baby pictures. If I would go perform somebody's wedding for a million dollars and somebody wanna give me 10 million for mine, I would take it [sic]."
According to Us Weekly, West and Kardashian will be making May 24 the special day. The wedding will take place in Paris, less than two weeks before West's 37th birthday.
In October, in front of her family and friends, West had a 50-piece orchestra play Lana Del Rey's "Young and Beautiful," before playing his own hit song "Knock Me Down." The couple have been dating since last year, though they have known each other for around a decade. Kardashian was more than happy to say "yes," later telling E! News, "Last night was truly magical!!! I am the luckiest girl in the world! I get to marry my best friend!"
© Copyright IBTimes 2023. All rights reserved.