#BanBossy: Sheryl Sandberg, Beyoncé And More Ban Together To Get The Word 'Bossy' Banned [VIDEO]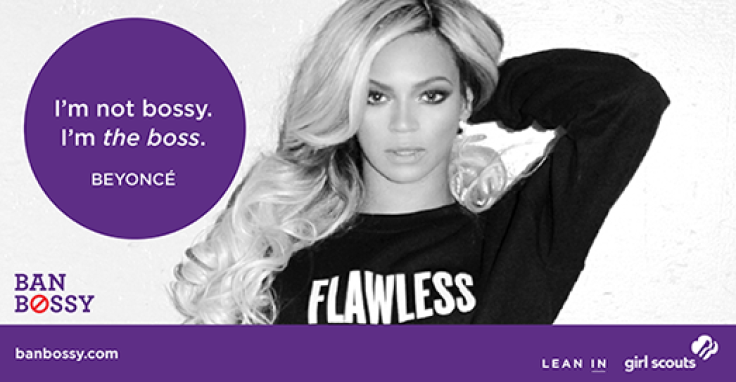 There's a new war on words brewing and its champions have some serious cachet.
Sheryl Sandberg, the chief operating office of Facebook and "Lean In" author, is spearheading a campaign to ban the word "bossy" in an effort to encourage young girls and women alike to be fearless leaders.
Alongside Secretary of State Condoleezza Rice and Girl Scouts USA CEO Anna Maria Chávez, the #BanBossy campaign was released Sunday featuring a video of well-known faces like Beyoncé, First Lady Michelle Obama, Jennifer Garner, Jane Lynch, designer Diane von Furstenberg and NASCAR driver Jimmie Johnson.
"I'm not bossy," Beyoncé quips in the promotional video. "I'm the boss."
The campaign's purpose is to empower young women to lead without the fear of being labeled "bossy." #BanBossy asks users to sign the pledge to ban using the world which discourages girls from taking on leadership roles and use the hashtag to promote their pledge on Facebook, Twitter and more.
"When a little boy asserts himself, he's called a 'leader.' Yet when a little girl does the same, she risks being branded 'bossy,'" the campaign explains. "Words like bossy send a message: don't raise your hand or speak up. By middle school, girls are less interested in leading than boys—a trend that continues into adulthood. Together we can encourage girls to lead."
"We need to recognize the many ways we systematically discourage leadership in girls from a young age — and instead, we need to encourage them," Sandberg said. "So the next time you have the urge to call your little girl bossy? Take a deep breath and praise her leadership skills instead."
The PSA was released with help from the Girls Scouts of USA and Lean In, a nonprofit started by Sandberg last year following the release of her book of the same title to encourage women to strengthen their workplace confidence. She said she was inspired to launch the campaign after being called the five-letter word for most of her life.
"I was called bossy when I was in ninth grade," Sandberg said. "My teacher took my best friend Mindy aside and she said, 'You shouldn't be friends with Sheryl. She's bossy.' And that hurt."
According to the campaign, elementary and high school-aged girls' self-esteem drops 3.5 times more than boys. Ban Bossy also notes that girls are twice as likely to worry about being called "bossy" than boys and are statistically called on less and interrupted more in class than their male counterparts. The site provides resources for girls, parents, teachers, managers and other leaders to learn about leadership and also shares inspiring news stories about women leading.
So far, the campaign seems to be garnering a positive response from many. Women's interest blog Jezebel wrote:
"FOR IT. DO IT. I DEMAND IT. I AM THE BOSS OF YOU. Seriously, I know I sound like I'm joking, but shit like this can really affect the way men perceive women and women perceive themselves. Words are important, people. Use them responsibly."
Others, like Time magazine, believe it could be a "fairly futile pursuit."
"The best Sandberg can reasonably expect—and likely what she does expect—is for people to become slightly more aware of themselves when they continue to use a word that dates back to the 1800s, probably just as much as they did before," the writer wrote, listing 10 other failed attempts to ban a word.
The Huffington Post also did an experiment on first and sifth grade students, and many of the children seemed unfazed by the word.
"Everyone agreed: "bossy" isn't a great word, and it is used more often to refer to girls," findings showed. "The girls disliked the word bossy more than the boys did, sure. But here's what's interesting: when we asked the first graders about the word 'leader' -- 'You're a leader, Harry, how does that make you feel?' -- they were more positive but not overwhelmingly so."
© Copyright IBTimes 2022. All rights reserved.
FOLLOW MORE IBT NEWS ON THE BELOW CHANNELS