Biden Lashes Out At Reporter Asking About His 'Cognitive Decline': 'You're A Lying Dog Face'
KEY POINTS
Joe Biden took questions from seven reporters, including three from Fox News, in his first face-to-face presser since March
A Fox producer asked Biden a series of questions
"You're a lyin' dog face," snapped Biden when the Fox man again promised it would be his last question
The Biden campaign says it has a lot to smile about after the candidate on Tuesday (June 30) gave his first press conference since March. Joe Biden faced seven reporters, including three from Fox News, and delivered upbeat messages while criticizing President Donald Trump along the way for waving the white flag and abandoning the battlefield to COVID-19. The former vice president fielded 16 questions, said his campaign.
But Biden's temper seems to have gotten the better of him when he directed some nasty words at a Fox News producer who kept asking him questions. As Biden, 77, was preparing to leave the gym in his hometown of Wilmington, Delaware, the Fox journalist asked him one more question.
"You're a lyin' dog face," snapped Biden when the Fox man again promised it would be his last question. The journalist, who said he was 65, told Biden he sometimes loses his train of thought.
And his question to Biden was: "You've got 12 years on me, sir. Have you been tested for some degree of cognitive decline?"
Biden gave a straightforward and upfront reply: "I've been tested, and I'm constantly tested ... All you gotta do is watch me and I can hardly wait to compare my cognitive capability to the cognitive capability of the man I'm running against."
The former vice president then took the moment to expand his attack against Trump. He assailed Trump's own cognitive abilities when asked about reports that claimed Trump was briefed on intelligence that Russia had paid Taliban militants to kill the U.S. troops, but failed to act on it.
"He talks about cognitive capability," said Biden. "He doesn't seem to be cognitively aware of what's going on. He either reads and/or gets briefed on important issues and he forgets it or he doesn't think it's necessary that he needs to know it."
The clash between Trump-friendly Fox News and Biden was a planned encounter, which was later confirmed by the Trump campaign. The Trump campaign took credit for it, saying they'd hoped to embarrass Biden with the stunt.
Biden has mostly remained isolated at his Wilmington home during the pandemic, which led the Trump campaign to call him "basement Joe" and accused him of hiding from Trump.
When Biden stepped out of his home to face reporters, he had a lot to say about the state of the country. He presented his plan for dealing with the COVID-19, drawing a sharp contrast with Trump, who has refused to craft a national plan to lead the country out of the pandemic.
Biden again condemned Trump for wasting the three months since the virus first arrived on the U.S. shores in January.
"It's almost July and it seems our wartime president has surrendered, waved the white flag and abandoned the battlefield," said Biden. "We don't need a cheerleader, Mr. President. We need a president, Mr. President."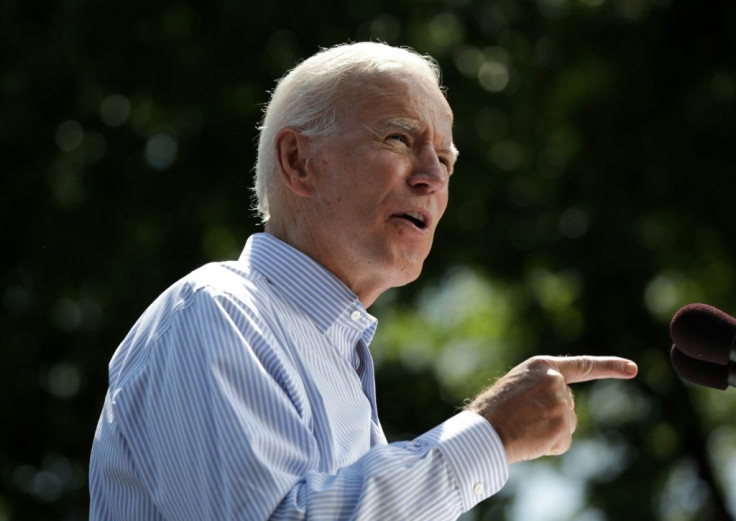 © Copyright IBTimes 2023. All rights reserved.
FOLLOW MORE IBT NEWS ON THE BELOW CHANNELS