'The Big Bang Theory' Season 8 Spoilers: One Couple To Potentially Break Up In Season Finale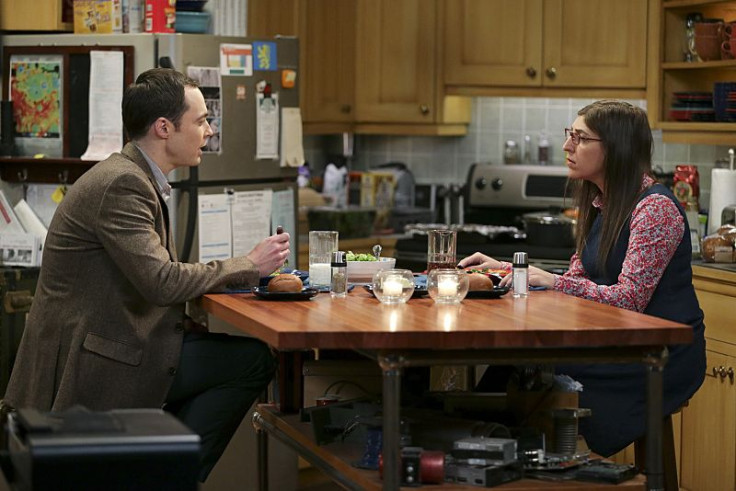 "The Big Bang Theory" is gearing up to end Season 8 of the popular CBS sitcom with, well, a bang. There are three episodes left before the May 7 finale, but fans are already looking down the road at the last episode, where the producers are promising a big cliffhanger before the season break. Will one of the two main romantic relationships on the show come to an end?
The synopsis for the finale reveals that Sheldon (Jim Parsons) will put some pressure on Leonard (Johnny Galecki) and Penny (Kaley Cuoco) when he pushes them to pick a date to get married. However, the intrusion could lead to some unexpected developments in his relationship with Amy (Mayim Bialik).
Speaking to the Hollywood Reporter, showrunner Steve Molaro explained that Sheldon's (Jim Parsons) instigating will be the impetus for a major shakeup for both Sheldon and Amy (Mayim Bialik), as well as Leonard (Johnny Galecki) and Penny (Kaley Cuoco).
"The finale episode is actually also the fifth anniversary of Sheldon and Amy's first date — or at least their meeting, which we call a date. It has been five years and even though things have been progressing, for Amy, it's still for her not quite at the speed she'd like so she really starts pushing back and he's got relationships on his mind because of that," said Molaro. "He wants to know why he's getting grief about moving slowly where if Leonard and Penny are an example of a couple moving forward, they've been engaged for over a year and can't even pick a date. So he starts poking at that and making them ask themselves the same questions. Both of those couples — Sheldon and Amy and Leonard and Penny — make some huge life-changing decisions."
What will those decisions be? The obvious one would be for Leonard and Penny to finally set a date. Meanwhile, Amy clearly wants more out of her relationship with Sheldon, which could reach a breaking point in the finale.
Leonard and Penny have broken up countless times over the show's eight seasons, but a rift between Sheldon and Amy would be new territory. Plus, the breakup would come at the end of a landmark season for the couple in which they had their first sleepover and Sheldon finally said "I love you" to Amy – a fact that would make the bad news sting even worse for longtime viewers.
Will the relationship survive the Season 8 finale? Fans will have to watch to find out. "The Big Bang Theory" airs Thursdays at 8 p.m. EDT on CBS.
© Copyright IBTimes 2023. All rights reserved.
FOLLOW MORE IBT NEWS ON THE BELOW CHANNELS