'The Big Bang Theory' Season 9 Spoilers: 200th Episode Clips Tease An Awkward Celebration For Sheldon's Birthday [VIDEO]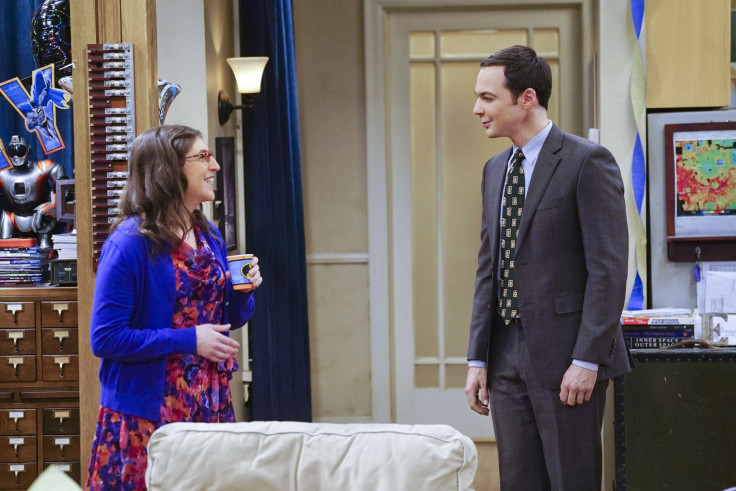 It's a landmark occasion on CBS' "The Big Bang Theory" as the show reaches the 200th episode milestone with the premiere of "The Celebration Experiment" on Thursday, Feb. 25. Apparently, the episode also falls in line with the birthday of Sheldon (Jim Parsons), and the gang is going to celebrate whether he likes it or not.
At the urging of Amy (Mayim Bialik), the group agrees to throw a party for their friend for the first time. However, in a teaser clip for the 200th episode, it seems that he is not as excited for the occasion as the people around him. When Amy broaches the subject of throwing a party for Sheldon, he literally runs away.
Despite his misgivings, Sheldon apparently warms up to the idea of a party that's just for him. A second sneak peek for the episode shows him, Amy, Bernadette (Melissa Rauch) and Penny (Kaley Cuoco) questioning him about the finer points of planning a party, such as what kind of cake he wants. However, he's not exactly giving his party-planning friends easy instructions. After all, who wants marching band music and Tibetan throat singing at a party?
As previously reported, the 200th episode will see a slew of old characters returning to honor the fussy character. However, the biggest draw is the inclusion of guest star Adam West. Entertainment Weekly reports that the former "Batman" actor will join the gang in the 200th episode, and now another sneak peek video shows just how the iconic star will be written into the show. Apparently, Leonard (Johnny Galecki) remembers a story in which Sheldon's sister lied and told him Batman would be coming to his birthday party as a child. Now, he hopes to fix that bad memory by getting the actual Batman.
"The Big Bang Theory" will air episode 200 on Thursday, Feb. 25 at 8 p.m. EST. Check out the teaser trailer below to get excited for the landmark episode. What are your thoughts on both Sheldon and the show's birthday? Comment below or tweet your thoughts to @TylerMcCarthy.
© Copyright IBTimes 2023. All rights reserved.