'Big Bang Theory' Season 9 Spoilers: Episode 18 Sneak Peek Video Teases New Struggles For Raj After His Breakup With Emily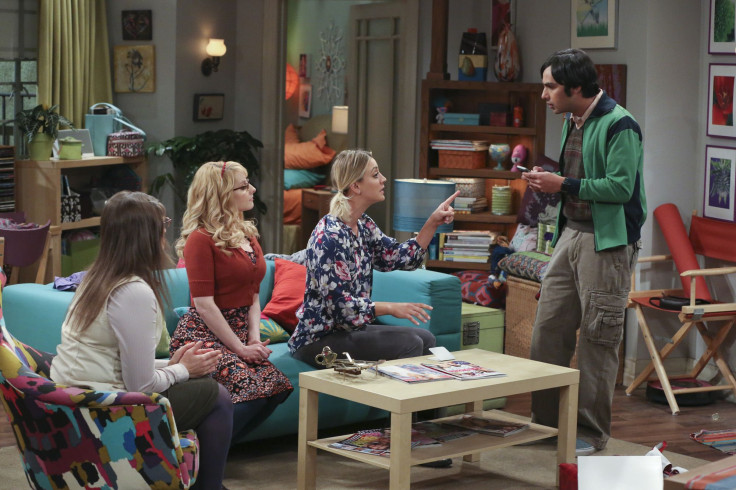 CBS' "The Big Bang Theory" is returning after a week away to bring the group back down to Earth in Season 9, episode 18. In newly released sneak peek clips for "The Application Deterioration" the characters finds themselves challenged both personally and professionally.
As previously reported, the latest episode will focus on Sheldon (Jim Parsons), Leonard (Johnny Galecki) and Howard (Simon Helberg) develop an infinite persistence gyroscope. Luckily for those that aren't physics aficionados, you won't have to learn what that actually is. What you do need to know is that the trio wants to split any potential profits from the invention three ways, but Sheldon and Leonard's contracts with their jobs make it so they can't include their friend in any kind of patent agreement.
While the moment was played for fun in the clip above, the stakes are pretty high for Howard when it comes to finances these days. It was previously revealed ahead of the 200th episode that he and his wife, Bernadette (Melissa Rauch), are expecting their first child together. There was a time when he could leave this kind of thing up to the often-odd Sheldon, but now he may need to crack the whip on his zany friend to make sure that he's getting paid adequately for his work.
While Sheldon is clearly giddy to get into the nitty gritty of legal language and stipulations, the ladies of the show are going to have a bit of fun helping their friend Raj (Kunal Nayyar) navigate a very complicated post-breakup situation. After choosing to end the relationship with his long-time girlfriend, Emily (Laura Spencer), it seems that her belated Valentine's Day present is giving him pause. In the clip below, Kunal appears to be the proud owner of an antique device called a sextant — a tool designed to measure the angle between any two visible objects. While a late gift isn't unheard of after a couple splits up, Raj is a little uncomfortable when Amy (Mayim Bialik), Bernadette and Penny (Kaley Cuoco) figure out that it's actually a pretty expensive antique.
Episode 18 of the "Big Bang Theory" Season 9 will air on Thursday, March 10 at 8 p.m. EST.
© Copyright IBTimes 2023. All rights reserved.