Bigelow Aerospace, ULA Announce Inflatable Lunar Orbit Habitat By 2022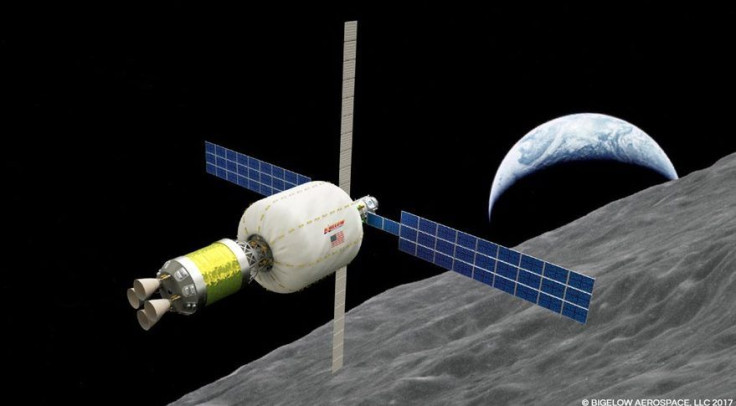 Efforts to re-establish human presence on the moon have been gathering weight in the recent past.
Earlier this month, Vice President Mike Pence directed NASA to focus efforts on sending astronauts back on the lunar surface. This came alongside a slew of announcements by private space companies like SpaceX, Moon Express and Astrobotic Technology about getting rovers and teams to the moon as early as 2019.
Elon Musk reinforced the need for swift action at a recent press conference where he said, "It's 2017. We should have a lunar base by now. What the hell has been going on?"
Amid these developments, Bigelow Aerospace and United Launch Alliance (ULA) on Tuesday announced an inflatable habitat orbiting the moon that they would develop together, which could possibly host NASA equipment and serve as a lunar depot. This can be seen as an effort to increase public-private partnership that is widely being touted as the fastest way to reach Mars.
According to the press release on ULA website, the "lunar depot" concept will use an inflatable module provided by Bigelow that already sent a small inflatable unit to the ISS, which added a small living area on the space station. It will use next-generation ULA rocket to propel the module. This could serve as a platform on the low-lunar orbit for further missions. The mission is likely to be launched by 2022.
Simply put, the inflatable module can function autonomously as a commercial space station, potentially serving as a space habitat. The Bigelow B330 module is conceptualized as a lunar depot, where private companies can test out new technologies, and astronauts can receive more sophisticated space training to prepare them for deep space exploration.
The ULA Vulcan 562 rocket would launch the Bigelow B330 module into low Earth orbit. Here, tests will be conducted by crews for about a year to determine the efficiency and viability of furthering the mission and also a technical check. ULA Vulcan rockets will then propel two Advanced Cryogenic Evolved Stage (ACES) orbit, which will dock with the module and propel the B330 into low lunar orbit.
"There is synchronicity between what ULA has in the way of capabilities and what we're doing, we decided to collaborate and prepare a proposal that the White House and NASA could accept as part of an overall space plan," Bigelow Aerospace President Robert Bigelow said in the releaase.
The public-private partnership model will see NASA bear $2.3 billion of the costs, and both Bigelow Aerospace and ULA spending "hundreds of millions." "It's executable within four years of receiving funding and NASA giving us the word," Bigelow added.
The depot is not a replacement for the Deep Space Gateway, which is the crew-tended cislunar space station, proposed by NASA and Roscosmos, that will be deployed by 2020. This mission will follow a different orbit. It would be smaller in size than the Deep Space Gateway and will serve as a stanging point for the gateway owing to the proposed earlier release. The facility will house several modules to complement future Mars and moon missions. The space dock will help crew prepare for further travel from the moon.
Though the deal is yet to materialize, he said, "We need to create an appetite for this. In the end, it's up to what President (Donald) Trump wants to do and what Vice President Pence wants to do."
© Copyright IBTimes 2023. All rights reserved.