Biggest Arms Sale Of 2014 Signed, US To Sell Arms Worth $11B To Qatar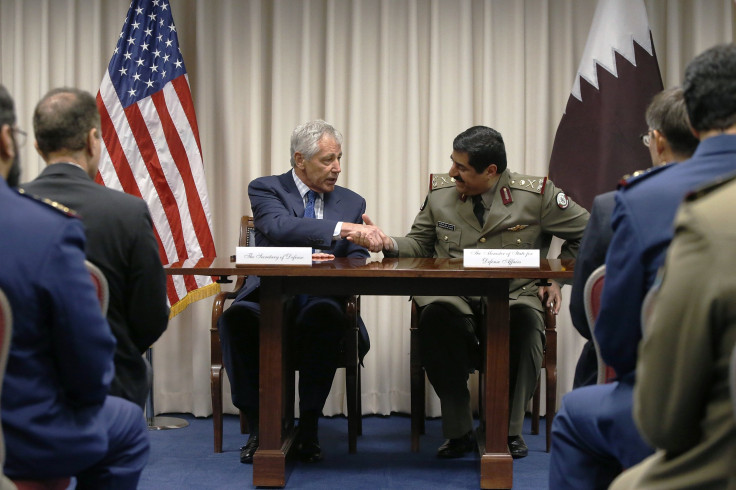 The United States will sell Patriot missiles and Apache attack helicopters to Qatar in an arms deal valued at $11 billion, reports published Monday indicated.
In an agreement signed at the Pentagon by the U.S. Defense Secretary Chuck Hagel and Qatar's Defense Minister Maj. Gen. Hamad Bin Ali Al-Attiyah, the U.S. committed to the sale of 10 radars and 34 launchers for Patriot missile systems, designed to knock out incoming missiles, 24 Apache helicopters and 500 Javelin antitank missiles. This is reportedly the biggest U.S. arms sale of 2014.
This is the first time Qatar would acquire Patriot missiles, which have the ability to intercept incoming missiles and destroy enemy tanks and planes.
Speaking to Gulf News, Qatari Ambassador Mohammed Jaham Al-Kuwari said the missiles and other arms purchased were defensive in nature and not directed at any other country. He also added negotiations with the United States were still on and new deals would be signed "very soon."
The weapons deal comes at a time when Qatar is also weighing proposals to buy fighter jets, with U.S. aerospace firm Boeing vying against British BAE Systems and Dassault Aviation of France.
In a statement released shortly after the signing ceremony, Pentagon spokesman Rear Adm. John Kirby said that the deal underscored "the strong partnership between the U.S. and Qatar in the area of security and defense." He also added the deal would facilitate bi-lateral cooperation between the two countries "across a range of military operations."
The deal follows Hagel's visit to Qatar in December 2013, during which he and Attiyah signed a 10-year defense cooperation agreement.
Qatar is a key U.S. ally in the Middle East and is also a vital hub for the U.S. military. The military's Combined Air Operations Centre is located at the Al-Udeid air base near Doha and is currently used for operations in Afghanistan and tracking air traffic across the Middle East.
In May, Qatar also played a major role in securing the release of army Sgt. Bowe Bergdahl, who was held captive for five years by Taliban-linked Haqqani network in Afghanistan.
© Copyright IBTimes 2022. All rights reserved.
FOLLOW MORE IBT NEWS ON THE BELOW CHANNELS