Bill Murray Netflix Christmas Special Release Date Revealed; Trailer Teases Star-Studded Cast [VIDEO]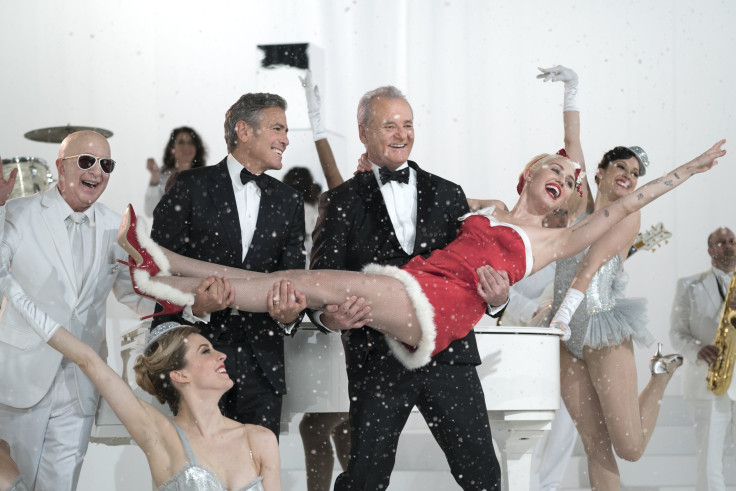 Bill Murray knows how to throw an A-list party. The "Ghostbusters" actor stars in a Netflix Christmas special, and the newly released teaser reveals quite an impressive guest list. Miley Cyrus, George Clooney, Amy Poehler, Chris Rock, Jason Schwartzman and more appear in the trailer for "A Very Murray Christmas."
Watch the "A Very Murray Christmas" teaser trailer below:
The Christmas special is a tribute to classic variety shows. Murray plays a version of himself who is hosting an international holiday broadcast at the Carlyle Hotel in New York City. "After a blizzard shuts down the production, he makes the best of the situation by singing and celebrating with friends, hotel employees and anyone else who drops by," the synopsis says.
"A Very Murray Christmas" was shot last winter, and Clooney revealed shortly after filming that that he and Murray were very impressed by Cyrus. "I'm telling you [she was] fantastic and fun and a real pro," Clooney told Access Hollywood in May. "And Bill Murray and I had drinks a few nights ago and he was just talking about how impressed he was as an entertainer and also just as a -- just in general as a pro, how professional she was. I really liked her."
The star-studded special was written by Murray along with director Sofia Coppola and Mitch Glazer. The trio has worked together several times before, most notably on "Lost in Translation"
"It was sort of something we were just making for ourselves," Coppola explained in a press release. "It really came out of talking (to Bill and Mitch), and it just seemed fun to get people together that we're all fans of."
Aside from teasing a celebrity cast, the trailer also reveals one very important detail: the release date. "A Very Murray Christmas Special" will premiere on Netflix on Dec. 4.
© Copyright IBTimes 2023. All rights reserved.