Bill O'Reilly's Divorce Gets Ugly; Catholic Church Reportedly Involved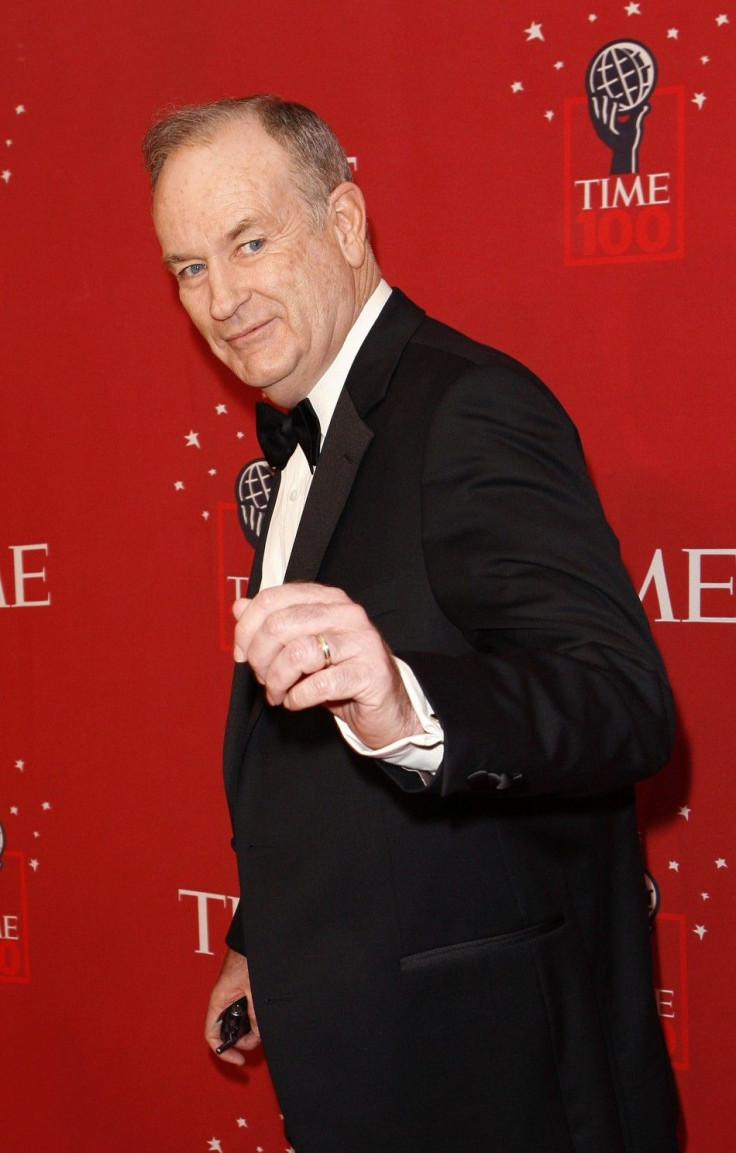 Fox News pundit Bill O'Reilly has been involved in a post-divorce custody battle for the better part of two years, and the animosity between O'Reilly and his ex-wife Maureen McPhilmy appears to have reached a boiling point. Gawker Media even alleges that O'Reilly is dragging the Catholic Church into the mess.
According to reports from Gawker, O'Reilly has been going to extreme lengths to punish his ex-wife, including barring McPhilmy from accepting communion at her Long Island Catholic church.
The whole saga plays out like this: In 2010, O'Reilly and McPhilmy separated, moving to separate houses on Long Island before obtaining an official divorce in 2011. Since that time, McPhilmy has remarried a Nassau County detective and she and O'Reilly agreed to share alternating custody of their children, now 10 and 13.
But the O'Reilly divorce drama hasn't stopped there. As a result of their separation, courts declared that O'Reilly and McPhilmy would both be served by a therapist to "act as a neutral mediator to help them resolve any parenting disputes," according to Gawker. Despite this court-mandated order, O'Reilly stacked the deck in his favor and soon put the Long Island-based therapist Lynne Kulakowski on his payroll, as brought to light in a 2011 lawsuit against O'Reilly. His lawyer did not deny these charges in court.
But the real evidence that O'Reilly's divorce battle has become extremely toxic is the involvement of the Catholic Church. Gawker alleges that O'Reilly has made repeated attempts to have McPhilmy banned from partaking in communion at her local Catholic parish. Writer John Cook also insinuates that O'Reilly has been using financial donations and a friendly relationship with Cardinal Timothy Dolan of New York to have his way.
While the measure may seem extreme, the Catholic Church has taken strong stands against communion for those who have divorced and remarried. Pope John Paul II stated in no uncertain terms that, "the Church reaffirms her practice, which is based upon Sacred Scripture, of not admitting to Eucharistic Communion divorced persons who have remarried. They are unable to be admitted thereto from the fact that their state and condition of life objectively contradict that union of love between Christ and the church."
At the same time, Gawker notes that O'Reilly is making an attempt to have his 15-year marriage annulled by Catholic Church, possibly in an attempt to move on to another relationship.
Interestingly enough, annulling his marriage would also allow McPhilmy to once again receive communion from her Catholic parish, as her remarriage would officially be considered a first marriage in the eyes of the church.
Neither Fox News, Kulakowski, nor the legal counsels for O'Reilly and McPhilmy responded to requests for comments to Gawker.
© Copyright IBTimes 2023. All rights reserved.