'Birdman' Movie 2014: Underdog Story Might Turn Art Film Into Blockbuster, Expands To 450 Theaters In Nationwide Release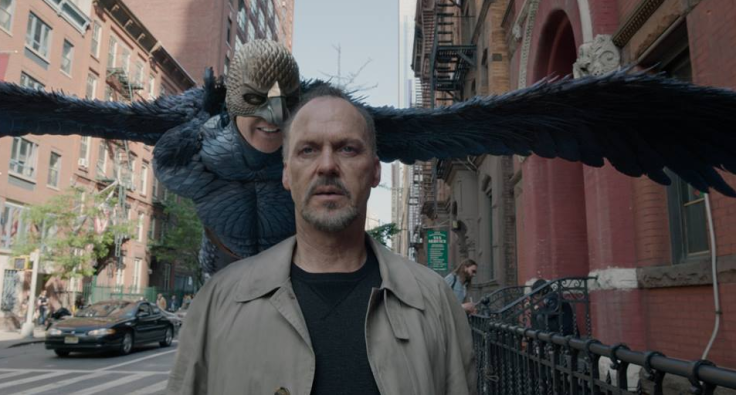 Superhero movies being big at the box office is nothing strange, but then, "Birdman" is not a normal superhero movie. "Birdman" is not a big-budget blockbuster, but an avant-garde art film and weird, even by art film standards. Very little outside of the extraordinary A-list cast suggests the movie is bound for mainstream attention. Why, then, is Fox Searchlight, the studio behind "Birdman," expanding its release from 231 theaters (common for a critically acclaimed independent film) to the 450 theaters typical of a 3D blockbuster.
"Birdman," directed by Alejandro González Iñárritu, follows Riggan Thompson (Michael Keaton), a washed-up actor, famous for playing the superhero Birdman 20 years ago, who mounts a theatrical adaptation of a Raymond Carver novel in an attempt to restore credibility to his career. Iñárritu is an acclaimed director, but none of the Mexican auteur's films ("21 Grams," "Babel," "Biutiful") have been box office smashes. "Birdman," more than any of his previous films, bucks all film convention.
"Birdman" is shot and edited to appear as one uninterrupted shot, featuring multiple 10-15 minute unbroken scenes blended together in a feverishly paced ride of a movie. Central to the movie's story are themes of high art versus low art, theater versus film, depression, substance abuse fodder and other hyper intellectual motifs. There are surreal dream sequences, lengthy monologues and more than a few fourth wall-breaking moments. This is not "The Avengers."
All the same, the buzz for "Birdman" is building. The most obvious reason is, of course, the cast. In addition to Keaton, "Birdman" enlists the talents of Ed Norton, Emma Stone, Zach Galifianakis, Amy Ryan and Naomi Watts. That's enough star-power to carry any movie. Plus, "Birdman," is a superhero movie, even if it only tangentially qualifies, and superhero movies are big business.
However, there may be a deeper reason for the hype. The fictional story of Riggan Thompson eerily mirrors, if much more tragically, the career of the man behind the character -- Michael Keaton. Keaton was once one of the most popular actors in Hollywood. Rising in popularity through comedies like "Mr. Mom" (1980) and "Beetlejuice" (1988), his fame peaked when he was cast in the title role of Tim Burton's "Batman" in 1989. Keaton's relevance seemed to fade in 2000s as he appeared in fewer and fewer films as time wore on.
"Birdman" is Keaton's first starring role since 2008's ill-received "The Merry Gentleman." With "Birdman," Keaton, like Riggan Thompson seems to be vaulting back into the spotlight on the back of a risky and ambitious project. Furthermore, the irony of Keaton playing an actor burdened by the shadow of a superhero role in his distant past will not be lost on audiences. The film, which blurs the line between fantasy and reality anyway, seems to have a striking parallel to Keaton's own life and the allure of the former star carrying this film (filled with current stars) seems hard to resist. Add one of the best trailers of the year and "Birdman" appears to be the Hollywood comeback story of the year (much like Mickey Rourke with 2008's "The Wrestler"). Like Rourke, Keaton will likely be Oscar-nominated for "Birdman" and the film is on many critics' short lists for best film of the year.
Audiences love a comeback story and with "Birdman" they have one, even if it is buried in more style and cinematic experimentation than many may be used to seeing in the theaters. With the expanded release, the buzz will likely continue to grow as "Birdman" spread its wings.
Watch the trailer for "Birdman" below:
Will you be seeing "Birdman?" Tweet your thoughts to @Ja9GarofaloTV.
© Copyright IBTimes 2023. All rights reserved.