'Birdman' Movie Review: Michael Keaton Fights, Takes Flight In Alejandro Iñárritu's Soaring Meditation On Fame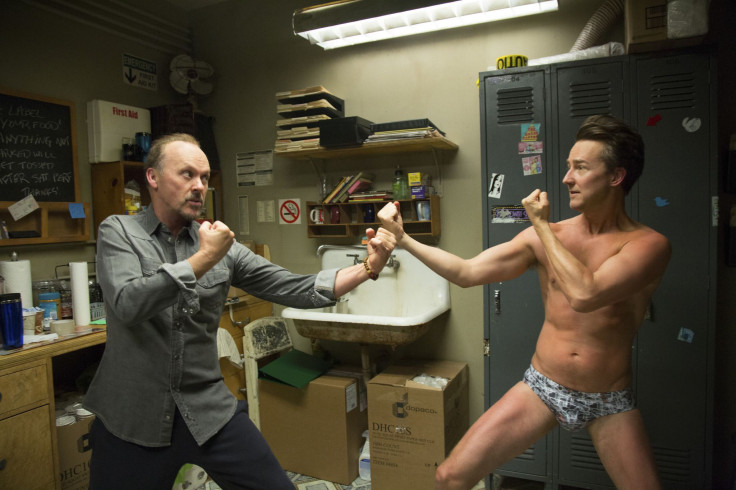 Much of Alejandro González Iñárritu's "Birdman" takes place in the St. James Theater on the Great White Way, but "The Producers" this is not. "Birdman or (The Unexpected Virtue of Ignorance)" is probably the only movie about a Broadway production you'll ever see in which actors fly through the air (without a wire), and midtown high-rises are crushed under the weight of an enormous feathered creature. It's a claustrophobic tragicomedy with a sweet superhero action movie filling.
Iñárritu ("21 Grams," "Amores Perros") invokes magical realism to illustrate his protagonist Riggan Thompson's (Michael Keaton) inner battle between man and movie star. A committed actor who hasn't achieved the critical success he longs for, Riggan will always be best known for "Birdman," a successful superhero franchise he starred in 20 years ago (sound familiar?). Now, nearing age 60 and grasping for relevance, the movie star is writing, directing and starring in a stage adaptation of Raymond Carver's story collection "What We Talk About When We Talk About Love." But he doesn't speak the language of the theater, and it shows -- on the stage and in the fear written on his face.
And he cannot silence his superhero alter-ego, who taunts him with ill-timed auditory hallucinations, reminding him of faded glory that can never be reclaimed. The gruff-voiced character believes that Riggan should have done another sequel, and thinks Raymond Carver is for the birds.
Riggan's human nemesis is Michael Shiner (Ed Norton), a younger, more successful and even more self-absorbed actor who swoops in to replace Riggan's first co-star, who was forced to leave the production because of an injury -- one that Riggan claims to have caused with his mind. Though the cast is initially thrilled to have landed Shiner, whose presence guarantees a packed house, he quickly proves to be a destructive force, intent on undermining Riggan's control and confidence.
While Shiner is "sharing a vagina" with the neurotic Lesley (Naomi Watts), who is terrified about her Broadway debut, Riggan has been sleeping with another co-star, Laura (a show-stealing Andrea Riseborough), who may or may not be pregnant with his baby. Complicating the already incestuous dynamic is Riggan's daughter-slash-personal assistant Sam (Emma Stone), fresh from rehab and looking for trouble with the last man Riggan wants anywhere near her. They all invade each other's cramped spaces, desperate for reassurance and validation, their collective Hollywood egos sucking the air out of the theater where they spend almost all of the film's running time.
The Hollywood invasion of Broadway has been a source of resentment in the New York City theater world for some time now. While these days, most shows couldn't go on without marquee names to sell tickets, the old guard doesn't always welcome untrained movie stars on its stage. In "Birdman," a vindictive New York Times theater critic (Lindsay Duncan) inhabits this dynamic, promising Riggan a terrible review before she's even seen the show. The ensuing exchange, in which both eloquently accuse the other of being an overblown hack, is among the film's best and most uncomfortable moments, and perhaps its truest. (At least it felt that way at a New York Film Festival screening with an audience divided between members of the press and entertainment industry talent.)
In more ways than one, "Birdman" is concerned with the evolving architecture of celebrity, and the perils (and virtues) of resisting this evolution. At one point early in the movie, Sam chastises her father for choosing source material a half-century old while ignoring the power of the Internet, which in her millennial view is where life -- and fame -- happens. Later, when a humiliating moment for Riggan is captured on video and goes viral, Sam reassures her father: "Believe it or not, this is power."
On paper, "Birdman" might sound like an impossible and potentially dreadful film, but it more than succeeds, in large part because of its technical achievements and the acrobatics of the cast and crew. Watching the actors navigate around each other in the tight theater quarters very often has the effect of seeing a live stage production. And Emmaneul Lubezki's first-rate cinematography creates breathtaking scenes that could very easily feel off-puttingly out of place in a less assured artist's hands (and in a film with a smaller budget.)
There are a lot of moving parts in "Birdman," and Iñárritu does a superb job of keeping them together. But, by way of Susan Sontag, whose words are taped to Riggan's dressing room mirror, he's also made this reviewer's job feel insignificant. As Sontag said: "A thing is a thing. Not what is said about that thing."
© Copyright IBTimes 2022. All rights reserved.
FOLLOW MORE IBT NEWS ON THE BELOW CHANNELS