Black Friday 2017 Ads: Some Walmart, Target, Amazon Deals, Sales Have Begun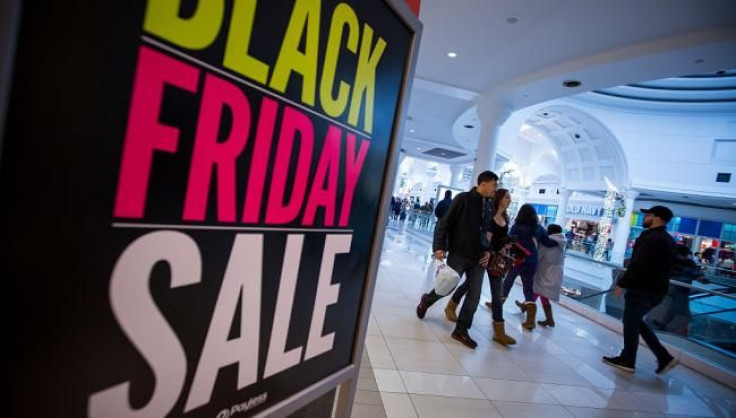 Black Friday 2017 ads have started leaking online as Walmart, Target and Amazon are some of the first to present their holiday deals. Find out where to shop now for price cuts ahead of official Black Friday sales.
With just three weeks until Black Friday 2017 officially arrives popular retailers like Walmart, Target and Amazon have already started the holiday deals and savings on popular electronics like 4K televisions, iPhones, laptops and more. Below we've put together a list of all the Black Friday ads and deals these big retailers have already posted and will continue to add to the collection as more sales are revealed.
*UPDATE - Target's Official Black Friday 2017 Ad has released. Check it out, here.
Happy Shopping!
Walmart Black Friday 2017 Deals And Ads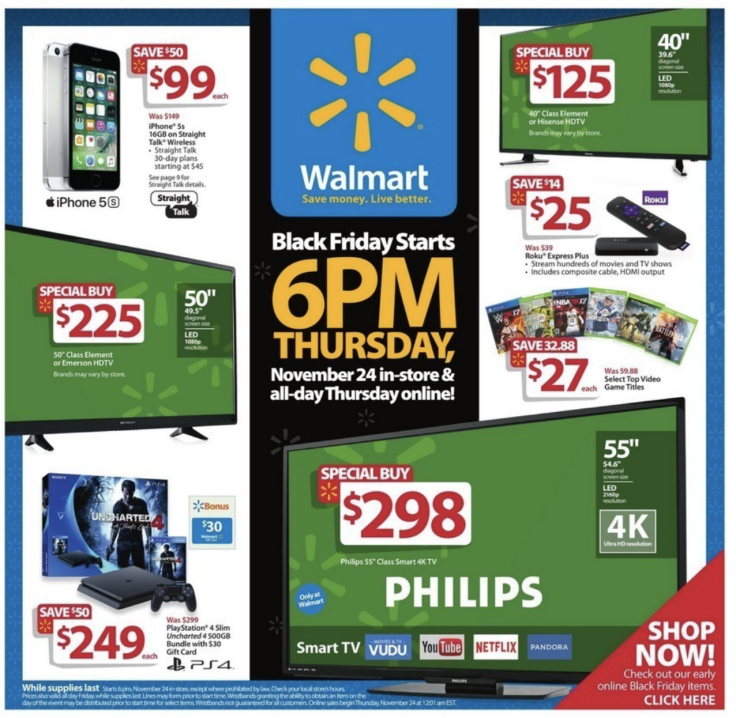 Walmart's official Black Friday ads are scheduled to go live on Nov. 9 at 12:01 am, but in the last few years Walmart has made an effort offer more of its Black Friday deals and sales early into the holiday season. This year is no exception.
"Serving customers is our everyday passion at Walmart," said Steve Bratspies, chief merchandising officer, Walmart US, "and during the holiday season we work even harder to deliver what our customers want most…to save time and money. We're leveraging our more than 4,700 stores and Walmart.com to deliver more assortment, exclusives, convenience and savings than ever before."
Starting on November 1, Walmart has been revealing deals that you can take advantage of right now both in-store and online. Check them out.
Free 2-Day Shipping - taking the lead from Amazon, Walmart is offering customers free, 2-day shipping on all orders over $35 now through Dec. 31. This can take a lot of stress out of shopping for Christmas gifts as there is no worry

Pickup Discount Program - Walmart is giving shoppers extra discounts on a number of their "Online only" items if buyers are willing to have them shipped to a local Walmart store and pick them up there.
Walmart Early Black Friday TV Deals
Walmart has a number of television models on sale right now that can save you anywhere from $75 on smaller models to over $1,000 on 55 inch 4k Smart TVs. Below are a round-up of some of the best TV deals we've seen posted so far. You can see all Walmart's current TV deals here :
50 - 55 Inch
40 - 43 Inch
Walmart Early Black Friday Smartphone And Tablet Deals
Target Black Friday 2017 Deals And Ads
Like Walmart, Target has made a habit of starting its deals and ads ahead of the official Black Friday date. While the company is expected to publish its Black Friday 2017 ad on Nov. 8, here are some of the deals and sales already being offered.
UPDATE: Target's Official Black Friday 2017 Ad has released. Check it out, here.
Free Shipping And Returns - every order placed online up until Dec. 23rd will be shipped free and if it wasn't what you were after, you can return it for free as well. This offer applies to any order with no dollar minimum making it a slightly better deal than Walmart.

Extra Discount With Target RED card - if you use your Target Red Card while shopping in-store or online, you'll get an extra 5 percent discount on everything during the holiday season.
Target Early Black Friday "Cartwheel Deals"
Free Xbox One Game when you buy any Xbox One S console (up to $60 value)

TV Discounts - Save 10% off on Vizio Televisions

Xbox One Wireless Controllers - get 20% any.

PlayStation VR Core for PS4 - 25% Off

JLab JBuddies Headphones - 15% Off

Singstation All-In-One Karaoke Station - 20% Off

iTunes Gift Cards - 5% Off
Amazon Black Friday 2017 Deals And Ads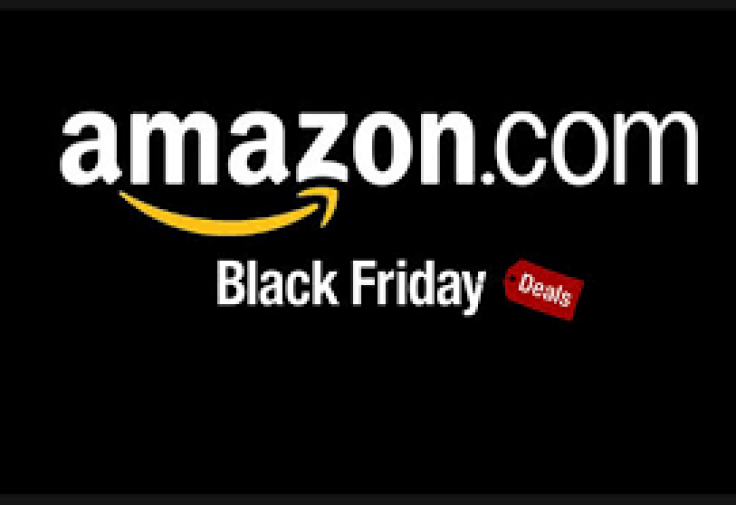 Amazon will post its official Black Friday "doorbuster deals on Nov. 17 but many holiday deals have already begun on their popular electronics like Firesticks and Echo plus deals on other electronic hits like 4K Smart TVs. Check them out below.
© Copyright IBTimes 2023. All rights reserved.