Black Lives Matter Protests: Over 300 People Arrested In New York, Chicago, Minnesota And Louisiana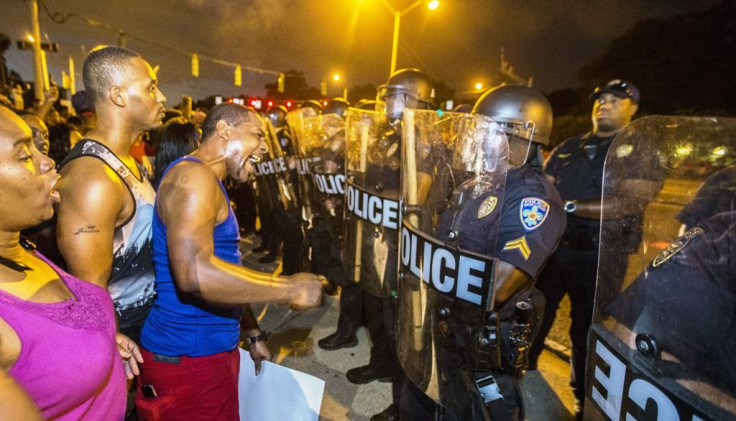 Black Lives Matter protests in New York, Chicago, Minnesota and Louisiana resulted in arrests of more than 300 people over the weekend, CNN reported Monday. Last week's police shootings of two black men in separate incidents — Alton Sterling and Philando Castile — triggered protests, which turned violent in Dallas, Texas, where five police officers were shot dead.
Castile was fatally shot by an officer last Wednesday during a traffic stop in Falcon Heights, Minnesota. His mother, Valerie Castile, issued a statement Sunday through her attorney urging people to maintain peace and calm.
"When demonstrations become violent, it disrespects my son and his memory. Philando was a man of peace and dignity. I ask you to at all times remain peaceful in your expressions of concern regarding his death at the hands of the police. I promise that we will not rest until justice prevails," she said.
In Louisiana's capital city, Baton Rouge, where Sterling was killed last Tuesday, more than 160 people were arrested over the weekend during protests and police used riot gear to tackle the crowd. Sterling was shot dead by a white police officer who had received a tip-off that the 37-year-old had threatened the caller with a gun.
Among those arrested in Baton Rouge was prominent Black Lives Matter leader DeRay McKesson. McKesson was reportedly streaming live on social media when he was arrested. He was released Sunday afternoon.
On Sunday, Louisiana Gov. John Bel Edwards said he was "very proud" of how the state law enforcement officials responded to the protests. He also said that the police officers were not overly aggressive.
"The police tactics in response have been very moderate. I'm very proud of that," Edwards said.
Sgt. Don Coppola, Baton Rouge police spokesman, held outside demonstrators responsible for some violence and several arrests. One officer lost teeth when a projectile was thrown outside police headquarters during the protests. Police confiscated three rifles, three shotguns and two pistols during that protest.
"It appears the protest at Baton Rouge Police Headquarters have become more violent as out of town protesters are arriving," Coppola reportedly said.
Meanwhile, Micah Johnson — the suspect of last Thursday's Dallas violence — had plotted larger attacks, according to Dallas Police Chief David Brown. Johnson, an Army veteran, had taunted officials during two hours of negotiations by laughing and, at one point, singing at them, Brown told CNN Sunday. The standoff between Johnson and police ended early Friday after the police detonated a bomb robot, killing Johnson.
"We're convinced that this suspect had other plans and thought that what he was doing was righteous and believed that he was going to target law enforcement — make us pay for what he sees as law enforcement's efforts to punish people of color," Brown told CNN.
The police chief also said that the police found bomb-making materials and a journal at Johnson's home indicating that he was practicing detonations. He said Johnson "obviously had some delusion. There was quite a bit of rambling in the journal that's hard to decipher."
"At the scene where he was killed, he wrote some lettering in blood on the walls, which leads us to believe he was wounded on the way up the stairwell, on the second floor of the El Centro building and where we detonated the device to end the standoff there was more lettering written in his own blood," Brown reportedly said.
© Copyright IBTimes 2023. All rights reserved.