BlackBerry Maker Delays Tablet Update in New Setback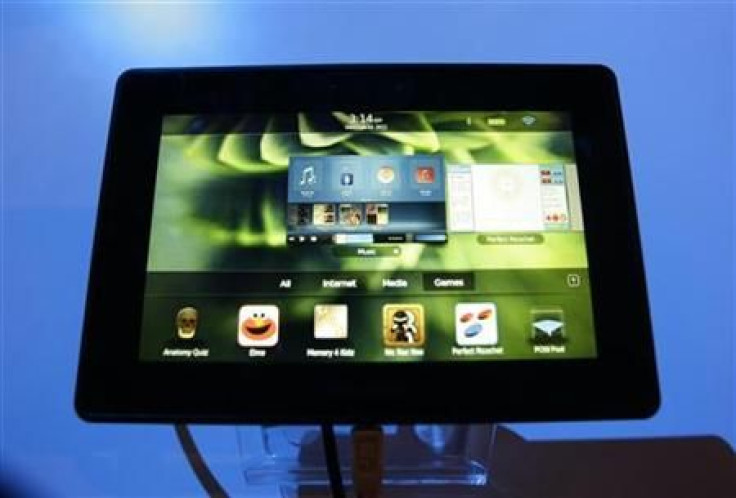 Research In Motion won't upgrade the software for its much-maligned PlayBook tablet computer until February, months behind schedule, and the new version still won't feature the popular BlackBerry Messenger application.
Shares of RIM dropped more than 6 percent on Wednesday as investors digested the latest in a string of disappointments as RIM struggles to compete with Apple Inc's category-defining iPad tablet.
The Canadian company that makes the BlackBerry introduced the PlayBook last April. But technology writers, financial analysts and consumers alike scorned the tablet because it could not handle the in-built email, calendar and contact applications that made BlackBerry a household name.
At the time of the launch, RIM said it would add email and other features within 60 days. It later pushed that deadline back to the summer months and then to October.
The latest delay was announced on RIM's official blog late Tuesday.
As much as we'd love to have it in your hands today, we've made the difficult decision to wait to launch BlackBerry PlayBook OS 2.0 until we are confident we have fully met the expectations of our developers, enterprise customers and end-users, wrote David Smith, a senior vice-president for the PlayBook.
BBM DELAYED
Insiders and close watchers of the company say RIM may have hit roadblocks getting the PlayBook's operating system to link with RIM's secure servers and data centers, which push email and other data to users via carrier networks.
Presumably RIM expects to have solved any email issues before the February launch of the upgrade.
The new version may also quell complaints that too few apps were available to run on the original PlayBook. RIM said the update would allow developers working with Google's Android software to move their games and other content onto the new PlayBook platform.
But the upgrade won't incorporate BlackBerry Messenger, an instant messaging service known as BBM. The free service has made the BlackBerry popular with young users, particularly those in emerging markets.
We are committed to developing a seamless BBM solution ... and we're still working on it, Smith said.
RIM provided no reason for the BBM delay but pointed out that BlackBerry smartphone users could still use a bridge function to run BBM and other features on the larger PlayBook screen.
Shares of RIM dropped 6 percent to $20.94 on the Nasdaq by late morning. Its stock has tumbled some 60 percent this year after a series of profit warnings, product missteps and a sharp drop in market share.
LATEST SETBACK
The PlayBook highlights RIM's recent struggle to field products that match the technical specifications and consumer appeal of Apple's iPhone and iPad, as well as devices powered by Android.
The latest setback comes just two weeks after a global outage that knocked out service for tens of millions of BlackBerry users across five continents. The disruption was a blow to RIM's reputation for reliability at time when many its core business customers are beginning to follow the consumer side of the market into the Apple camp.
Following prior product and software delays and the recent outage, this represents another execution stumble, RBC Capital Markets analyst Mike Abramsky wrote in a note to clients, referring to the PlayBook upgrade delay.
A week after the outage, RIM announced plans to introduce BBX, which merges its separate smartphone and tablet operating systems, but it has not said when either smartphones or tablets running the software would go on sale.
The PlayBook upgrade that RIM now expects by February would serve as a stop-gap ahead of tablets incorporating BBX. The move is the tablet equivalent of a batch of touchscreen BlackBerrys launched in August.
The announcement late on Tuesday could mean the launch of BBX-equipped devices in both categories might face further delays, a potential setback to RIM's hopes to reverse its market share losses. As of now, RIM has no firm deadline, only saying BBX is due out sometime next year.
(Reporting by Alastair Sharp in Toronto and Maneesha Tiwari in Bangalore; editing by Frank McGurty)
© Copyright Thomson Reuters 2023. All rights reserved.