'The Blacklist' Season 2 Spoilers: Episode 15 Synopsis Released; What Will Happen In 'The Major'? [VIDEO]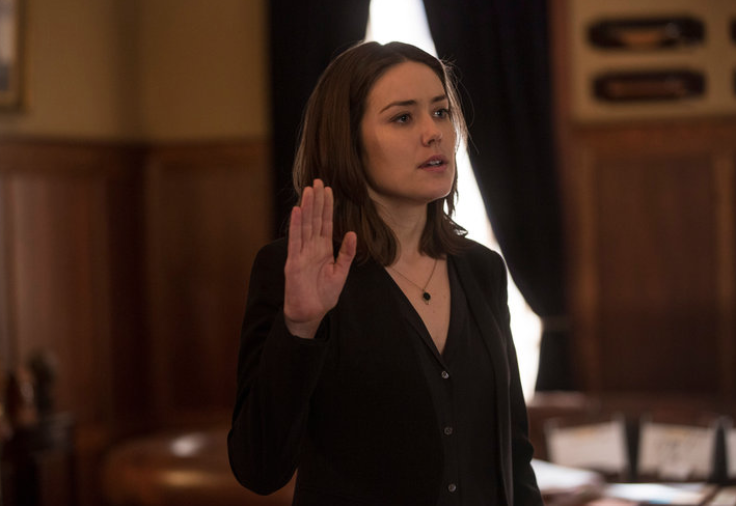 Tom's (Ryan Eggold) return to Season 2 of NBC's "The Blacklist" was short, but sweet. The character was in just five minutes of episode 14, but it was an eventful five minutes: He donned a new disguise and picked a fight with some neo-Nazis in a Dresden bar while on a new mission. In episode 15, Tom will be the focus -- both of the episode and an FBI investigation -- as Red (James Spader) and the FBI attempt to track the spy down to keep Liz (Megan Boone) out of prison.
According to the synopsis for episode 15, "The Major," Liz will be once again be plagued by the harbormaster's murder investigation. In episode 13, Red persuaded Samoan (Dante Nero) to withhold his testimony against Liz, but apparently that has not stopped the feds from looking into the FBI agent, and the promo for the new episode shows Liz being sworn in during a court appearance. The video also shows Assistant Director Cooper (Harry Lennix) warning that a federal investigation could mean the end of the task force, so Red and the FBI must find the only person who can keep Liz out of prison -- Tom!
Because Tom is the one actually responsible for the harbormaster's death and thus can clear Liz's name, Red is shown hard at work searching for the double-crossing husband in the episode preview . However, the action in the last episode means that finding Tom might require a trip through some pretty seedy parts of Germany.
Watch the promo for episode 15 below:
Will Red be able to track down Tom? Will Liz go to prison for the harbormaster murder? Fans will have to wait to find out. "The Blacklist" is shown on NBC Thursdays at 9 p.m. EDT.
Will Red find Tom in time to save Liz? Tweet your thoughts to @Ja9GarofaloTV.
© Copyright IBTimes 2023. All rights reserved.