Is Blink-182 Slowly Revealing New Album Cover? Band Expected To Release First Single Next Week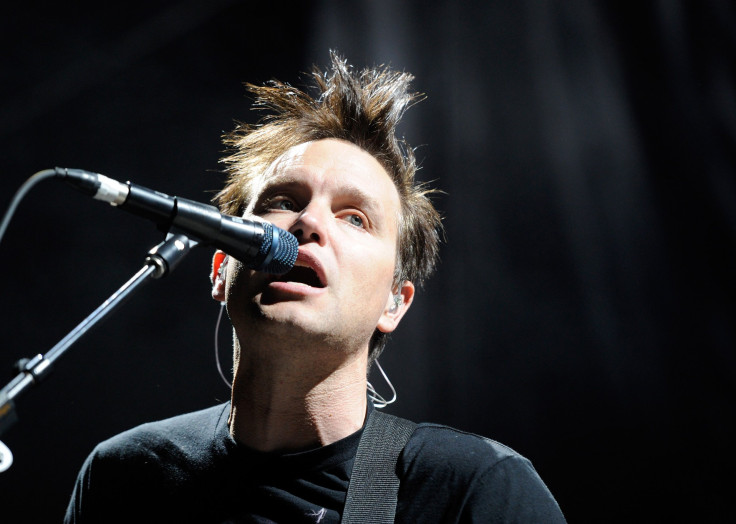 Blink-182 is up to something. The band 's new album is one of the most anticipated in 2016 and it appears they're getting ready to give fans the first taste of what they've been working on.
The band started posting photos of art on their Instagram page Saturday. Since then, they have release a picture a day showing more of the image. Many are speculating that this cartoonish photo is going to end up being the cover to their new album that's expected to be released this summer. You can see the photos below:
While the band continues to tease something on Instagram, they are also expected to release a brand new song off the upcoming album before the month is over, according to Entertainment Weekly. However, Chorus.fm reports that the release of the new single has been pushed to May 3. The new song is expected to be called "Bored to Death."
In an interview with PunkVideosRock in March, drummer Travis Barker revealed that the new album was finished. The last thing the band had to do was to trim down the amount of tracks to appear on the record.
"It's just a matter of picking what 12 to 14 songs. I think we wrote 26 or 27, so everyone right now is really pushing for their favorites," Barker dished.
The new album will be the band's seventh studio album and first since 2011's "Neighborhoods." The record will also serve as a new chapter for the band following the departure of guitarist/singer Tom DeLonge, who left the band in January 2015. Alkaline Trio's Matt Skiba has since taken DeLonge's role and the new album will be the first release to feature him along with Barker and Mark Hoppus.
Goldfinger frontman John Feldman is producing the new record. In an interview with Fuse in February, Feldman talked about the experience of working with the band on new material and said the band needed to try to do something new, while not recreating past works with a new singer.
"It can't be a Blink cover band with Matt [Skiba] trying to sound like Tom [DeLonge] and me trying to recreate something. It needed to be something in the new zone, a new band, but keep the legacy going because I love Blink," Feldman said. "I want that fun. My wife said early on, 'When I think of Blink, I think of going to have a good time and partying and having a great, fun show.' Keeping that essence of her being a fan, I wanted to have all that. It's been a great experience, overall, positive."
No official release date for the album has been announced yet, but the record is expected to drop at some point this summer. The record title also hasn't been revealed.
Are you excited for new Blink-182 songs? Soundoff in the comments section below!
© Copyright IBTimes 2023. All rights reserved.
FOLLOW MORE IBT NEWS ON THE BELOW CHANNELS