Bobbi Kristina Brown Update: Everything We Know So Far About Whitney Houston's Daughter's Health, Criminal Investigation And More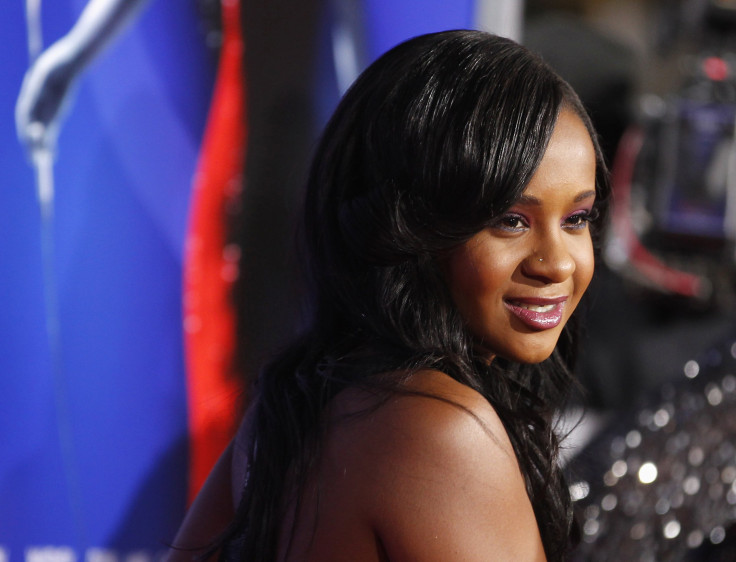 It's been a month since Bobbi Kristina Brown was found face down in a bathtub inside her Georgia home. The 22-year-old aspiring actress was rushed to a local hospital, where she was treated briefly before being transferred to Emory University Hospital in Atlanta for more extensive care. She has been in a medically induced coma since being admitted on Jan. 31 and has shown little sign of improvement, though her relatives say publicly they remain hopeful.
While the Brown and Houston families attempt to come to terms with the situation, rumors have been swirling about her true condition; the feud between her father, Bobby Brown, and boyfriend, Nick Gordon, claims of a reality TV show and more. Below is a roundup of everything we know at this point about Bobbi Kristina's tragic situation.
Her Health
Bobbi Kristina was found unconscious in a bathtub inside her Roswell, Georgia, home around 10:30 a.m. EST Jan. 31 by Maxwell Lomas, a friend of both Brown and her boyfriend; she was unresponsive. Brown was given life-saving measures on the scene until help arrived. She was then brought to a local hospital where doctors discovered she had suffered brain swelling. Bobbi Kristina was placed into a medically induced coma in an attempt to bring down the swelling. Though her condition improved, she remains unresponsive.
Family members reported that the 22-year-old opened and closed her eyes several times during her hospital stay. Doctors have warned, however, that eye fluttering is not necessarily a sign of improvement.
On Feb. 25 doctors reportedly began weaning Brown off of the coma medication. Unfortunately she did not wake up and suffered multiple seizures, forcing doctors to sedate her once again.
Her Family
Since her hospitalization in late January, Brown's father and boyfriend have been caught up in a nasty public feud sparked by Bobbi Kristina's family's request that Nick Gordon be banned from the hospital. The 19-year-old Gordon has taken to Twitter several times in the last month in attempts to communicate with Bobby Brown. Though his initial messages were angry, Gordon seems to have turned over a new leaf. One day before Bobbi Kristina's 22nd birthday, Nick tweeted a hopeful message, wishing his "baby" a happy birthday before tweeting that he forgave Bobby. Bobby Brown has yet to respond.
In the meantime, TMZ recently reported that the rest of the family has been hard at work on a new reality TV show about the lives of Bobby's siblings and their children. The site claimed the show would include Bobbi Kristina's fight for her life, though nothing had actually been filmed inside the hospital. Bobbi Kristina's father was not believed to be participating in the show.
Bobby has since released a statement claiming the rumors of a TV show are completely false.
Criminal Investigations
Not long after Bobbi Kristina was hospitalized, it was discovered that she had suffered suspicious injuries before being submerged in the tub. Police did not share details as to what injuries they uncovered, but they did confirm an investigation of Gordon.
Gordon's friend, Daphne Barak, was quick to come to his defense. The documentary film producer says Nick told her the injuries were caused by performing cardiopulmonary resuscitation on Bobbi Kristina before paramedics arrived.
"Nick told me that that the bruises were from his CPR," she said during a taping of Nancy Grace. "They asked him about injuries in the chest and he told them it was when he was doing the CPR."
No official charges have been filed against Gordon though the investigation is believed to be continuing.
The Whitney Houston Estate
When Whitney Houston tragically passed in 2012, the Grammy Award winning-songstress left the entirety of her estate, valued at close to $20 million, to her daughter Bobbi Kristina. The money is being held in a trust which is overseen by Patricia and Gary Houston, Brown's aunt and uncle, and her grandmother, Cissy Houston.
Although Bobbi Kristina inherited the fortune, she won't have access to any of it unless she lives to the age of 30. If Brown dies before then, the money reportedly goes to Cissy and her two sons.
© Copyright IBTimes 2023. All rights reserved.